India Baja 2017: Winning the Golden Ticket to the Dakar
Everyone knows what it takes to get to the top - hard work, perseverance, focus, humility and, most importantly, pushing beyond your capabilities. As always, luck does play its part. But as someone once told me, luck is nothing but the meeting of preparation and opportunity. And if your preparation is right, at least one opportunity is sure to come your way in a lifetime - a golden ticket.
TVS Racing's Abdul Wahid Tanveer won the Dakar Challenge prize after finishing third in the Moto class
For most rally-raid competitors around the world, getting to the Dakar Rally is a dream. Heck, I've never competed in a rally and even I want to go there. It's the highest level of cross-country rallying and like all the best things in the world, getting to it isn't easy. Apart from the incredibly large sums of money you'll need to get there, there is one more important thing - credentials. And that's where the Dakar Challenge comes in.
The Dakar Challenge is a tie-up between the organisers of the Dakar and the organisers of very few other rallies around the world to bring in new competitors into the main event. Winning a Dakar Challenge event means getting a free entry into the following Dakar Rally and, more importantly, the credentials necessary to get in.
There were just two Dakar Challenges in the world - the Sonora Rally and the Merzouga Rally - and now, the India Baja, organised by Northern Motorsport, just became the third. "They [the organisers of the Dakar] normally have these stringent registration processes and they don't actually let people come in without credentials. And we don't have any way of establishing credentials without spending serious amounts of money. So only if a corporate comes in, can someone even hope to get there. Now this [the Dakar Challenge] might just enable the privateer to find a slot there," says Raj Kapoor, the co-founder of Northern Motorsport.
India is still quite far away from having a Dakar-worthy 4X4
However, the prize for the Dakar Challenge is limited only to the motorcycle category, and it is reserved only for those riders who haven't already competed in a Dakar Rally. The organisers did have the option to include the Xtreme 4X4 category, but decided against it because of the lack of a Dakar-worthy vehicle in India. Kapoor also says that "even if one looks at the secondary or tertiary models of participation there, which is maybe a tie-up with a team or hiring a car, it still is beyond the purview of a privateer today to get into that zone". But what the winner of the four-wheeler category does get, however, is a free entry into the 2018 Maruti Suzuki Desert Storm.
When I got to Jaisalmer, where the rally was held, I managed to catch a bit of the driver's briefing where they showed us some incredible video footage of the Dakar Rally. I was excited. The stages looked amazing, and the competition, well, they looked even better. I was quite excited for the India Baja because bringing the Dakar name to a motorsport event had to mean that the organisers were upping the ante in terms of competition and the difficulty of the entire event.
With my hopes high, I went into SS2 early the next morning to find some good action. I walked in about 2.5km looking for something exciting, but all I saw was an almost flat dirt road leading into the desert. It was the same case with SS3 and then SS4, which was reverse loop of SS2. I'm not saying that the stages were easy - the harsh desert conditions with all that dust and intense heat are bad enough. Maybe it was just me - I expected too much from an event that's still in its second year. I suppose you can't simply take people from the frying pan and put them straight into the fire. There's no such thing as a learning straight line - just a learning curve.
While Gypsys are still quite predominant in the Indian rally-raid circuit, it's real nice to see newer cars like the Isuzu V-Cross, driven by Raj Singh Rathore, entering the scene
The classes of motorcycles in the India Baja ranged from this heavily modified Hero Impulse...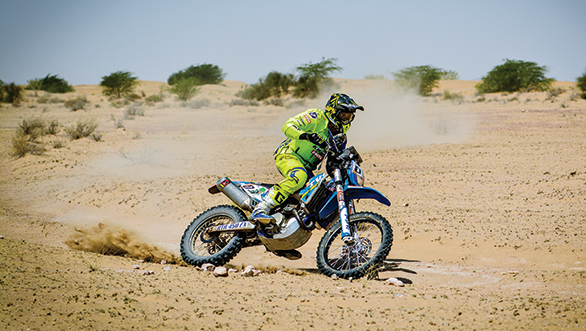 ...To Aravind KP's TVS RTR 450 FX
One of the ways the organisers have tried to increase the difficulty for motorcyclists is by introducing roll-chart road books, like the ones you see in international rallies, to slowly wean them off GPS devices like the Tripy II. "Navigation as a challenge went out of the game. When we went to the Merzouga Rally and spoke to a lot of people, one got the understanding that all over the world, they were trying to bring navigation back as a part of the game. We decided that it was time to go back to the roots. If you think about it, it's a very tough call you need to make when you're riding - you need to be looking and focusing around 50 feet away, but you also need to keep looking down to glance at it, scroll up, look up again and then back down," says Kapoor on why they reintroduced the roll chart road books this year.
By the end of Day 1, which held four of the six competitive stages, Hero MotoSports Team Rally's Joaquim Rodrigues was leading the Moto class on his Dakar-spec bike. TVS Racing's Aravind KP was second while his team-mate, Abdul Wahid Tanveer, was third. Aravind's team-mate from the Dakar, Adrien Metge, suffered a mechanical failure in SS4, which ended his rally. Since Rodrigues and Aravind weren't eligible for the Dakar Challenge prize, all eyes were on Tanveer. In the Xtreme 4X4 category, it was Raj Singh Rathore and Jeevarathinam J who were leading while Gaurav Chiripal and Karan Arya were just over a minute behind them. Rathore was driving an Isuzu D-Max V-Cross, and I was very happy to finally see newer cars and manufacturers entering the rally-raid circuit in India. I was honestly getting quite bored of seeing the age-old Gypsys and the comparatively newer Vitaras over and over again.
The next morning I found that Day 1 wasn't as easy as I thought for most competitors - only 27 of the initial 64 competitors were taking the start. Although this two-day rally-raid format might not seem as intense as the longer rallies, it does put a little more pressure on the competitors. Unlike the week-long rally-raids like the Desert Storm or the Raid de Himalaya, "it's so short that if you have a bad day, the next day is not enough for you to recover at all," says Aravind. And that's just what happened to his team-mate, R Nataraj. Nataraj was fourth after Day 1, but a fall in the first stage of Leg 2 gave Sanjay Kumar N just the opportunity he needed to take fourth. With just one stage left till the finish of the rally, Nataraj just couldn't make up for the lost time. Rodrigues, meanwhile, managed to extend his lead by the end to around 25 minutes ahead of Aravind. In the Xtreme category, Chiripal managed to beat Rathore by around five minutes to take the overall win.
Himanshu Arora and Chirag Thakur took third place in their Gypsy
Following behind in fourth were Niju Padia and Nirav Mehta in their Mitsubishi
The real highlight, however, was Tanveer, who finished third to claim the Dakar Challenge prize. But the idea behind bringing the Dakar Challenge to India was to give privateers a chance to get into the Dakar Rally. And so the organisers were initially unsure of allowing a factory team rider to be eligible for the prize, but eventually decided for it. "This is an opportunity to get registered for the Merzouga Rally and the Dakar. The fear was that if we give this and the person who gets it cannot utilise it, it's a step backwards. So maybe for starters, it requires us to create that opportunity for someone who has enough support to eventually find himself there. Subsequently, we'll keep tweaking the prize to a point where it is for a newbie - for someone who's completely from the general population," says Kapoor on how he eventually intends on getting a privateer there.
But will they be ready for it? I asked Tanveer if he was. "No, I'm not ready" was his honest answer. "I need to work on it and I need to work hard. With the bike, my fitness and overall I need to work on it." And this comes from someone who's been rallying motorcycles for a while now. For a privateer, who might not have half as much experience, to be ready for the Dakar is a whole other matter. Which is why they need to compete in the Merzouga Rally first. "The idea is that instead of him coming out straight from here and then landing into the deep end of the pool, he swims through and experiences more. The people here have no clue as to the kind of commitment and fitness levels required. It's very important that you slowly evolve."
Evolve. I think that's what we need to do with the events here as well - make it more challenging and more interesting. Give the competitors a taste of what it's like to be in an international event. But it's not as simple as it seems. "Yes, it needs to get tougher. But where do you find that balance between the route and the machine. A lot of the times, we've gone a little overboard on the route and we got screwed because the machines can't handle it. And if we go completely catering to the machines, then it's a damp squib, so you can't do that either. Once we can achieve at least 50 per cent decent hardware, then we can start upping the ante in terms of the route. The dream is, of course, to go cross-country rallying across dunes," says Kapoor with a laugh.
Joaquim Rodrigues won the Moto class on his Dakar-spec rally bike from Hero MotoSports Team Rally
But from an experienced competitor's point of view, it's a bit different. "Equipment wise, I've seen local guys in Morocco with 50cc mopeds climbing up dunes five floors high. So it's not like it's impossible. I think we should have some orientation where people come in and see how it's done. It's high time we move up the ladder now. It's been a long, long time and no one is preparing themselves for international events. So that change will definitely help them grow," says Aravind.
And I hope it does change. Bringing the Dakar name to India is a very big deal, and the fact that Northern Motorsport has done it reassures me. Like I said, the Dakar Challenge prize is an opportunity to get into the Dakar Rally. While it does cover the entry fees, the winner still has a lot of work and expenses from his side like getting himself there, hiring a bike and finding a team. It's not like one of those all-expense paid trips you can win by answering one simple question about a movie that was playing on TV. Even though Charlie got the Golden Ticket, he still had to buy a bus pass to get to Willy Wonka's factory, you know.
Price (Ex-Delhi)
Starts Rs 16.98 Lakhs
Price (Ex-Delhi)
Starts Rs 24.98 Lakhs