In conversation with Arun Krishnamurthi, Managing Director and Chief Executive Officer, AXISCADES Technologies Ltd.
AXISCADES is a BSE listed technology solutions company focussing on engineering solutions and services. Axiscades is an OE supplier to many brands that sell cars in India. Their expertise lies in cutting-edge global tech solutions like ADAS/AUTOSAR systems, connected vehicle technologies, technology solutions for electric vehicles, and other hardware and software allied to such forward-looking tech. We recently spoke to Arun Krishnamurthi, Director and Chief Executive Officer, AXISCADES Technologies Ltd. to get a perspective on the future of ADAS in India.
What kind of vehicle safety systems do you see getting popular in India over the next decade vis-a-vis the rest of the world?
The automotive industry is one of the most dynamic industries and it is experiencing an industry transformation, with new security and safety features being introduced and incorporated. Today, what was once considered to be a luxury - safety features such as airbags, ISOFIX mounts, sturdy structural integrity, driver assistance features, etc., are now a necessity and are being offered by leading manufacturers on most vehicles in India. Vehicle safety features have evolved over the years with advancements in structural integrity, better crumple zones, airbags, seat belts and of course the safety electronics & software. According to an industry report, Indian automobile customers are becoming increasingly safety-conscious and are willing to stretch their budget to buy cars with advanced safety systems. As per the report, technologies will see rapid penetration in the Indian automotive market and by 2030, they will be fully in place including -
Adaptive Cruise Control System (ACCS)
Blind Spot Detection System (BSDS)
Lane Departure Warning System (LDWS)
Drowsiness Monitoring System (DMS)
Parking Assist System
Tire-Pressure Monitoring System (TPMS)
In Fossil fuelled vehicles - passive safety systems would increase from 2 airbags to 5 to 8 airbags with speed alerts and controllers. In active safety - rear parking assistant, blind spot detection, object detection (OD) warning and control system, collision warning and Electronic Stability Control (ESC) would become common in most vehicles. These are commonly seen in the sectors where large production is made. In Electric vehicles, shockproof batteries and wiring systems are some of the popular safety features set to gain popularity in the next decade.
The Indian traffic conditions are a case study in itself and the driving patterns/indiscipline don't seem to change much even as awareness about vehicle safety is getting better. How do you see ADAS playing a significant role in such a scenario because it usually needs disciplined traffic to work well and therefore ends up being far too intrusive and unreliable in the not-so-disciplined driving conditions?
Advanced Driver Assistance Systems (ADAS) has revolutionized the vehicle safety systems by helping drivers drive more safely where the systems work autonomously through the use of sensors, programs and algorithms. Leading automotive manufacturers are developing a variety of ADAS functions in addition to global standards such as automatic braking. The penetration of ADAS in India is comparatively lower than in other European countries. This is primarily due to poor infrastructure, especially in the hinterlands of the country and driving habits. Cost sensitivity among consumers or a lack of awareness of the ADAS features for safety among consumers are also a few of the roadblocks. Good infrastructure, driving habits and driving rules are always an advantage to have full fledge ADAS to work. Both are in the developing stage in India, having this limitation does not stop having cars with other ADAS features from L1 to L3 such as front and rare collision warning, blind-spot detection, automatic emergency braking, distance control, etc. In addition to this, the Indian government is also making strides towards introducing a mandate to bring Advanced Driver Assist Systems [ADAS] in the near future. In that stride, they are working to make Electronic Stability Control (ESC) and Autonomous Emergency Braking (AEB) mandatory in cars on Indian roads very soon.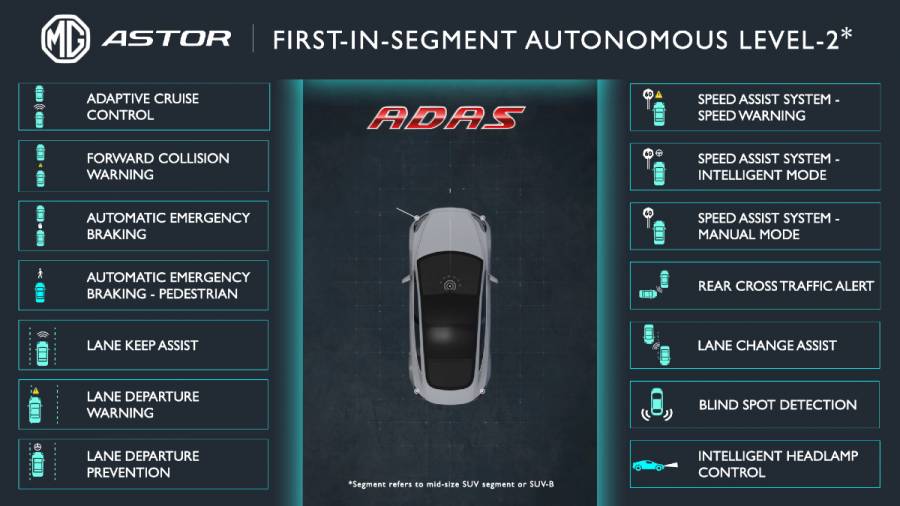 Cars like the MG/Astor and the Mahindra are early adopters of ADAS in the relatively more affordable end of the Indian car market. The image seen here has been used for representation purpose only
How do ADAS systems developed for the global markets differ from ADAS requirements in India?
Indian Market when compared to global markets is altogether different when it comes to driving habits and this poses a challenge to the ADAS designers in India. The design and development of ADAS systems are considered as per the needs of drivers in foreign markets as well as the Indian market. Cars sold in India broadly fall into 2 categories, premium cars where luxury and safety are voluntarily chosen by car owners - which is a small percentage; whereas shark share falls with the basic need to have personal transportation, which comes with BNVSAP mandated features. To cater to larger sectors of car buyers OEMs may plan to come up with non-sensor fusion ADAS features similar to that available in the global market. Premium car buyers can still find features that are available in the global market. A few European manufacturers have made that attempt in India.
By when do you see ADAS becoming mainstream in the Indian market? How can a solutions provider like you make it cost-effective vis-a-vis systems designed for the global markets?
BNVSAP has started to define Indian specific standards, this is looking promising to adopt ADAS in the Indian Market. As mentioned earlier, it will be a linear growth in terms of ADAS/AD features. The features are made available with mono sensors keeping in mind the required safety and compressive functionality. We are also seeing a more competitive market for sensors that will complement the ADAS features at a reasonable price.
In the next five years, what percentage of the market do you see adopting ADAS-enabled cars compared to "non-ADAS" variants?
The Indian automobile market landscape is changing rapidly when it comes to being a partner for Level 2/3 ADAS technology development in India. We can see more than the average percentage of L1 to L3 ADAS features coming up in the cars where it is not dependent on infrastructure. The Indian government is significantly trying towards implementing a mandate to bring Advanced Driver Assist Systems [ADAS] in the coming years. As mentioned earlier, they are also working to make Electronic Stability Control (ESC) and Autonomous Emergency Braking (AEB) mandatory in cars on Indian roads very soon. So certainly the percentage of ADAS-enabled cars would be much higher.
Interview Conducted By Rohit Paradkar
Price (Ex-Delhi)
Starts Rs 11.99 Lakhs
Price (Ex-Delhi)
Starts Rs 29.98 Lakhs