In conversation: Stephan Winkelmann, CEO and president, Lamborghini
Lamborghini unveiled the Centenario concept at the 2016 Geneva Motor Show recently. This one-off concept was built to pay homage to the late founder, Ferruccio Lamborghini on his hundredth birthday. We also caught up with Stephan Winkelmann, the current CEO and president of Lamborghini to know more about the Lamborghini Centenario, the upcoming Lamborghini Urus SUV and also the new challenges that lie ahead of him as he joins quattro GmbH on March 15, 2016.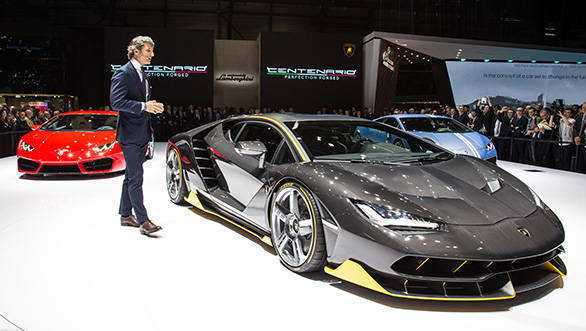 Question: It is an interesting time in your career. The Centenario will be the last big goodbye to Lamborghini from your end before you head off to quattro GmbH. What are your feelings at this point of time?
SW: I had the honor of serving Lamborghini for more than 11 years. Time went by really fast, in a blink of an eye I have to say. It was a good time and I have a lot of very positive experiences. I love almost everything connected with Lamborghini and on one hand it's sad to leave and on the other side I am prepared for a new challenge.
Question: Is there any special situation from your 11 years in Lamborghini that comes to mind?
SW: There are many. But I can pick two which are very special to me. The first one is when we decided to go ahead with the Aventador. That was the first project that I followed up from the very beginning. The second one is when we got the 'okay' to produce the Urus in Lamborghini. These are the two things which stand out from the rest.
Question: Is there a sort of regret or a sadness that you are leaving before the Urus comes to life because it's something that you took a lot of interest in?
SW: There is always that one project which doesn't get finished. This is a part of life as and also a part of business life and I have to accept it. For me to have the opportunity to be a part of Lamborghini for such a long time was unexpected. If someone had asked me when I joined the company if I would stay for this long, I would have said I don't think so.
Question: Can you please tell us more about the Lamborghini Centenario
SW: The Centenario is a car which we've made to celebrate the hundredth anniversary of Ferrucio Lamborghini. It is a car which is dedicated to him but it's a one-off. A one-off is always something very positive for Lamborghini because it increases the value of the brand. It gives the designers and the engineers a freedom to do things that they usually can't do. It is a limited production model with 20 of each type (roadster and coupe) and they are sold already. It is for customers and not for museums. It is important to me and the team that we are not building cars to be kept somewhere but cars that should be driven. We have very few selected customers that are close to the brand who are buying the cars.
Question: Was it challenging and restricting being in Lamborghini for 11 years as you don't have the freedom to do things the way you wanted to because of traditions
SW: This is like salt in the soup. If you have absolute freedom to do everything, it will be too easy. The challenge is about the rules, innovation, platforms, safety and traditions. Challenges are a part of the game and they are everywhere. I think they are difficult but more interesting. If you can move a brand thinking of the future ahead, you have achieved what it takes.
Question: Personally what do you think about how Lamborghini has received the idea of a future with turbos and hybrids
SW: The brand is prepared with more than two cars so the balance between hybridization and electrification is something that everyone will be looking into. This has to be done while maintaining the DNA of the brand by also fulfilling the rules of the future. The Lamborghini Urus will be the first step.
Question: Sergio Marchionne (CEO - Fiat Chrysler Automobiles) has said that he would rather be shot than get Ferrari into autonomous driving and that sort of technology. What is Lamborghini's take on it?
SW: Autonomous technology today is about using the car as a time saver and is also safe, which is much appreciated. The most precious thing that we have on earth is time. So this is a very good thing but for Lamborghini, time is invested in driving the car. It is not for driving from A to B. Instead, the journey is the target. We are interested in everything that is in front of us. Assisted driving is something for safety and is important for us as a company. But autonomous driving is nothing for a Lamborghini supercar.  On the contrary, such regulations will aspire more people to have cars like ours.
Question: Speaking of competition, they say carbon fiber technology is good but expensive. How did you manage to use it and still sell as much?
SW: One of the important challenges is the reduction of the weight because of all the technologies that are coming up. You have to find a balance between the cost of money you put in and the price you can achieve. In case of a one-off like the Centanario it is possible. We are using more and more technologies that are connected with carbon fiber which are not as expensive as they were in the beginning.
Question: Do you see the Urus taking over as a volume player like the Porsche Cayenne?
SW: We want to double the volumes with the Urus and sell an average of 5,000 to 6,000 cars depending on the year and lifecycle of the cars. So it will be exclusive. Don't forget that the super sportscar segment is very small and we have two cars with long lifecycle, very high investments and low volumes. To sell more in the bigger segment at high pricing is what we need to see.
Question: In what direction would you like to see Lamborghini heading?
SW: We have a clear strategy for Lamborghini. We want to establish Lamborghini as an Italian super sportscar brand with the highest image. This is the idea and we are constantly working on this.
Question: When you say, Lamborghini has a clear strategy, is it something that you have put in place. Will it change now with your successor in the future?
SW: Strategy is something that is created by the team and is something that needs continuous updates. The world is changing so fast and we have to adapt and if we want to be perceived as trend setters, then we always have move by keeping a close eye on the market and also think ahead of what people would want to buy today.
Question: With the Urus, you are looking at doubling the volume which might run a risk of diluting the niche and exclusivity of the brand. Is that something that could possibly make Lamborghini diversify into new product ranges and look to reach out to larger a audience?
SW: I don't think so. 6,000 cars well distributed all over the world will not give the brand high visibility. The scarcity is something that we want to maintain. And it is up to us to build the amount of cars necessary to keep the demand higher than the offer. We have to do this not for one year but over the lifetime of the car. Don't forget if we want to maintain the spirit of cars like the Aventador, Huracan and their followers, it is important to have some safety in a larger segment.
Question: Any insights on the Indian market. It is one of the markets that has been very challenging for Lamborghini.
SW: Ya, the Indian market unfortunately is not taking off. We have an average of 20 cars which will continue for the foreseen future. The Urus can give a kickstart to the market. We will follow it closely and are ready to do more. The supersports category is not below 100 cars a year.
Question: What would you say is a challenge for Lamborghini in the Indian market?
SW: One is high import taxes. To be a Lamborghini there costs three times as much. The second is infrastructure, which is also one of the bigger challenges. The market has money and the willingness and the brand has a huge fan community. If I am not wrong, in social media it number two worldwide in terms of clicks. When I was in India, we had kids running around me asking for an autograph. So the brand is very very strong in India.
Question: What would you like to take from Lamborghini to quattro GmbH?
SW: Experience. Experience will remain. I was in Fiat before, I was here for 11 years. So you have to get the people behind you and you should have the freedom to act and quattro has huge potential.
Question: Any advice to your successor?
SW: I have no advice for my successor. He knows what to do.
Price (Ex-Delhi)
Starts Rs 3 Crore
Price (Ex-Delhi)
Starts Rs 1.19 Crore