Image gallery: Off-roading in the Western Ghats
We went exploring the Western Ghats and driving on dirt roads in the new Toyota Fortuner along with Ruturaj Ingle and his family. We also discovered many hidden gems thanks to Ruturaj who loves nature and spending time in the woods. Here is the exciting off-roading story told through images.
Our first stop after leaving Mumbai was at the Ingle's lovely family home in Kolhapur
The Ingle's took us for lunch to their Padma Restaurant that serves a wholesome veg thali
Padma Restaurant owned by the Ingle's is also renowned for its mutton thali
Sawai Mansing Resort where we stayed at in Amba Ghat
The Amba Ghat region is lined with many wildlife signboards
Sign says it all
Ruturaj Ingle introduced us to some fantastic dirt tracks and took us to many beautiful places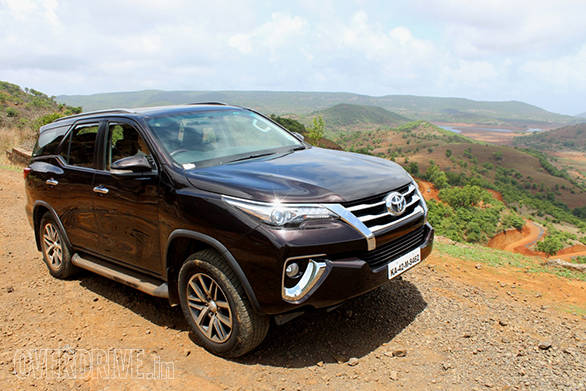 The new Toyota Fortuner proved to be a good partner for this expedition
Cricket being played in a village complete with spectators sitting in trees
Driving on the dirt trails was enjoyable and the Fortuner coped well with the rugged conditions
Ekant Solitude - the Ingle's charming little resort in Radhanagari
Dinner at Ekant is served outdoors under the forest canopy
The Fortuner packed in a lot of stuff including food baskets and Rammy's precious guitar!
Wonder when people will realise this
The Sahyadris offer lots of opportunities for serious off-roading
Gaur or Indian bison in Radhanagari Wildlife Sanctuary
The Western Ghats are full of scenic sights
A small village with thatched roof huts inside the sanctuary
Occasionally, we came across patches of open forest
It was jackfruit season and we saw them on sale everywhere
The Patgao region had received some rain and was greener
The Ingle's farmhouse is attractively situated amidst verdant hills
Gauri and Ruturaj Ingle
Aerial view of the Ingle's farmhouse and its spectacular surroundings
View from the verandah of the Ingle's farmhouse
Entering the dense forest near Patgao
We saw many spider dens on this journey
And also came across wild mangoes growing in many places
These jungles are so thick that even in the day you need to drive with the lights switched on
Deep in the forest, headlights shining bright...
The street tyres would soon get covered with mud, leaves and what have you
The tarmac country roads we drove on were very picturesque and largely traffic free
The entire hilly region is full of amazing vistas
There are also many wind farms in this region
And we drove right past many windmills
The Western Ghats also have many dams and water bodies
Our wheels parked outside our beautiful bungalow at Forest Escapes Resort
We encountered thick fog in some places
And also saw some magnificent hill forts
Bob with Aaryamaan, Gauri and Ruturaj Ingle
Photography: Aaryamaan Ingle, Rammy Nagpal & Bob Rupani
Price (Ex-Delhi)
Starts Rs 29.98 Lakhs