Image gallery: Harley-Davidson Flat Track School Experience
Flat track is a simple form of motorcycle sport. It takes place on an oval course ranging from 400 to 1,600m and it has, as ovals tend to, two semi-circular ends joined by two straight sections. So that's the two corners you have to get right. Except that there is no front brake. Which means you have to learn to slide the motorcycle into the corner to scrub speed and you also have to slide the motorcycle on the exit because in the dirt, a fast slide produces acceleration and also tightens the line so that you can add more throttle. Teaching us all this was Marco Belli, who is an 11-time champion, runs a flat track school in Italy called Di Traverso and most famously, is the man responsible for introducing Valentino Rossi to flat track as well as helping in the creation of the famed Tavullia ranch.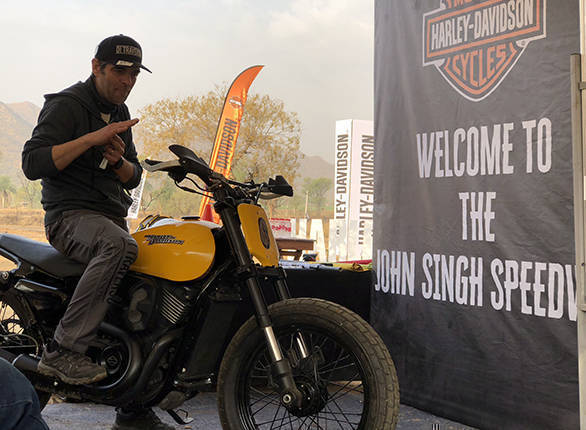 The Harley-Davidson Flat Track School experience was held at the John Singh Speedway near Viratnagar, outside Jaipur in Rajasthan. Lead instructor was this man, Marco Belli, who runs the Di Traverso Flat Track School in Italy and is famous for racing flat track as well as teaching a certain Italian MotoGP rider and helping that rider build a flat track ranch in Tavullia, Italy
That's Marco posing for a picture. It looks brilliant, doesn't it?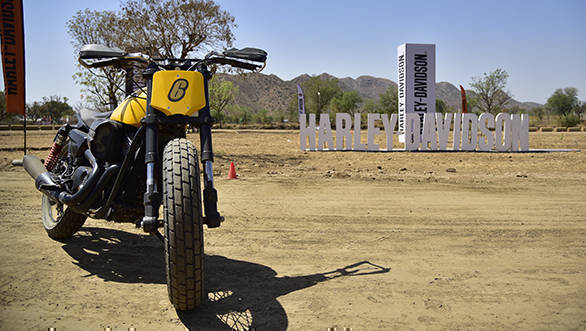 This is a Harley turned into a flat tracker by Rajputana Customs at the behest of Harley-Davidson India. It wears Shinko flat track tyres on new spoked rims, has lowered suspension and no front brakes at all. The tank also proved to be too wide for flat tracking, and it was cut to a narrower profile along with a shortened rear subframe and a flat, narrow seat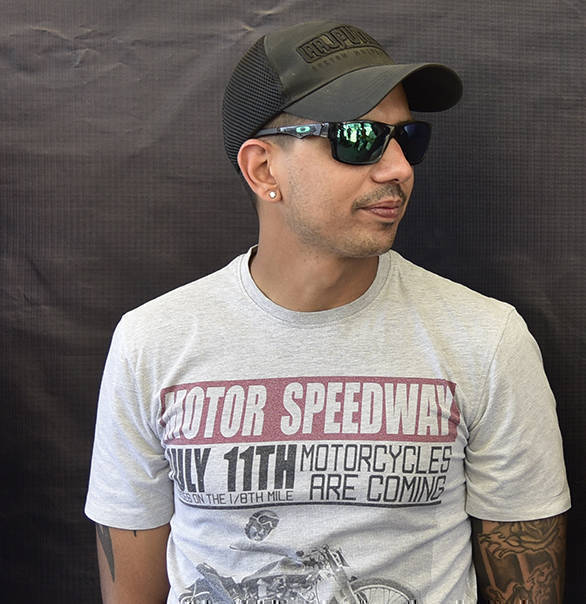 Vijay Singh Ajairajpura is famous for his company, Rajputana Customs. He built the John Singh Speedway to practice flat tracking as a way to go faster in road racing. The Harley-Davidson Flat Track School experience was the first official event at his speedway and he plans to figure out ways to allow more people to access the currently private facility
Marco Belli has been racing flat track for ages and ages and its that experience and his endless passion that pushes him to open the world of flat track to more and more riders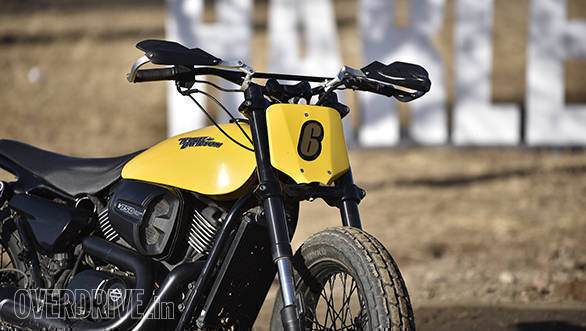 Removing all the glass and plastic from the motorcycle is a good idea, while barkbusters help protect the levers and bars from damage from the crashes that must inevitably follow the learning curve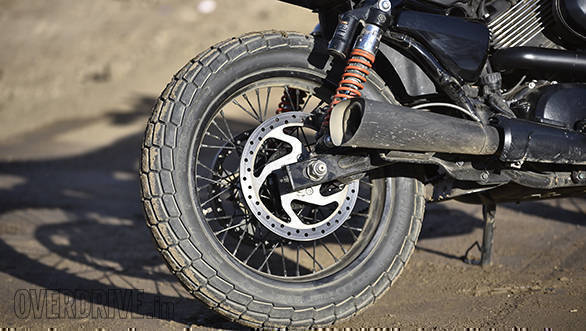 That's the only brake you get. The rear brake is used to generate slides that help shed speed on the corner entries but getting a feel for them takes time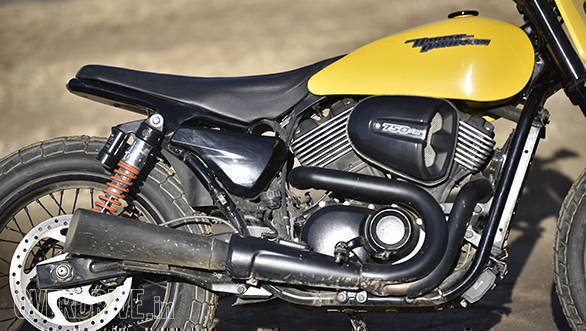 Note the seat and tank. The seat is narrow and flat and sits on an abbreviated subframe. The tank is narrow as well - it allows more leverage as you use your leg to hold on and permits the rider to climb forward as far as the gas tank cap if needed to manage how the tyres are loaded and its correspondent impact on the grip levels
These Shinko Flat Track tyres, on special spoked rims are part of the equipment a flat tracker requires. You don't want big knobblies or street tyres for this
Marco Belli has won over 10 flat track championships in Europe and America and now runs the Di Traverso Flat Track School in Varese, Italy. He was our teacher for the Harley-Davidson Flat Track Experience.
Alessandro Pagani, also from Di Traverso Flat Track School in Varese, Italy, helped Marco with the students for the Harley-Davidson Flat Track Experience braving the incipient summer heat in Rajasthan without any apparent strain at all.
The Harley-Davidson Street Rod in the foreground is meant for Marco to demonstrate the rather specific riding positin required for flat tracking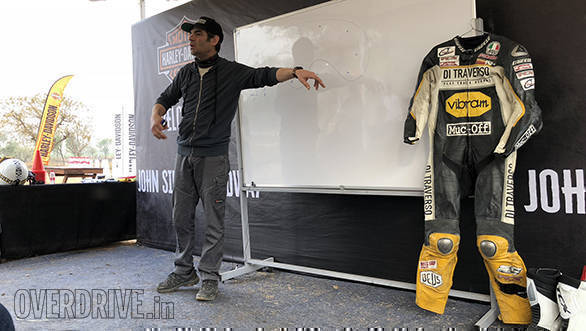 Marco Belli's classroom is a very simple one in terms of content and length. That's a function of the sport. But the number of things road riders have to unlearn to get flat tracking beggars belief. Luckily, Belli is an experienced mentor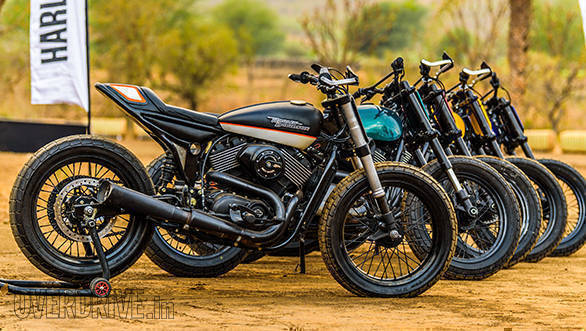 The black Street Rod is the most seriously modded flat tracker of this lot including a giant chain-driven sprocket at the back and a very quick throttle. The others are milder wearing a common mix of the spoked wheels, Shinko flat track tyres, no front brakes, flat handlebars with barkbusters and a narrow tank that allows riders to climb on top of it for traction if needed
This is the first drill. You have to come out of a U-turn with the rear sliding. It requires you to feel for the timing and throttle opening that produces the right kind of slide
Marco stands at the u-turn point in the drill and watches you closely, talking or gesturing at you constantly to try and improve your riding
Early into the school, the slides were not often, nor were they, er, visible...
...but given time, you get the slides happening. Partly as a function of how comfortable or brave you're feeling and partly because the track is getting drier and looser
This is the first drill. You have to come out of a U-turn with the rear sliding. It requires you to feel for the timing and throttle opening that produces the right kind of slide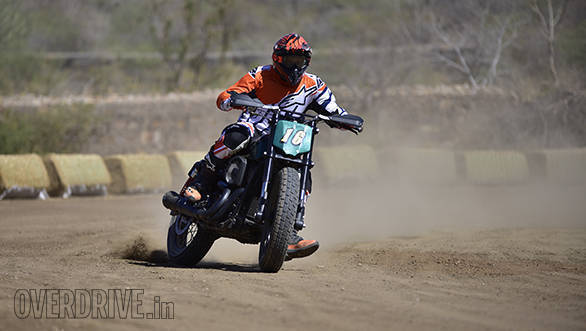 Vijay 'Wild Child' Thomas, marketing lead at Harley-Davidson showing how its done amidst a series of non-serious crashes that earned him a trophy for his efforts
No matter how many questions I had, Marco had a full repertoire of answer he would dive into and dig the answer out for me
Er, that's not sideways at all, yes? Allow the bike to break away is hard for new riders, especially tarmac riders like me, find very hard to allow.
That's Harley-Davidson MD Peter MacKenzie hard on the throttle out of the corner as he races during the Harley-Davidson flat track school experience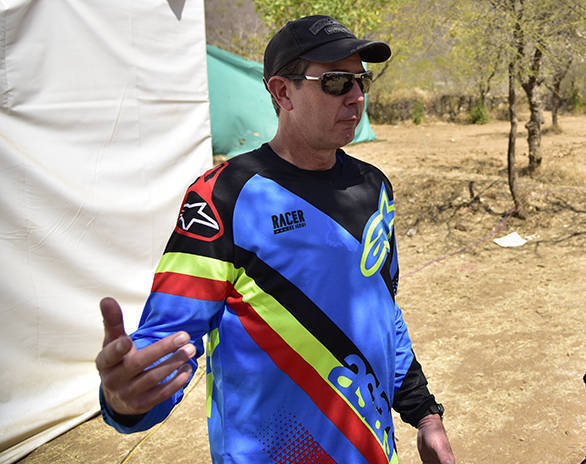 Peter MacKenzie heads Harley-Davidson India as well as China and apart from this, he's a passionate enduro rider as well
Strangely enough, you are never asked to apply opposite lock or steer into the slide during the school. Turns out the handlebar turns into the slide automatically and you sort of learn to let it naturally
The foot on the inside is used as an outrigger to stamp at the ground should the bike feel like it's getting away from you. It's okay if it skims the ground, or is just above it as in this photograph
Finally! After a long time of not feeling like I'm sliding the bike at all, this picture appeared. Not only is the bike sliding (fine, a little bit), it looks fast too!
These cactii are the trophies up for grabs at the Harley-Davidson Flat Track Experience trophies. Including the Marco, the big cactus, that went to the fastest rider on the day, Instagram sensation Vir Nakai. Why I didn't win one of these is a thorny issue
What a great two days! Marco and Alessandro's passion for the sport as well as support for our halting steps were clearly the highlight of the weekend for me
Price (Ex-Delhi)
Starts Rs 5,99,000