Idar Car Collection at the Dowlat Villas Palace The Heritage
With the dawn of 2021, I was very keen to bid goodbye to 2020 (the year of Covid), by driving out and seeing it recede in my rear view mirror. So in mid-January, my built in compass decided that I should head due north from Mumbai to Himmatnagar in Gujarat, and visit Maharaj Narendra Singhji of Idar, to see his car collection and experience a heritage home-stay at the Dowlat Villas Palace.
Maharaj Narendra Singhji of Idar, is a keen automobile enthusiast with a fine collection of classic cars
Maharaj Narendra Singh has a collection of about 10 to 12 vehicles which have been with his family for over three generations. His late parents Maharaj Umeg Singhji and Rani Prabhuraj Kumari Saheba were fond of cars, and Narendra Singhji has inherited this love from them.
The collection of about 10 to 12 classic vehicles, is housed in the garages of the Dowlat Villas Palace
The collection also has some carriages, which along with the classic cars are housed in the palace garages. In the collection is a 1948 four door Pontiac Silver Streak Torpedo, and one of the highlights of the Torpedo is that it has front and rear vent windows called "ventiplanes" (or quarter glasses).
Maharaj Narendra Singh with his 1948 Pontiac Silver Streak Torpedo
These have hinges and a latch, to enable them to be opened for additional ventilation and it's because of these ventiplanes, that the Pontiac Silver Streak Torpedo is also known as a six window special sedan. And thanks to the column-mounted gear shift lever, its long and wide bench seats can also accommodate six people in great comfort. So in a sense you have a window for each of them.
Maharaj Narendra Singh and son Karni Singhji, often take out their classic cars and go driving into the countryside
Maharaj Narendra Singh and his son Karni Singhji took me out for a drive into the countryside, in the well maintained Pontiac and I was pleasantly surprised not just by the space, luxurious seating, comfortable ride, but also the overall driving experience, which was so very enjoyable.
Bob Rupani with Maharaj Narendra Singh
The other car that I think is a star of this collection is the 1941 Cadillac. According to Maharaj Narendra Singh, his father was inspired to buy this car by late H.H. Rana Saheb Devi Singhji of Barwani (father of well-known car historian and restorer Manvendra Singh Barwani), who was a great lover of American cars and Cadillac's in particular.
Left to right, 1948 Pontiac, 1941 Cadillac, 1953 Buick and the 1947 Buick
The garages in Dowlat Villas Palace are home to a fine 1947 Buick too, and Narendra Singh says "With its flow through fenders, this is one of most beautiful looking cars in the world and that is why it found a place in almost every royal family garage in India".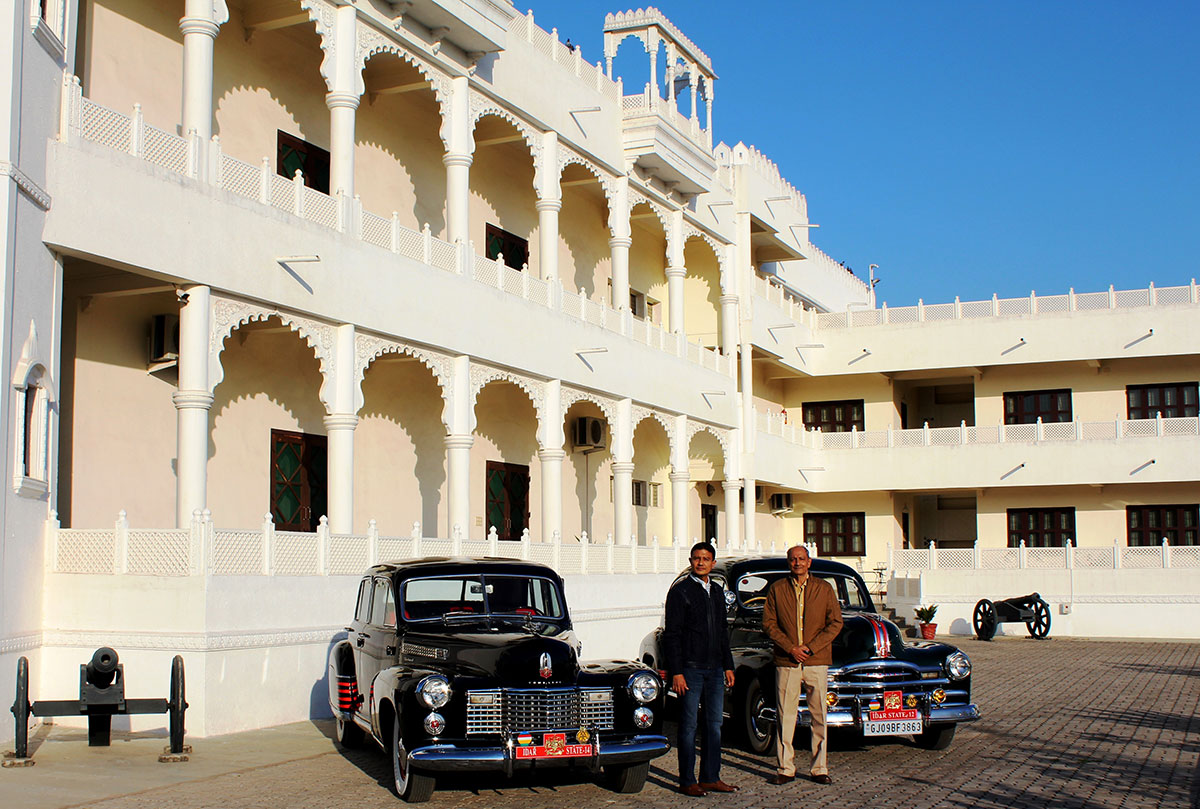 The Cadillac and Pontiac are the two shining stars of this collection
Narendra Singh also has a 1953 Buick, 1957 Dodge Kingsway, 1954 DeSoto Diplomat Special Deluxe Coupe Convertible, 1943 Ford GPW Military Jeep, 1959 Morris Minor and a 1975 Mercedes-Benz 280 S.
Left to right, 1959 Morris Minor, 1954 DeSoto Diplomat, 1975 Mercedes-Benz 280 S and the 1948 Pontiac
The erstwhile princely state of Idar was entitled to a 15 Gun Salute, and what is very heartening is that in keeping with the post-Independence era, the family now proudly runs a CBSE School (rated as a premier educational institution) in their ancestral palace premises.  Maharaj Narendra Singh's son, Karni Singh, is actively involved in the management and running of this school.
Maharaj Narendra Singh and son Karni Singh, sitting on a bench supported by wheel rims!
The Dowlat Villas Palace also offers a heritage homestay experience (again looked after by Karni Singh) in their 11 well-furnished and airy and comfortable rooms, which are equipped with Victorian and art deco style furniture. In case you do visit, please ask for a room overlooking the family's cultivated fields. Viewing the sun rise over these fields is rejuvenating and rewarding. For more information www.dowlatvillaspalacetheheritage.com
The Dowlat Villas Palace also offers a heritage homestay experience