Hydration packs: ViaTerra Marine vs CamelbakStoaway vs BTwinHydration Pack5
Camelbak is the big name in hydration systems and the central theory is that if you sip water regularly you stave off dehydration. This not only improves your stamina but also leaves you feeling vastly fresher at the end of the activity, in our case motorcycling.
We will be the first to back this theory, having ridden with a hydration pack almost without fail for the past seven-odd years now. As it turns out, Camelbaks are not the only option for you anymore. So we decided to take a look at the three options available to you, what are their costs and, most importantly, which one you should buy.
All three have the same basic features, a bladder (a synthetic pouch that carries the water), a tube (to carry water to your mouth) and a bite valve (a valve that opens when you bite on it to release water). Most systems are vacuum-sealed when closed so that the water remains in the tube rather than in the pouch like your average school water bottle.
ViaTerra Marine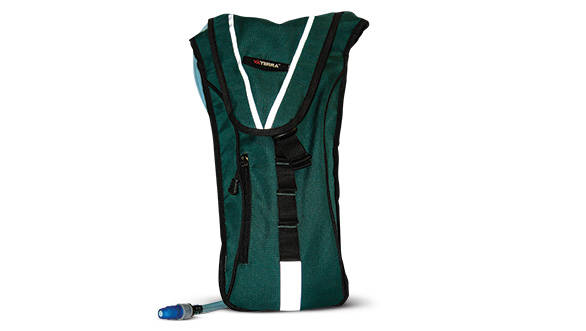 This new luggage company sources its bladder, tubing and bite valve from Decathlon and in that is identical in function to the BTwin. The problem is the materials feel a bit cheap on both, especially compared to the Camelbak, most noticeably the tubing. The bite valve is marginally smaller in size though which makes it easier to get it into your mouth when helmeted. The ViaTerra is a bit easier to fill than the BTwin however, the change pocket is smaller.
Capacity: 1 & 2 litres
Starting price: Rs 1,200 (1-litre Marine)
CamelbakStoaway
This is a 3 litre pack that Shumi uses and he prefers non-strapped versions because they fit into his various motorcycle bags. The tube is neoprene-insulated (non-insulated models are available) and the bladder is distinctly higher quality too. No surprise because hydration is Camelbak's sole business. The Camelbaks are usually more expensive but are also usually worth the extra money.
Capacity: 1.5, 2 and 3 litres
Starting price: Rs 3,000 (Hydrobak 1.5)
BTwinHydration Pack5
BTwin is a cycling products company. The bag shown in the picture carries two litres of water, and also comes with 1 litre capacity. The bag is as well-made as the Via Terra but is a bit more stylish. The bladder can be hard to extract but this BTwin has additional storage space and you can pack in more stuff.
Capacity: 1and 2 litres
Starting price: Rs 2,990 (HB 7.2)
outdoortravelgear.com, Decathlon dealers and outlets