How to become a motorcycle racer in India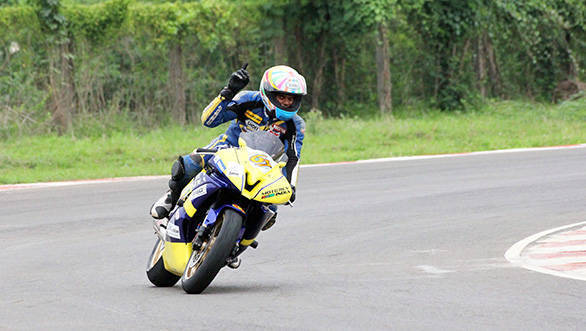 K Rajini after his win in the 600cc superbikes
Want to go racing?
So you've grown up watching the famed battles between the likes of Valentino Rossi, Max Biaggi and Sete Gibernau. Every time you see a motorcycle you feel a tremendous urge to hop on and pretend you're tackling the corkscrew at Laguna Seca. And you've pretended to pull the throttle all the way to the stop so often that you nearly have a case of arm pump yourself. In short, you want to become a motorcycle racer, but, like so many two-wheeler nuts out there, you simply have no idea how to go about it. Well, after a fair number of such queries filled the OVERDRIVE mailbox, we decided to give you a step by step guide to how you can attempt to realize your dreams of standing on the top step of the podium after winning a race.
You're not the only one who doesn't know how to go about it
It's the truth – you're not the only one out there who isn't clued in on how to go about becoming a racer. If you've been following the Indian motorcycling scene, you'll be well aware of a certain K Rajini – the man who has won multiple national motorcycle titles and is currently racking up the wins in the Losail Asian Road Racing Championship. When Rajini, at the age of 19, decided that he'd had enough of being a mere racing enthusiast, and that he wanted to compete in racing actively, he was just as flummoxed as your average Joe. It was just a coincidence that the mechanic he took his Yamaha to, happened to be a former racer himself. When he heard of Rajini's racing ambitions, he helped him get a foot in the right direction. However, as Rajini himself admits, it wasn't particularly easy. As someone who hadn't yet mastered the nuances of racing, he had to learn largely through observation, which wasn't the most convenient thing to do – as you can imagine trial, error and falls as the result of those errors were a large part of the learning curve. This is why we don't think it's the best idea to just show up at the racetrack and try your hand at racing.
Action from the Honda one-make Championship-CB Twister Novice class. Pic by Suhail Chandhok
First step: the all-important FMSCI licence
You ought to begin by attending a training session held by a motorcycle manufacturer – both Honda and Yamaha hold these training camps usually twice a year either at the Madras Motor Racing Track in Chennai or at the Kari Motor Speedway. Once you complete the training session, not only are you moderately well-versed with the nuances of racing, you also have a certificate to prove to the world that you are indeed ready to race. Why is this important? Well, if you intend to take part in a race, you need an FMSCI License. People who hold civil licenses for two-wheelers are eligible to directly apply for this. However, if you don't hold a two-wheeler licence, you will need one of the FMSCI's member clubs to certify that they have seen you ride and you know what you're doing when you're on a motorcycle. Once you have a member club's seal of approval, the FMSCI isn't likely to hesitate to hand you a licence. Of course, this is all rather complicated. Instead, you could sign up for racing school, get the requisite certificate from Honda or Yamaha and once you produce this before the FMSCI, you're almost certain to get your racing licence.
Note: Minors will require signed permission from their parents, as well as the parent's photo ID proof in order to apply for an FMSCI licence.
That first race
Once again, the safest option is to take part in what is known as a One Make Race. As of now there are three motorcycle manufacturers who hold one make races as support races to the 2 Wheeler National Racing Championship – Honda, Yamaha and TVS. The premise is simple: you pay an entry fee (approximately Rs 2000), show up at the racetrack with your helmet (it has to be FMSCI approved) and racing gear (you could opt to rent racing leathers at the track). Once you are trackside, you are provided with a race-prepped motorcycle to use for your practice and qualifying sessions, as well as the race itself. This essentially means that all you have to do is show up at the track and focus on riding. Not a bad deal at all.
The next step
Once you've competed in a few One Make races, you're likely to have come to a decision. You're either going to be satisfied with what you've done and feel glad you got racing out of your blood, or you'll discover you're hooked. Even once you're hooked, there's every chance you'll turn into a gentleman racer, who comes to the track as and when you have the time. The odd racer with real talent and drive (and possibly youth on his side) will decide he wants to make a career out of racing, and the next step for him would be to compete in the 2 Wheeler National Racing Championship. You need your own motorcycle, a mechanic and a thorough knowledge of the Sporting Regulations to boot.
Going the extra mile
You've zeroed in on the fact that amateur or professional, you want to be a racer of some sort. Well, then you may as well be good at it and learn something along the way. How do you do that? Go back to school - track school to be precise. There are three dedicated motorcycle racing academies in India that provide training in advanced track riding.
Indimotard organises the T.W.O (Throttle Wide Open) riding school at the Kari Motor Speedway in Coimbatore. OVERDRIVE is associated with this particular track school and if you follow us on Twitter on @odmag you can keep tabs on when the next session is happening. There are approximately four sessions held every year and each session is likely to cost riders approximately Rs 4300. Further details can be found on http://www.indimotard.com/two_racing.html or you can email tworacing@gmail.com or call 9980829440.
Apex Racing is another academy that runs dedicated programmes specifically to train riders with racing ambitions. While we haven't attended their academy yet, it's run by a bunch of proper racing enthusiasts, some with former racing experience, and we've only heard good things about it. The courses are split over three levels that move from basic to intermediate and expert riding skills. More details about Apex Racing's training programme, including course fees, can be found on http://apexracing.in/Academy_Details.pdf or or mail them at info@apexracing.in or call 9845031273 / 9902350508 for more details.
Then there's the California Superbike School or CSS as it's popularly called. Yes, that very same school of riding that was started by the legendary Keith Code and that very same school from which riders such as Wayne Rainey graduated! Well, if you have heard of CSS, there's every chance that you're a rider who wants to go there and if you haven't heard of CSS, there's every chance that you're a rider who needs to go there. The school comes down to India during January each year and trains a selected batch of students over the span of a few days at the Madras Motor Racing Track. There are four different levels of training at CSS, and each of these levels is a good bit more expensive than any of the other schools in India. We'll say that it's worth every penny! More details can be found on http://www.superbikeschoolindia.com or you can email superbikeschoolindia@gmail.com or call 044-24464344.
What else is there?
It's not particularly easy to make a career of racing though. You need to remember that K Rajini is a man of considerable talent when it comes to riding a motorcycle, but the going hasn't been all too easy for him either. Racing can be expensive and finding sponsors isn't the easiest task either. Add to that the fact that visibility for racing is rather poor in India, as compared to other sports, and it just becomes that much more difficult. If you're still keen on racing, give it a go. But don't expect it to be easy!
What should be there, but isn't right now
What we need more of are racing schools in India. Proper racing schools that riders can start off in at the age of 7 or 8 and get trained so that they are competing at an international level by the time they reach their mid-teens. Schools like this not only train riders, but then go on to point them in the right direction, ensuring they get spotted by talent scouts, have careers that are managed properly and, in short, have a chance at making it big. K Rajini is in the process of starting one such racing school in India. We're glad that he is!
Information you could use
For details on Yamaha's One Make Series visit: http://www.yamaha-motor-india.com/racing/about.html
For details on Honda's One Make Series visit: http://www.honda2wheelersindia.com/onemakerace/
For information on Sporting Regulations, Race Calendars, License Forms visit: www.fmsci.in
For any further information or queries write to info@fmsci.in or mmsc_chennai@yahoo.co.in