Honda Race Training school in India attended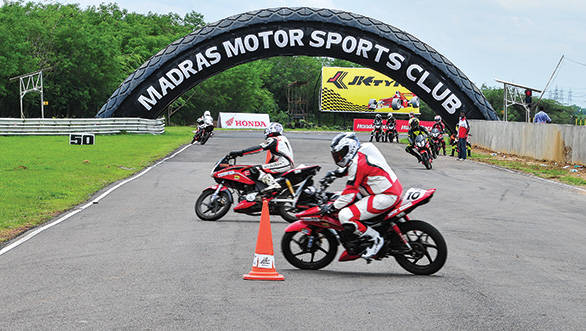 Honda race training school held at MMSC
Anybody who's ever spoken to Shumi about bikes usually goes back convinced to hit the racetrack. All of us at work have to talk to Shumi every day, so you shouldn't be surprised that all of us at OVERDRIVE keep making a beeline to either Chennai or Coimbatore. I've been the unlucky one in office so far. Every time the guys leave for a track day, I'm either broke or out for some other story. But not this time. The timing was just perfect and I was sitting on a flight to Chennai to attend Honda's racing training.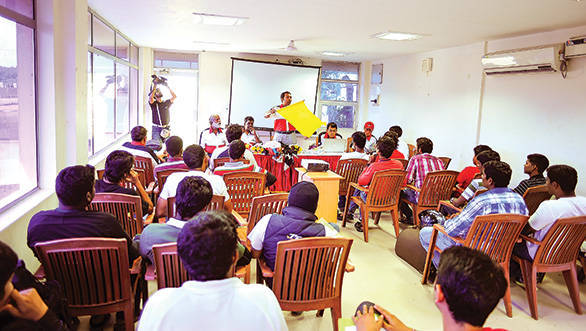 Theory sessions explaining the different flags at the Honda training school
The instructors for the session were Noboru Ueda and Hiroyuki Kikuchi, both former GP racers. Just to give you some background, in the MotoGP 125cc race at the A1-ring in Austria in 1997, Valentino Rossi could only manage second place. Why? Because Ueda san was 0.004 seconds faster than him. As for Kikuchi-san, he is a three-time winner of the 125cc race in the All-Japan Road Race Championship and has been racing motorcycles for 18 years. And if that wasn't enough, there was also Subhash Chandra Bose and Emmanuel Jebaraj watching over the whole thing, both legends in their own right.
Day one started with the riders' briefing where they explained all the flags, signals and basic track etiquette. Then we went out for some drills. First was the figure of eight. This was intended to show riders the right line to take in any corner. Accelerate hard, brake hard, enter wide, go as close to the cone as you can and open the throttle as you exit. And this is what we did, going round and round till we were dizzy in the head. After, we had suitably impressed the instructors and they had come and corrected whatever we were doing wrong, it was time for the braking drill. They lined us up at the starting line and asked us to accelerate till the cones on the track and then brake with all our might. And just in case we were planning to take it easy, Kikuchi san and Ueda san parked themselves straight in our way to make sure we don't. There's no room for any gentleness with the brakes when doing otherwise would have you putting a former GP rider out of commission. After the braking exercises it was on to the slalom. Instructions? Keep your eyes ahead and open the throttle as you pass each cone.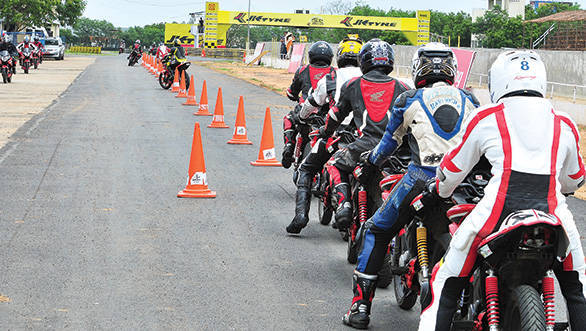 The slalom test at the Honda race training school
Post-lunch was track time. We were to ride on the short loop of the MMRT. A big disappointment, as most of the more fun corners are on the full loop. Anyhow, we were asked to follow Ueda-san and Kikuchi san around the track and copy their lines. We were taken out in batches of eight and followed the instructors for fifteen minutes, roughly 10 laps each.
Day two was almost entirely track time. We started off with Ueda-san and Kikuchi-san following us and watching how we were riding. At the end of the session they gave us feedback on what we were doing wrong and what we were doing right. The next session we were to follow the instructors again and observe what they were doing as they rode. The third session had them following us again for final feedback. By the end of the day, there was a free practice session followed by qualifying for the mock race and finally the mock race.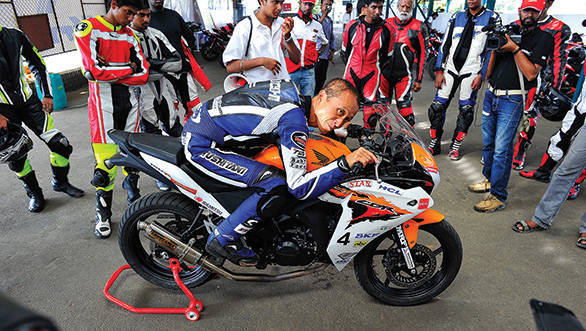 Kikuchi san shows the students the correct riding posture
These initiatives by Honda are the right step forward for motorsport in India. But I feel a bit more structure would have gone a long way in helping the racers. The drills too should be more specific and focus on a particular aspect of racing rather than trying to cover everything over two days. Especially if Honda is looking at the initiative as a training ground for the racers.
So was it worth the trip to Chennai? Let me put it this way. If you got an opportunity to learn to ride with and learn a thing or two from someone who rode with and beat Valentino Rossi, would you capture it or just let it slip?