Honda Amaze diesel put to test in Delhi NCR
Did you know modern day passenger car engines are at least twice, if not thrice, as fuel efficient than what we had nearly a decade ago? These engines also burn the mixture fed into their combustion chambers more cleanly and completely, so extremely little fuel if any at all is wasted. Getting that sort of mileage isn't simple, you have to design the whole car to complement the engine which through the day does all the heavy work.
Globally, diesel engines are largely more fuel efficient compared to their equivalent power rated petrol counterparts to the tune of 20-30 per cent. This is because diesels have higher energy density compared to petrols, diesel engines also run at higher compression and this is largely what leads to them being more fuel efficient than their petrol counterparts.
Previous generation diesel engines were also considered heavy and slow revving, because of the high compression which forced them to use heavy and strong internal parts. This also meant, they were not as fast as petrol engines, lots of torque but slow revving and definitely not meant for the performance enthusiast. Diesels were also very heavy because of these slow moving but industrial strength innards.
All that now seems like such an old story, modern diesels are incredibly efficient but are also light and can be enjoyed in a variety of purposes where agriculture or freight hauling is not the only purpose. Diesels have achieved land speed records, race in premier championships around the world and win, and are now also considered an equal option to those looking at getting performance with efficiency out of their cars.
One of the best examples of next generation diesel technology is Honda's new 1.5-litre i-DTEC diesel engine that has been used for the new Amaze sedan. This engine is one of the world's lightest diesel engines vis-à-vis the volume it displaces.
The fact sheet on this engine may look fairly simple, 1.5-litre turbo diesel with common rail direct injection technology. Power output is 100PS at 3600rpm and max torque is 200Nm at just 1750rpm. This is a superbly flexible engine and in a variety of Indian driving situations it clearly shows its benefits. Power delivery is linear, and performance isn't too bad either considering it's the quickest in its class.
We also test the Amaze diesel in New Delhi and put it through a variety of driving conditions
But how quick and how fast are literally questions that never crop up in mundane conversations about a car. The obvious question that will always crop in any conversation is just how fuel efficient is the car. To answer that question OVERDRIVE tested the Honda Amaze in our regular test cycle in Mumbai and on the highway between Mumbai and Pune. In these measured runs the fuel efficiency we achieved was 15.86kmpl in the city and 23.98kmpl on the highway. This translates to an overall figure of 17.89kmpl.
We managed to best our Mumbai figures by some 3kmpl, getting around 19.1kmpl
However, just to get an idea of where it stands in another city we also drove the car in New Delhi and put it in a variety of driving conditions. This included a drive from Connaught Place to the domestic airport which took into account the regular workday traffic cycle. On this stretch of road we encountered very dense traffic, having driven out during rush hour. Nonetheless the i-DTEC engine has superb driveability, so you can keep it in second gear and crawl at under 1000rpm easily. When the need arises the engine is quick to pick up too and if traffic is flowing smoothly between these two points or further up to Gurgaon even third gear at low revs will easily help you get the best efficiency.  We managed to best our Mumbai figures by some 3kmpl, getting around 19.1kmpl. Do keep in mind though that we were driving at a very sedate pace and doing all the right things, not weaving in and out of gaps in traffic or stepping too hard on the throttle. Also traffic in Delhi flows consistently with little stoppage unlike Mumbai where you can get stuck for several minutes.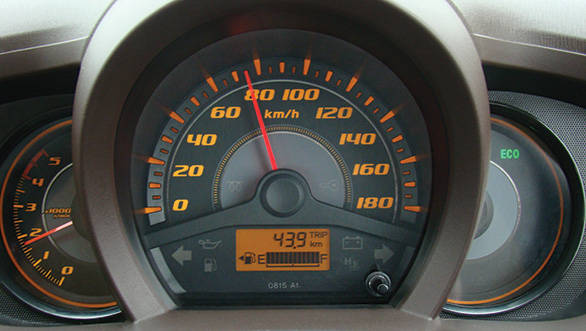 The engine is more in its element at a steady 100kmph or close to it
From Connaught Place, we also did a test run to Greater Noida using the DND flyway and the Greater Noida Expressway and then even added a high speed blast down the Yamuna Expressway. On the former stretch of road we maintained an average speed of around 80kmph going up and down the Greater Noida Expressway, twice to clock reasonable miles. On the Yamuna Expressway it was a 100km blast with the car doing an average speed of 100kmph. In the first instance we managed around 21kmpl, less than what we achieved in our tests, but that could also be because the DND and Greater Noida Expressway is a much busier place than the Mumbai-Pune Highway. On the road to Agra this figure, however, stepped up to around 24.6kmpl simply because the engine is more in its element at a steady 100kmph or close to it. At that speed the i-DTEC is ticking over at just around 1800rpm in fifth gear so it feels no strain whatsoever.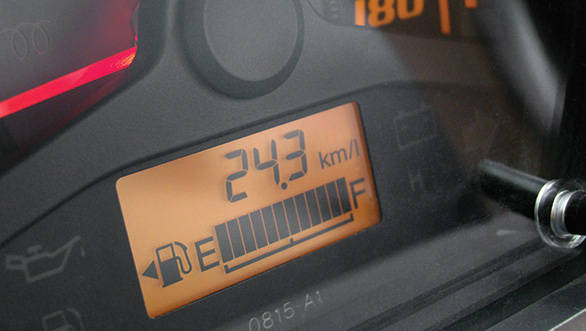 The Amaze's trip computer proved to be reasonably accurate and over 24kmpl over 100km was praiseworthy
So where does that amazing fuel efficiency come from. The 1.5-litre i-DTEC features an aluminium cylinder head joined to an open deck aluminium block. The extensive use of aluminum in this engine is what makes it lighter. The weight of an engine also contributes significantly to the overall weight of the car thus creating a much heavier load on the engine. Reducing weight in an engine isn't simple - in fact it is far more complex to reduce engine weight than it is from the rest of the body or chassis. Since the engine has several moving parts that are also conditioned to extreme heat and pressures it is imperative that any material used in the engine must have high tolerance levels.
Now each cylinder wall is only around 8mm thick, which for a diesel engine is quite amazing. This because a diesel engine's cylinders are prone to high compression pressures and thin walls can be damaged easily, yet Honda has optimised the way each cylinder functions to ensure reliability is never compromised. Each cylinder is also surrounded by a continuous water jacket operated by a new compact water pump that enhances engine cooling significantly for more efficient operation.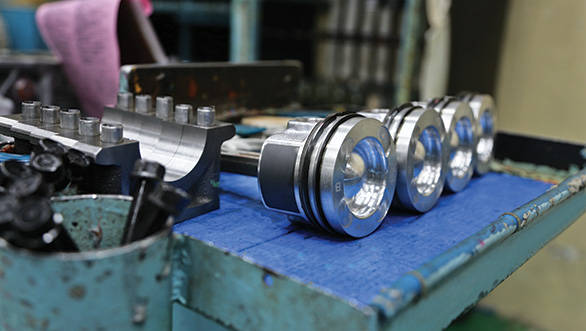 Each cylinder wall is only around 8mm thick, which for a diesel engine is quite amazing
Inside each cylinder is a lightened piston with a thin and short piston skirt working inside lightened cylinder liners. The connecting rods are light weight units as is the crankshaft which is also stiffened and lightened after having treated them with nitrides. All of these weight saving measures are to reduce frictional losses within the engine thus improving fuel efficiency.
But just the engine's internal components don't get you the figures you need in everyday driving cycles. It needs to respire cleanly and the wind has to get deep into its lungs. Honda made sure of this aspect by using a Honeywell Garrett turbocharger which uses a fixed geometry. This engine is fuelled by a set of second generation solenoid fuel injectors running 1600 bar rail pressures.
All in all the Honda Amaze returned some incredible fuel efficiency figures that clearly stamp its authority amongst its peers.
Price (Ex-Delhi)
Starts Rs 6.32 Lakhs