Holidaying in Goa in a Hyundai Grand i10
If you were to ask someone what comes to mind when you say the word 'paradise', they would more often than not picture a beach setting in their heads. Heck, even typing paradise into a Google image search box will flood your computer screen with white sand, waves and blue skies. In India, there isn't a beach destination more popular for an escape from the humdrum of daily city life than Goa. It has now morphed into a brilliant holiday destination all through the year, and even in the heat of the summer months or the wet and dreary monsoon, there is either some water sport or one of the many spa resorts that you can escape to. The best time to go to Goa, though, is the winter months when the weather is warm and the parties are rocking. Flights and busses are available from most major cities, but we chose to drive there in the new Hyundai Grand i10. It was pure bliss on the NH4, and the frugal 1.1-litre diesel engine delivered brilliant efficiency over the 580km we covered from Mumbai to Goa.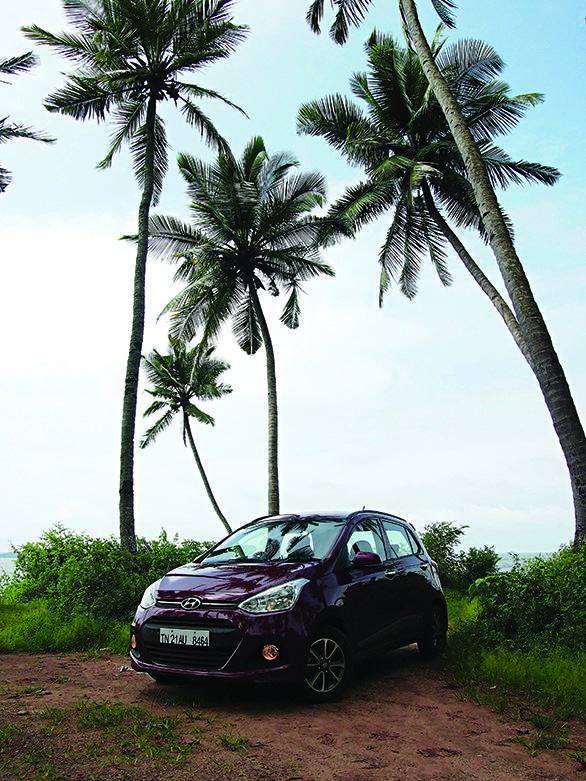 The Hyundai Grand i10 diesel
The state
Goa is India's smallest state by area and the fourth smallest by population. It's nestled between the states of Maharashtra to the north and Karnataka to the south on the western coast of India. It was a Portuguese province till 1961, and much of the influence can be seen in its Portuguese architecture, while many still speak Portuguese – their official language before Goa became an Indian state. Tourism is the state's primary industry with as much as 12 per cent of all of India's foreign tourists travelling to Goa. It's split into two basic regions North Goa and South Goa. Head northwards, if you're looking for a fun vacation, while you can drift southward if you're in a mellower mood.
Pristine white sand beaches stretch for miles
A Goa state of mind
Goans are know for being very friendly and laidback, and most of the resident population (that haven't migrated to other metro cities) are generally involved in the tourism industry, catering to the millions of tourists that flock to the state in the course of a year. This laidback attitude is what one should adopt for the quintessential Goa vacation.
A typical day in Goa would include waking up late, heading out to the beach for some sun and a late breakfast. That is followed by a delayed lunch just before sunset, before you settle yourself at one of the many quaint little bars where a local band is playing some brilliant live music. Or you could spend the whole day at one of the beachside shacks, where time stands still and you can relax with some cheap alcohol and feast on the fantastic fresh seafood served there.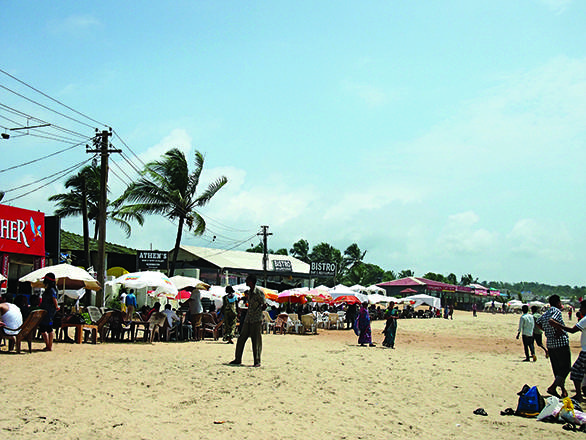 Shacks are a great place to kick back and relax
Colorful fishing boats all lined up after coming in to port with the daily catch
One shack that we visited had a great way of letting patrons know just how Goa time works. On a wall were a set of four clocks set to different time zones. Three regular clocks showed the time for IST, GMT and EST, nothing out of the ordinary there. But the fourth clock, labeled 'Goa Standard Time' just had a second hand, ticking away all by itself as if to say "put your feet up, order a cold one and just chill". And that's just what we did.
Food
In Goa you will find some of the most diverse selections of cuisines to choose from – from the staple fish curry and rice to Italian thin crust pizzas made in real wood fired ovens, to sushi made from the freshest fish straight out of the sea. The number of foreign tourists passing through the state ensures that there is a big market for global cuisine and that the food is as authentic as local produce and ingredients allow. One thing is for sure, if you are a foodie, be prepared to have to loosen your belt a couple of notches before you make your way back home.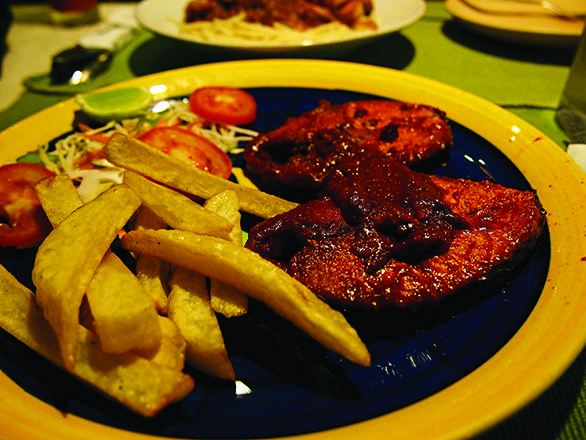 Freshest fish straight out of the sea
Shopping
Goa is also a great place for some good bargains, from the stereotypical 'I love Goa' t-shirts and Hawaii shorts to semi-precious jewelry and precious gem stones. There are a number of roadside stores in North Goa where prices are low and the shopkeepers expect you to haggle a bit. Then there is also the famous flea market, held near Anjuna Beach every Wednesday afternoon from mid-November to February that has a number of stalls selling a host of odds and ends. There are also two night bazaars that are held every Saturday night in North Goa, once the winter season starts, open from late afternoon to midnight. The flea market, as rumour goes, started when a group of foreigners got together to sell their belongings for money to pay for their return airfare. Today, both the flea market and the Saturday night markets still have a number of stalls run by foreigners, but these are pure businessmen (or women) charging regular prices. The markets themselves have grown into organised events with food stalls, bars and live music arenas. You won't find too many bargains now, but it's a great way to spend either a Wednesday afternoon or a Saturday night.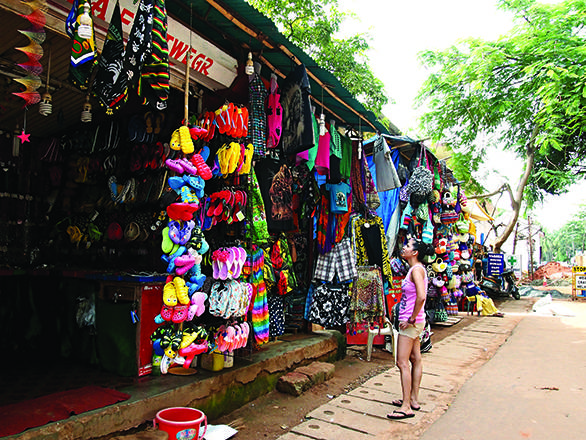 Shopping for a bargain at one of the many roadside stalls near Baga Beach
Party town
Goa has also built a reputation (good or bad) for having some of the biggest parties during the Christmas and New Year holidays. Be it large music festivals drawing in massive crowds with international acts or the less commercial party venues like Club 9 Bar, which hosts international DJs but draw a smaller less boisterous crowd, there is always something there for everyone. Then if your looking for a more traditional experience, head to a local party during the off-season months where you can be treated to a true Goan party atmosphere with local bands and DJs spinning out a great mix of local and western music. Then there are the marathon 24, 48 and 72 hour (yes, you read that right) parties that are held to celebrate New Year.
Christmas celebrations
December 25 is the day of celebrating the birth of Jesus Christ in most parts of the world. The large Christian population in Goa means that the festival celebrated with great fervour. People clean their houses and don their Sunday best in preparation of welcoming baby Jesus into their homes. Christmas trees are taken out of storage and brightly decorated, while the outside of houses are lit up with colourful lights. Every home also prepares a Crib, a small depiction of the stable that Christ was born in. It's set up completely with figurines of Joseph, Mary, the wise men and the animals in the stable. The only exception is the figurine of baby Jesus, who is added to the setting on the stroke of midnight. Groups of people move around from home to home singing Christmas carols and spreading the spirit of Christmas all around. On the 24th night, people gather for midnight mass at the many churches scattered all around Goa, and after midnight the streets are filled with joyful crowds of people wishing everyone MerryChristmas.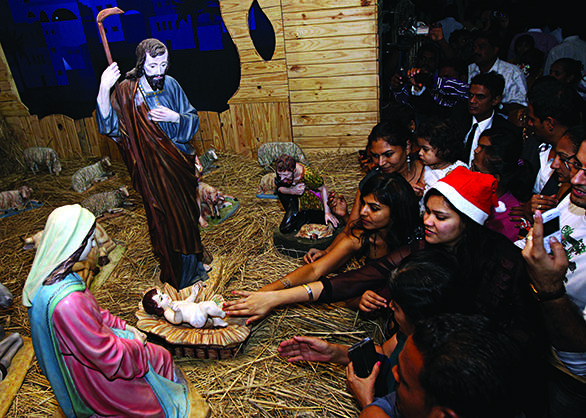 The large crib setting at a local Goan church
A typical scene at midnight mass on the Christmas eve
We really enjoyed this vacation to Goa in the Grand i10, it had more than enough space for all our luggage, and for a sub four meter car, it performed surprisingly well on the highways too. Goa is a holiday destination for everyone, catering to the diverse needs of both Indian and foreign tourists. It has something for the young and the old, the modern and the traditional. So take some time off your busy schedule and switch to a pair of shorts and a t-shirt, lay down on a sun bed on a beach and let time just tick away.
Price (Ex-Delhi)
Starts Rs 4.98 Lakhs