Motorcycle jacket buying guide
Motorcycle jackets are a critical part of your riding gear. Boots are usually even more expensive, but most people buy the jacket right after they have purchased their helmet and gloves. We made a list of the cheapest motorcycle jackets in the country recently but that's just half the story. Here is how you pick a motorcycle jacket that will look good, be comfortable enough to use all the time and protect your skin when it's time to fall off the bike.
Safety
This is the primary reason to wear a motorcycle jacket. It is meant to keep the blood and flesh inside the skin more than it is meant to protect you from the heat, cold or rain. So ideally, you want as much protection as possible. Think Iron Man. But the more bulky a jacket gets, the harder it becomes to live with because at some point you're going to have to take it off and cart it around or try to shove it into a bag.
So look at it like this. Ninety nine per cent of you are not going to use the jacket at outrageous speeds because you're riding on the street or the highway and not the racetrack. So you need a blend of reasonable protection and portability, in that order.
You ascertain the safety aspects of a jacket substantially from two angles. First, the less important of the two is visibility. Being seen is a big part of not having an incident so do not discount it. Cheap motorcycle jackets tend to be black in colour - I cannot explain this phenomenon.  But black also means you will not be seen, especially in the night. So the easy thing to look for is
Safety: Reflectives
This jacket is black but has excellent visibility - all the white lines you see are reflective piping that glow bright white under the headlights. The logos and the graphics aren't reflective, though
Most motorcycle jackets have at least reflective piping, or thin strips of reflective material along seams. These light up and shine very brightly when light falls on them. The thing about reflectives is to remember that most will shine in the direction the light is falling on them. So they must be positioned where a car/truck driver or motorcycle rider can see them, else they will not be as bright as you think. Similarly, keep an eye out for where the reflectives are. I have a jacket that has a reflective logo right at the base of the back where my trouser belt usually goes. On most sportsbikes, this logo is not visible at all and hence is useless.
This is a KTM-branded arm band where all the silver-grey areas light up a bright white under headlights. I use these to secure my knee armour as well as increase my visibility
If the jacket doesn't have reflectives, you can do something about it. It's not hard to find reflective materials for sale at the local bag-fixing shop. Get them to make you arm straps that you can wear on your arms or legs to add to your visibility. Even more effective are high-vis safety jackets of the sort that construction workers are now made to wear.
This is a more stylish version of a reflective safety vest that I like to use out on the highway for extra visibility. I bought this one - the Nathan Streak, a runner's vest on amazon.com
Safety: Armour
Armour comes in many forms. This particular jacket has this thin and light hexagonal patterned armour that has proved effective in a 90+kmph crash. Notice the external pocket, most jackets prefer an internal pocket
The second thing I look at is the type of armour. The cheapest jackets used to have "integrated armour" which usually amounted to a sewn closed pocket with some foam inside. This is not good enough. What you want is pockets for armour at the elbow (pocket extends down the forearm, longer the better) and shoulder and for a back protector. Inside these pockets should be (ideally CE-approved) armour. The actual armour takes many forms. There is dual density foam, memory foam, various branded armours (like Knox or D3O) and plastic over foam. They all do work and which one works best is beyond the scope of this article. The back protector is one of the most crucial bits of armour and is sometimes not included - double check this. Since the sizes of the pockets are usually standard, you can usually also upgrade the armour without too much trouble/expense if you're so inclined later.
Safety: Fit
Motorcycle jackets usually come in three lengths. The shortest ones barely overlap the belt of your pants. These are supposed to be zipped to the pants so that they do not ride up. Look for a longer tail at the back so that the jacket does not ride up and expose skin. Of course, if the zippers aren't compatible - can happen if the jacket and pants are different brands - then you won't be able to zip up. These jackets feel good to wear and usually cut sporty-snug. But these are also very difficult to wear with jeans. The mid-length ones have a more significant overlap with the trouser. For safety, more overlap is better, even if you're not zip-attached to the pants. Touring oriented and cold-weather jackets overlap even more - usually covering the crotch area fully. The bigger overlap means fewer places for the wind and rain to get inside the jacket.
The other thing about fit is that you should be looking for a snug fitting jacket. What that means is that the armour should fall naturally on your shoulders and forearms and it should be tight enough to remain there in a crash. If the jacket is too large, it will rotate away on impact, leaving the joint/bones underneath vulnerable. Jackets that offer a way to cinch up any slack will work better - jackets should have sleeve slack take-ups on the forearm or the bicep area.
Convenience
Next thing to consider is convenience. This is important because if the jacket isn't convenient, then chances are, you will simply not use it. To me there are three crucial things to convenience, I'll discuss these in order.
Convenience: weather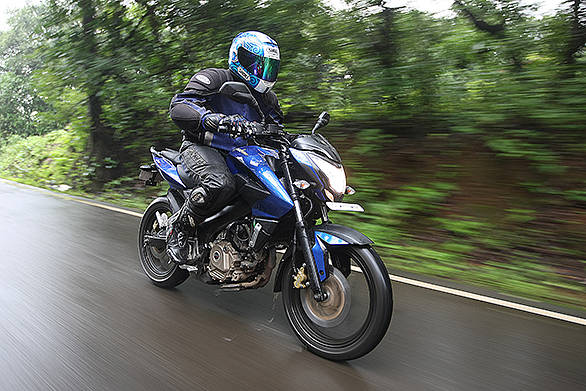 Here is an example of inappropriate gear. I'm wearing leather riding pants and a mesh jacket in the rain. Suffice to say that I was not comfortable but that's what you get when you're taking photographs
The biggest issue with riding in India is that our weather is not always great for riding and varies a lot. Mumbai, that way, is easy to ride in because it is always hot and muggy. And sometimes it rains as well. This means a mesh jacket and a rain-suit is usually enough to get you through the year. But in Delhi, where it can be super hot, super cold and rainy, it gets harder to gear up.
Mesh materials are a relatively recent phenomenon but they've rapidly become my go-to solution for riding in India. I've crashed in them too, repeatedly, so I know that the protection is good enough for street speeds. Look for large mesh panels or all-mesh construction so that the mesh is placed where the wind normally hits you - like in the chest. Also check that there is mesh at the back because the wind that enters the jacket also has to leave otherwise the jacket will simply balloon and feel uncomfortable. Current mesh jackets tend to have stronger materials over the impact areas - like the outside of the arms, over the shoulders and across the top of the back. These are a good idea because they allow the jacket to breathe while offering more protection when you come off the bike. For my next jacket, I'm seriously looking at a mesh and leather combination that I think will be great for my daily use. The best mesh jackets come with rain and warm liners that you can use to extend the useability range of the jacket by adding/subtracting layers.
Vented jackets use more impermeable materials than mesh to construct the jacket and then insert vents that you can zip open for ventilation. These are warmer than mesh but also more versatile. With a rain liner or a warm liner or both, and the vents closed, these jackets can handle some pretty cold conditions while remaining useable in pretty hot conditions. How to evaluate the zip-vented jacket? Start by looking at the armour placement, quality etc. Then look at the zip quality and the vent placement. Waterproof zippers, ideally branded (YKK is the industry standard) are best. Some vents have a velcro tab that can be used to hold the vents open. This can be useful. Then comes the placement of the vents. I've a jacket that places vents on the forearm which seem to do absolutely nothing. But usually vents on the chest and shoulder with exit vents at the back are best. Try and aim to have the largest rear vents you can find. Too small and your jacket will balloon.
Winter and waterproof jackets are a whole different thing. These will usually have a membrane or coating inside with taped seams to prevent water ingress. Note the membranes last longer than coatings if you're careful. These jackets are usually tremendously warm and bulky and that means they're more troublesome off the bike when you're just walking around.
Convenience: Off the bike
[caption id="" align="aligncenter" width="586"]
This jacket has soft armour and is generally a tight-fitting slim cut which makes it really easy to cart around. Portability isn't a primary criteria but it does make it more likely that you will wear your jacket to relatively more inconvenient places where you'll be spending time off the bike[/caption]
The most protective jackets can also be the bulkiest. The off the bike angle isn't the central issue in buying a jacket but you should keep it in mind. If the jacket is a major hindrance off the bike, you will be tempted to not wear it when you go out knowing you'll eventually park the bike and spend quite a while off the bike.
Convenience: Keeping it going
Yes, they need maintenance. I hate leather in Mumbai because it tends to go mildew-ey in the rains when it's not really in use. In that sense, textile is easier to live with because you can just throw it in the washing machine (minus armour) and it comes out sparkling clean. If you've got a leather jacket, buy some neutral upholstery leather nourisher/polish. This is usually the same as leather polish but cheaper. Try it on a small inside patch of leather to see its effect on the colour of the jacket before actually using it on the exterior.
Replacing the jacket
Motorcycle jackets tend to last forever due to their naturally strong construction and wear resistant materials. This means replacing a motorcycle jacket is a matter of needing a change because you've outgrown the jacket - either in fit or style. If you've fallen and split seams and abraded materials, obviously, get a replacement.
Click here to check out our tips on selecting the right motorcycle gloves too.
Also see our comprehensive list of the best motorcycle boots, jackets and gloves to buy within a budget.