Grit and steel: The midpoint report of the Sherco TVS team at Dakar 2018
There's a video KP Aravind's posted on his Instagram feed. It shows a helicopter high in the air, with a rope dangling from it. Attached to the bottom of that rope is Aravind's No.53 Sherco TVS that's being transported from somewhere within Stage 5 of the Dakar, to the bivouac. Aravind, unfortunately, has crashed early on in the stage. And it isn't looking good. He's broken his right ankle, and, after having it looked over at the hospital in Lima, has been informed by the doctors that he's going to need surgery when he's back in India. His 2018 Dakar campaign has lasted two stages longer than his Dakar debut last year. It's tough. But Aravind's still managed to prove a thing or two along the way. Even if he keeps insisting that the only competition that he has is himself.
During the first stage of Dakar 2018, that looped from Lima to Pisco, Aravind's managed to finish 30th. He's not too far behind his team-mates Adrien Metge and Joan Pedrero Garcia, who have ended the stage 23rd and 24th respectively. We see him in the bivouac at the end of the first stage, where he's looking quite pleased with what he's managed. But there's already so much work to be done. Aravind's clutching his roadbook, that he will spend the next few hours working on. There's so much information that needs to be processed. And there are those dunes that need to be tackled.
It's heartening to see him flying over the dunes at the second stage of the rally. Aravind's got the pace, there's no doubt about that. In fact, as David Casteau, the Sherco TVS Team Manager told us ahead of the Dakar, Aravind's a good rider. Which means that in terms of riding skill, they haven't had to teach him very much. Instruction, instead has been given in terms of navigation and roadbook. And training with team-mate, Frenchman Metge, has helped him immensely. But the Dakar is nothing if not a race of attrition. And Metge is one of the first dominoes to topple over. His injury sees him out of the rally on just the second stage. Aravind himself ends the stage 40th, with team-mate Pedrero 23rd.
The Dakar bivouac is a place of intense activity. It's full of things happening. The brave competitors in the Originals or Malle Moto class are busy tinkering with their own motorcycles. Elsewhere mechanics are hosing down their rally bikes, team physios are checking to see where their riders might have injured themselves, and the riders themselves are usually doubled up, brows furrowed, poring over those roadbooks. It's almost impossible to get hold of anyone to talk to. Which is why when we catch sight of Aravind sauntering towards the showers, we ambush him at once. "The surface was looser than we thought it would be, so it was tough," Aravind says of the second stage. "And thanks to Peru, the surface is loose to begin with!" he says. The terrain makes riding very, very difficult. And it doesn't help that when the cars run before the motorcycles, the tracks get dug up rather a lot. Then there's the fact that the dunes are disorienting. As Aravind says, "They make it harder and harder for us. You've got no reference point, so without the WPM, WPS and WPC (the waypoints) we'd be completely lost."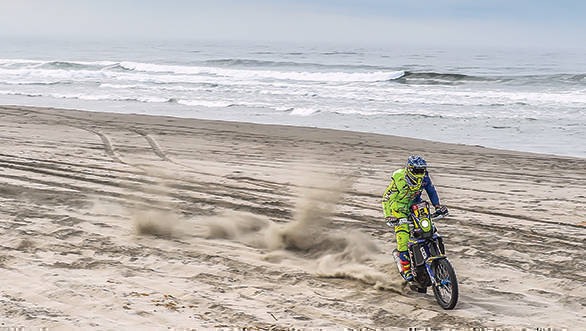 But from where I'm standing during the third stage of the rally, it seems like Aravind's doing okay. He's hard on the throttle as he comes down a massive dune, and then across a flatter piece of land, before going over a crest and disappearing off into the distance once again. He ends the stage 30th, with his team-mate Pedrero in 16th. His second Dakar attempt looks like it's coming together rather nicely.
The fourth stage of the Dakar, which takes riders from the shores at San Juan de Marcona, to the dunes nearby, before ending at the second bivouac, is long and gruelling. It seems like the Dakar is getting progressively tougher. But Aravind's managed to finish 44th in the stage. It's a long way off Pedrero's 17th place in the stage, but he's still very much in the game. "The race is going well, just like we planned. And we are progressing everyday," Aravind says after the toils of Stage 4. And just like that, all the plans come undone.
On the fifth stage of the rally, Murphy comes into play. What can go wrong, does go wrong. In Aravind's case, it's that shattered ankle that we've already told you about. An injury that ensures that he's out of the 2018 Dakar. While his team-mate, Joan Pedrero Garcia, is still muscling his Sherco TVS RTR450 over everything the terrain throws his way, Aravind is being looked at by specialists in Lima. Pedrero finishes Stage 5 22nd, and then begins his attack on Stage 6. The stage that takes riders into La Paz, Bolivia. It's the point in the rally where riders begin to fall by the wayside at regular intervals. Pedrero though, is no ordinary rider. After all, it isn't very often that you see a human being capable of making a rally-raid motorcycle look tiny. Which is what the good Pedrero manages. He ends Stage 6 in 15th position. There's a distinct possibility that this particular Sherco TVS might break into the Top 15 overall at the end of the 2018 Dakar.
Meanwhile, Aravind's already on a flight back to India. At the time of going to press, he's had his leg operated upon, and screws put in to hold the shattered portions of his ankle together. But even with a period of recovery ahead of him, there's already plans in motion for his comeback at Dakar 2019. What's that they say about being third time lucky?