ForzaJules: Formula One's greatest comebacks
ForzaJules emblazoned on the sides of racecars. "Tous Avec Jules. #17", meaning, "Everyone with Jules" stickered on the helmet of every driver at the Russian Grand Prix. Not the most pleasant way to remember the first Formula 1 race at Sochi, nonetheless, the sentiment and solidarity expressed by the whole grid of Formula 1 drivers was touching.
To say that what happened to Marussia driver Jules Bianchi at the 2014 Japanese Grand Prix was scary is to put things mildly. Soon after Sauber driver Adrian Sutil aquaplaned and careened into the barriers at Turn 7, so did Bianchi. However, while Sutil was lucky enough to emerge unscathed from the incident, Bianchi's car headed straight into the back of the recovery crane that was clearing Sutil's car from the spot. The impact was horrific. The young Frenchman was knocked unconscious, taken to the hospital for surgery, following which he was maintained in a state of induced coma. The latest news is that Bianchi is gradually being revived and hopes of his recovery are looking up, if only slightly.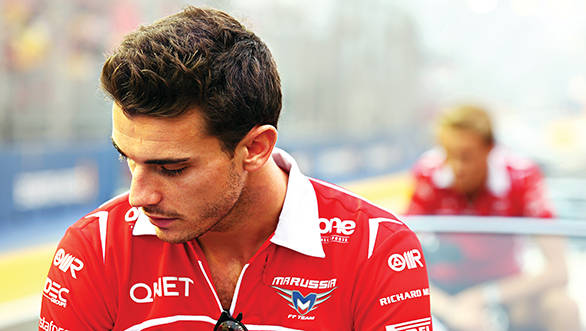 Bianchi is one of the many in the rather long list of Formula 1 drivers who have crashed during a Grand Prix weekend. The number of drivers who managed to bounce back after their crashes, however horrific they might have been, is something worthy of praise. And while we're hoping we can add Bianchi's name to that list, here's our pick of F1's greatest comebacks post injuries. And just so you know - everyone really is with you #17.
Niki Lauda
The story of Niki Lauda's horrific accident at the 1976 German Grand Prix at Nurburgring, and the story of his terrific comeback to Formula 1, has been forever immortalised in Ron Howard's biopic Rush. And while we're very pleased the film brought to light a glorious era of Formula 1 gone by, there were purists who declared that the film wasn't entirely historically accurate (James Hunt never did go and give a pesky journalist a bloody nose, we're afraid). And while that may be true, Lauda's heroics in the mid seventies were something that would put comic book superheroes to shame. Here's exactly what happened. The Nurburgring, rightly dubbed The Green Hell by Sir Jackie Stewart, was a terrifying racetrack to begin with, with blind corners and poor visibility. Lauda was particularly keen that the race not go ahead due to the circuit's poor safety standards. But when this was put to vote amongst the drivers, it was decided that the race go ahead as scheduled. On the fast left handed kink before Bergwerk, Lauda's Ferrari swerved off the track and hit the barriers. The car, by now a flaming heap of metal, swung back into the centre of the track where it was hit by Brett-Lunger's Surtees Ford. Off it went into the barriers at Bergwerk, where it lay, Lauda trapped inside engulfed in flames. Drivers Arturio Merzario, Harald Ertl and Guy Edwards, along with Lunger, were the first on the spot and pulled Lauda out of the wreckage. He'd already suffered severe burns to his face and inhaled toxic gases that damaged his lungs. At the hospital, a priest performed the last rites - no one expected him to live.
Well, Andreas Nikolaus Lauda was certainly made of stern stuff. Not only did he recover, he was back in a Formula 1 car a mere six weeks later. At his return to competitive F1, he finished fourth at the Italian Grand Prix. When he pulled off his balaclava after the race, his skin grafts came off as well. He went on to battle James Hunt for the 1976 championship, only losing it by one point at the season-ending Japanese Grand Prix, which he pulled out of. The rain made conditions unsafe, and he decided his life was worth a lot more. Oh, he came back and won the title the next year though. And once again in 1984, taking his total up to three world driver's championship titles. We have a huge amount of respect for Niki Lauda. Courage to go racing against all odds, and the courage to refuse too. That makes for a formidable combination.
Sir Stirling Moss
Some consider the 1960 Belgian Grand Prix weekend as Formula 1's darkest until the horrors of the 1994 San Marino Grand Prix. The original black weekend of Formula 1 claimed the lives of Chris Bristow and Alan Stacey, while both Mike Taylor and Stirling Moss were injured in separate incidents during the weekend. Moss' crash occurred during a practice session, when he was going at a speed of around 220kmph in his Lotus-Climax. It couldn't have been a particularly pleasant sensation to realise that the rear axle of the car had broken, and the left rear wheel just snapped right off. The car spun around several times, before finally hitting an embankment, rear-end first. Moss was flung out of the car and landed on the ground nearby, something he doesn't quite remember. What he does remember, is the fact that he found himself on his hands and knees, unable to breathe, unable to see, and left with the decidedly disconcerting feeling that he was dying. He suffered a broken nose, broken teeth, broken legs, a broken back and a terrible concussion. He was holed up in the hospital for the months that followed, passing his time by his own admission, by eyeing the pretty nurses that seemed to abound.
Moss was determined to get back in a Formula 1 car though, and towards the end of the season even took a fine first place for Rob Walker Racing at the US GP. Unfortunately for him, he'd only have one full season of Formula 1 left.
In 1962, Moss suffered his career-ending crash at Goodwood. During the Glover Trophy Race, Moss was forced onto the grass by Graham Hill and ploughed straight into an earth bank at 200kmph. Oh, and he wasn't wearing a seatbelt, because back then, wearing one wasn't mandatory. It took them 45 minutes to cut him out of the wreckage, while he bled profusely from his face. His injuries this time included broken ribs and a broken back. Worse still, he was in a coma for a month, confined to a hospital bed for a further six months because his left side was paralysed. A year later he returned to Goodwood for a private test, but found that the sharpness he'd once had as a racing driver was no longer there. For a driver like Moss, with a Mille Miglia win to his name, that was unacceptable. And so he gave up on Formula 1 for good. Although he still competed in other forms of motorsport. If you head to Goodwood today, you're still likely to see Stirling Moss ambling along good natured with a carbon fibre walking stick. After all, once a resilient racecar driver, always a resilient racecar driver.
Mika Hakkinen
Mika Hakkinen has gone down in Formula 1 history as something of a legend. In an era when there was the distinct threat of complete Michael Schumacher and Ferrari domination, Hakkinen was the man that fans turned to to throw a spanner in the scarlet works. He'd endeared himself to fans by being a gritty and determined driver, unusually calm both on and off the track. But it is a true testament to the Finnish driver's mental strength that he overcame the terribly scary events of the 1995 Australian Grand Prix and went on to win both the 1998 and 1999 driver's world championships.
Hakkinen often says that he carries the scars of that race weekend in Australia with him every single day of his life. During the first practice session at Adelaide, his McLaren suffered a tyre blow out, which meant he was effectively a passenger, no longer able to control the trajectory the car took. Back then, there were no HANS (Head And Neck Support) systems in place either. Which meant that when Hakkinen crashed into the tyre barriers, he suffered a major impact. The result? A fractured skull. Internal bleeding. He'd even managed to swallow his own tongue, which blocked his airway, leaving him unconscious and in very grave danger. Professor Sid Watkins, the FIA's medical delegate who saved the lives of many an F1 driver, saved Hakkinen too. He performed an emergency cricothyroidotomy at the track - this involves punching a hole in the neck and inserting a tube into the windpipe to aid breathing - ensuring oxygen got to Mika's brain, keeping him alive.
The scars that Hakkinen speaks of, were not physical, but mental, and the Finn confesses to carrying them with him for the remainder of his career. Despite the poker faced, monosyllabic responses that he usually had, on the rare occasion, Hakkinen's frailty showed through. Like in the 1999 Italian Grand Prix, when he crashed and looked unlikely to win the driver's title. Well, it wasn't really the chance of losing the title that got him undone - he was found sobbing in the bushes behind the Armco barriers. But he carried on racing for the next three years. Eventually Hakkinen would admit that the reason his F1 career didn't last longer is because of that grim Adelaide weekend. Nonetheless, he took two F1 titles along the way, not bad at all!
Michael Schumacher
It was the 1999 British Grand Prix, when Michael Schumacher's chances of winning his first world championship for Ferrari went bust. The German double world champion found himself carried by his Ferrari straight into the barriers when his brakes failed. The F399 went skidding across the racetrack at Stowe, across the sand, which did remarkably little to slow the car down, and then proceeded to make impact with the Armco. The car's nose ended up hitting the barriers first, which meant that Schumacher broke his right leg. The tibia and the fibula both had clean breaks, which meant that his chances of the championship that year, were well and truly over. Michael sat out six races recovering, and was caught playing hookey from work too. Deciding that there was no point returning to racing that year, what with the title hopes completely gone, he stayed home. That is until Ferrari boss Luca di Montezemolo called the Schumacher residence one day, asked to speak to his driver, only to be told by his daughter Gina-Maria that her father couldn't come to the phone because he was playing football in the backyard. Of course, he was ordered into service at once, returned to the cockpit, and took pole at the first ever Malaysian GP by over a second. He then went on to win five more Formula 1 world championship titles. The irony, is that Michael now is recovering from injuries sustained during a skiing accident last December, which is why some of the 2014 cars also carry #KeepfightingMichael stickers on them.
Felipe Massa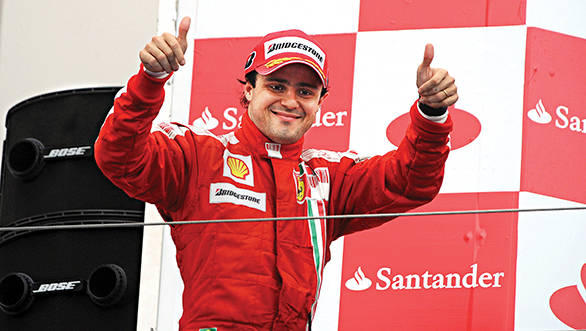 Think of Felipe Massa, and it's hard not to picture him on the top step of the podium at the 2008 Brazilian GP, bravely trying to maintain his composure. You see, Massa had just lost the 2008 world championship title to Lewis Hamilton, despite winning his home race. He tapped his chest with his heart and it appeared that he made a promise to his home fans that there'd be a next time. Another title that would be won, another race, another day. Unfortunately for Massa, that hasn't happened yet, and it looks increasingly unlikely that it will ever happen. And a part of it is down to him being lobbed in the head by a giant spring one race weekend a Hungary.
You see, at the 2009 Hungarian GP, during the second stint of qualifying, Massa's Ferrari was tailing Rubens Barrichello's Brawn GP car. A spring that weighed 2.5 kg came loose from the suspension of the Brawn, and made right for Massa's helmet. He was injured with fractures to the skull and flown to a hospital for emergency surgery. After further tests, doctors revealed that the only way to get Massa racing fit again, was to insert a titanium plate into his skull. Another surgery was performed and little Felipe sat out the season, recovering and recuperating.
He made his comeback at the 2010 Bahrain Grand Prix in March, finishing a fine second to his team-mate Fernando Alonso. Since his return to racing, he then scored eight podium finishes, not recording another win though. A lot of people blame his lack of form on the accident at the Hungaroring, but we're inclined to disagree. Massa was all set to win the 2010 German Grand Prix before orders came through on the team radio asking him to move over for Alonso. "Fernando is faster than you. Can you confirm you understood that message?" Clearly that did more damage to Massa than any old spring!
Alex Zanardi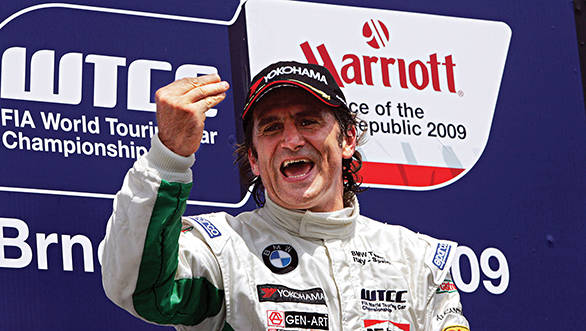 Though not injured during Formula 1 crashes, we think it is still worth mentioning these two Formula 1 drivers, who, although injured in other disciplines of motorsport, really did display fighting spirit and make it back to active competition. Alex Zanardi was injured in a CART race in 2001 at Lausitzring. The Italian driver lost both legs in the crash. But he came back to motorsport, even winning a couple of races in a specially modified BMW 320 in the WTCC between 2005 and 2009. He then went on to win a gold medal for handcycling at the 2012 London Paralympics.
Robert Kubica
Then there's Robert Kubica, who suffered quite a scary crash at the 2007 Canadian Grand Prix. This wasn't his worst crash though, with the Polish driver crashing at the Andora Rally in 2011. The guard rail pierced through the Skoda Fabia S2000 he was driving, and partially severed his right arm. Several surgeries later, Kubica returned to competitive rallying and currently competes in the World Rally Championship. The podium, however, eludes him.