Formula 1: Drive To Survive
I've got a close friend, Suniel. He's the kind that loves to jabber. And our circle of friends loves him for that. He's kind of the soul of the clique (not to mention he's also a bachelor who lets us use his pad for BYOB poker nights!)
Now every year around mid-March, he gets even more animated. That's because F1 season is about to begin. You see Suniel's one of those guys who eats, drinks and craps Formula 1 (he's also a hardcore MotoGP fan though he stays more abreast of F1). For him, it's a religion, and even though he's a staunch catholic, the only time he's ever prayed I'd like to think was when Schumacher had his skiing accident and slipped into a coma.
Me on the other hand am a bit of a 'new born', who's seen the light of the F1 circus and the commercialisation that's overtaken it. Yes the drivers have heart, but it's more in tune to improving their status in the current year and their chances to retain or get a new seat in the next. I've kind of given up on the sport and have probably skipped almost 99 per cent of all races. It's a bit of a wanker of a series if you ask me.
Coming back to Suniel, the month of April and the F1 season. I met him a couple of weeks ago and as usual as it is with him, the conversation veered towards the start of the 2019 season. And out poured a whole diatribe on what was happening, how the cars should look, who should be sleeping with whom, who should be driving for whom, who should be stabbing whom. And I started thinking to myself. F*#kin hell, another year another merry-go-round. So when the TRAI regulations came around to mess our idiot tube lives, I simply ignored the Star Sports Select 2 package. Did not tick that box!
And then just a few days ago, Netflix aired Formula 1: Drive To Survive. Now I'm a Netflix geek, my download lists are full of videos, mostly original content. Took me no time to add the series to my list.
I started viewing it early on a Sunday morning, spread all over the couch with the missus wrapped around my left arm and a cup of tea in each of our hands. And we watched it for the next four hours straight. We only hit the pause button because my daughter started hollering bloody murder for her breakfast! It was gripping.
I've spent enough time in a media house to know the intricacies of getting a show out. Usually this is scripted, planned well in advance so you can stage the drama and the humour and everything else that would make a show watchable. But here is a show that captures the very essence of a racing series that is so full of character, drama, emotion, exuberance and it does it all real time. Stuff like this can't be scripted. Of course some of it is planned after the season gets over, but you cannot script a rivalry or a partnership in real life. You simply cannot get this sense of what the top echelon of the motorsport world is like on a race weekend with the commentators and the poor mixing. So in that sense, Drive To Survive clearly is a notch above the race weekend. This is by far one of Gay-Rees's most intricate creations and I can only imagine the producers hell he must have gone through to get this sort of content.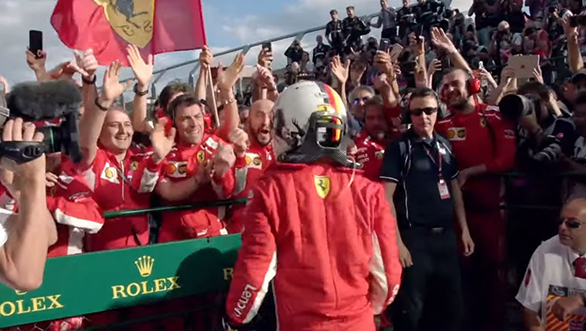 It's not easy to capture the critical footage that makes the story that much more gripping, you need consent from the teams to lay themselves bare. For instance, in E4 featuring the Red Bull Renault fallout post Red Bull signing a new engine deal with Honda, the emotions between Horner and Abiteboul are captured so intimately, you wonder why you've been watching the weekend races at all! Horner's snotty upmanship with Cyril, followed by the vicious return dealt by Cyril to Horner, the vicious retorts going back and forth between the two bosses and the way the entire sequence of events is laid out, you'd think someone scripted all this.
I'm not gonna say more, except that Formula 1: Drive to Survive is genuinely a masterpiece, a docu-series that will go down in the annals of motorsport history as a viewership experience far better than the actual season it encapsulated.
Related Stories