Forever Riders Meet 2017
Ever since I managed to convince my dad to let me fix up his 1967 Jawa 353/04 and rebuild my first motorcycle, I inadvertently set myself apart from my peers in college. At a time when most teenagers want to blend in, I ended up sticking out like a sore thumb. Not only was my motorcycle older than my friends' new RX135 and KB125 motorcycles, but despite having twice the displacement she was a lot slower. But I had restored her from the ground-up with my own hands and that created a bond that helped endure the jibes and disapproving looks I got for not being conventional.
Years have passed now and though I'm more likely to get a thumbs up from a fellow motorist on the road rather than a snide remark about how old my ride is, I still feel quite the oddball. I've managed to keep the Jawa on the road more years than not and recently with some spare time on my hands I've brought her back to perfect running condition. At the same time, I coincidentally connected with a local Jawa and Yezdi owners group and found out that they were having an all India get-together. I was super excited to get the opportunity to meet with some like-minded people and, for once, not feel like the man in the suit at the beach party.
The Forever Riders Meet is the brainchild of some of the founding members from the Yezdi and Jawa Owners of India group based in Mumbai who realised, on their travels to various parts of the country, that there were a number of pockets of Jawa and Yezdi owners still existing in anonymity with absolutely no idea that they were actually part of a large national community. While this may seem quite usual, with motorcycles that are mostly over 30 years old with a factory that shut shop over 15 years ago, a strong well-connected community and the knowledge and parts sharing that it brings is essential to keep these old girls on the road. This is the second year of the meet, and the turnout of 110 motorcycles and more owners was a pleasant surprise.
Winners of the 'man-power' race - Team YJOCI
Kaustubh Thengodkar (one of the main men responsible for FRM 2017) and Alan making their way to the meet. 1967 (black) and 1962 (red) Jawas still going strong after all these years
What shouldn't have been a surprise was how common my unconventional story was. Most of the Jawa owners who hadn't purchased their bikes new (there were quite a few senior citizen original owners present too) had inherited their motorcycles from their father. Nearly everyone works on their motorcycles themselves or at the very least knows how to set points and tune a carb. And they all have amazing stories of how they have come to be the Jawa owners. What was surprising was the number of members who owned more than one motorcycle. There were many who owned over five motorcycles with a handful of them boasting of double-digit numbers. And these are just counts of their Jawa/Yezdi models only. They also tend to own various Yamaha two strokes or Enfield thumpers.
And then there's something that is common to all motorcycle owners - they really love their motorcycles. I learnt of an amazing story from Amresh Sawant whose mother turned his Yezdi over to the scrap yard post the floods in Mumbai while he was studying abroad. To his surprise, it was seen years later on the roads of Mumbai, somehow having escaped a recycling fate in the scrap yard. When Amresh returned from his stint overseas, he spent years searching before he managed to trace it to where it had been abandoned – about a foot deep into the ground standing under a tree. After much work in restoring it to as near new as possible, he rode that very Yezdi Classic to the meet. "My daughter calls it 'Alice in wonderland'," he tells me, "for the years spent on unknown adventures before I found her again."
(From left) Hanmant Lohar, Arun Mane and Shyam Karandikar pose with the two oldest Jawa motorcycles at the meet - a 1959 and a 1957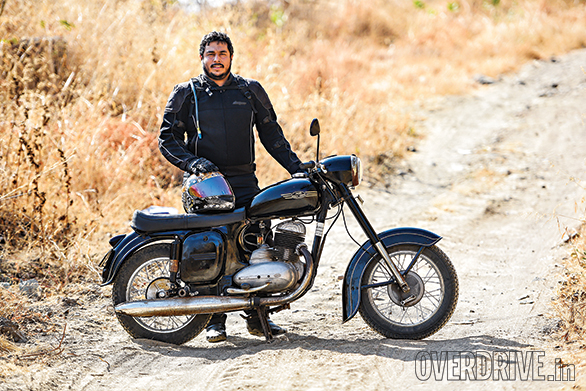 Any time is picture time at FRM
One of the nicer Yezdi Classics at the meet
One of the hot topics (in addition to piston sizes, points vs CDI ignition and the best ratio for premix) was the recent brand licencing agreement Mahindra has signed with Jawa. The overall consensus was that it could only bring good things with a number of brand loyalists eager to be the first customers for any new motorcycles that Mahindra launches under the Jawa name. There was also a lot of curiosity around what kind of products Mahindra will produce. They all agreed that the formula should be a simple product that's easy to operate and maintain, yet provides strong performance with a premium feel just how the first model 353/04 was perceived when it was launched in India in 1960.
It was an interesting weekend with this crazy bunch of either oldies who were young at heart or 30-somethings with a yearning for the good ole days their father spoke of. The day was spent ogling over the many pristine maintained/restored motorcycles and games and interactions while the nights stretched into the early mornings as stories were exchanged over Old Monk and cola. The ride back home was time for much reflection on the happenings of the weekend events, the brilliance and simplicity of the 49-year-old machine between my legs, and how nice a feeling it was to be finally counted as one of the crowd.
Photography: Alan D'Cruz & Anis Shaikh
Price (Ex-Delhi)
Starts Rs 1,02,700