Five tips to take care of your car's tyres
The Corona lockdown has resulted in many unused and dirty cars. Here are five tips on tyre care of an unused car.
1) Check Air Pressure:
An idle vehicle could lose some air pressure in its tyres. So it's best to check the pressure. These days you not only get handy analog gauges, but also some easy to use digital ones. Please don't drive with underinflated tyres as this can cause cracks and cuts and damage them permanently. And tyre replacement is expensive.
2) Inflate Tyres:
Many auto enthusiasts keep portable air compressors and though they take longer, you can inflate the tyres to the correct pressure in your parking place itself. Or you could drive to a tyre shop or fuel station to get it done. Please inflate to the pressure specified by the manufacturer and ensure there are caps on the valves. Many people ignore this, but valve caps are essential as they prevent dirt and moisture from getting into the valve stem and also help stop air from escaping from a slightly leaking valve.
3) Tighten Wheel Nuts and Valves:
This again is something most people ignore. But wheel bolts or nuts can loosen over time as car tyres are subject to heavy stresses. So it's in the interest of your own safety that you tighten the bolts. You could use the wheel spanner that comes along with every vehicle or if you are an enthusiast and perfectionist, you might want to use a torque wrench with the correct torque value or tightening torque. This varies with the car and wheel rim, but is generally around 110 or 120N.m.
And while you are at it, tighten the valve stem with a valve tool. The valve stem has a center pin, which if loose can cause a leak in the tyre. So it's also good to tighten the valve stem once in a while, preferably whenever you tighten the wheel nuts, which I would recommend is done at least every month, depending on the distance and where you drive. If you do lots of driving on rough roads, the frequency of such checks should be higher.
4) Remove Stones from Grooves:
Quite often small stones, pebbles and other such foreign bodies get trapped in the grooves of a tyre. Apart from creating an irritating chattering sound while driving, a stone with a sharp edge may possibly pierce through the tread and that is something you don't want. The foreign bodies can also affect the balancing of a tyre and lead to minor vibrations. Given this, I will suggest you always remove them. Normally they pop out quite easily when pushed with a screwdriver, but if one is wedged in hard, you can apply a soap solution around it and then try and push it out.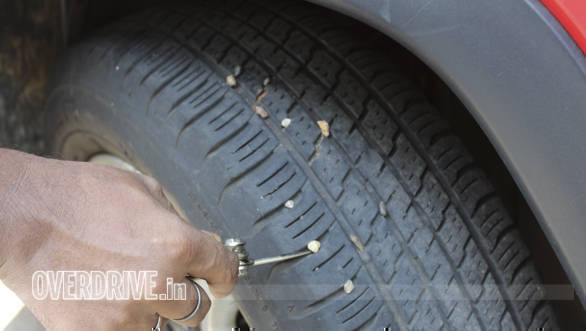 5) Apply Tyre Foam:
Earlier to clean tyres properly you had to wash them with soap water and scrub with a brush. But nowadays all sorts of tyre cleaners and foams are available and you only have to spray and wipe, to restore the look of your tyres. And the good quality ones actually do a nice job of making your tyres look almost new.
Also see, 
Five tips on external car care
Five tips on Interior car care
Five tips on under the bonnet care