Five things you'll love about the TVS Akula 310 and three things you won't
The TVS Akula 310 Concept continued TVS' reputation for outrageous concepts that promise production models at the Auto Expo. Flanked by the Entorq 210 scooter, the all-carbon sportsbike caused many a sharp intake of breath and engraved itself into many a wish list. Here are things you'll love about the TVS Akula 310 and things that'll drive you around the bend.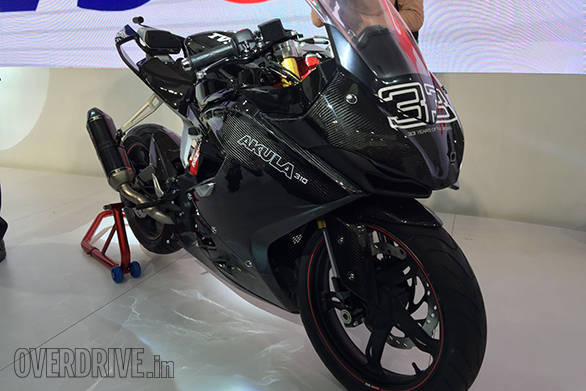 1. The form
The Akula 310 has to be the sharpest looking thing in the whole 2016 Auto Expo. It's got an eye-catching sleekness despite fairing panels that bulge gently outwards as if straining to keep all the power inside. The raw carbon fibre look just makes it that much more special. TVS designers told OVERDRIVE that 60 per cent of the concept would be present on the final motorcycle and that is very exciting.
2. The aluminium bits
TVS motorcycle business head Arun Siddarth pointed out the numerous machined aluminium bits that glitter merrily all over the Akula concept. As you know, not only does aluminium look great, it is also light and strong which usually means a lighter overall weight. The flip side is that it is expensive and if TVS does make a lot of (actual) aluminium aggregates for the production bike, its price will go up. That bridge comes later, though - that Akula's silver and red bits look fabulous!
3. The promise of an all-out track bike
TVS says the Akula concept will form the basis of an unrepentant track motorcycle. That makes our hearts beat warm. An uncompromising sports motorcycle is a thing of beauty and precision. It is also gloriously impractical, can be hard to live with daily and be hard to justify to your annoyed pillion riders. What we know from the Yamaha R3 and the KTM RC 390, is that there are many ways to skin this particular cat. Our minds say an R3-style softcore sportsbike with capability is a better sell then an RC 390-style hardcore phenom. Let's see where TVS places its chips in this spectrum.
4. The name
It is a really cool name, Akula. Like a mega villain from a Phantom comic or something. It means 'shark' and is also a class of submarines. We hope TVS retains the name for the final motorcycle (Draken, for example, never transitioned into production and became the Apache RTR 200 4v). Apache 310 does work, but shark-submarine-villain is better.
5. The tail and its gyro cam
Does it not look like the new R1's tail. TVS designers were quick to agree that the Yamaha was an inspiration and also that you'll see many more of these fancy tails from many makers before this phase passes. The sharp bolt-on aluminium subframe, minimal bodywork and seat, that tail piece and the gyrocam look spectacular! Too bad almost none of this is making production, eh?
The Akula 310 isn't perfect. Well, it need not be, either. It's a tease and a glimpse into the future, not something you can buy. Or would buy if it were priced as per what the concept boasts of. Here are things that'll make you itch.
1. The carbon fibre
Unfortunately, fans, the production Akula will be a normal plastic-faired motorcycle. The carbon fibre was laid and baked at TVS and before my eyebrows reached all the way to the sky, they told me not to read too much into it. The CF panels needed to be shapely but not strong and that is easy to do. What that also means is that TVS is not suddenly plunging into serial CF production or something outlandish like that. The Akula will be a well-made motorcycle with a reasonable price. Can't help but hope for a limited edition carbon-faired special though.
2. The tail and its gyro cam
The TVS-BMW platform has a bolt-on subframe and that's how TVS managed to concoct that beautiful tail. It also means you're not getting that tail, that subframe or the gyrocam. Expect to see a regular, shapely trellis subframe with two seats and skimpy bodywork.
3. You're going to wait the entire year
Yes. TVS is pretty clear about this. The BMW G 310 R  should arrive first and TVS say the Akula-based bike will be out before this year is out. That's a long wait. Good luck!
Also see:
2016 Auto Expo: TVS unveils the Akula 310
Video: TVS Akula 310 walkaround with Arun Siddarth
For more news on the 2016 Auto Expo, click here.
To stay at the cutting edge of automotive news in India, follow us on Twitter (@odmag) or on Facebook (facebook.com/odmag). Or download our app from the iOS orAndroid app stores today
Price (Ex-Delhi)
Starts Rs 2,45,000
Price (Ex-Delhi)
Starts Rs 2,48,075