FIVA President in Conversation with Bob Rupani
FIVA (Fédération Internationale des Véhicules Anciens - translated as International Federation for Historic Vehicles) President Patrick Rollet, was in Bangalore recently for FIVA's first ever General Council Meeting in India. Here is what he had to say to Bob Rupani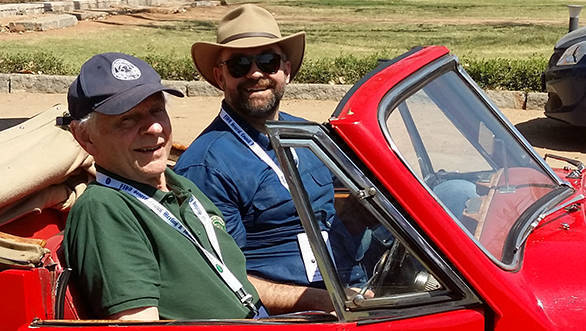 1) How many ASN's does FIVA have in India?
FIVA has no ASNs (Autorité Sportive Nationale) anywhere, since ASNs are FIA (Fédération Internationale de l'Automobile) territory. And there is a big difference between FIA and FIVA (Fédération Internationale des Véhicules Anciens).
FIA's core activities with regard to historic vehicles, are about motorsport. Thus they govern historic motorsport events including the regulations for racing and the scrutineering of historic racing cars. FIVA is not involved in historic racing, but focuses on the protection, preservation, and promotion of motoring heritage as a cultural good. This includes strong efforts to keep yesterday's vehicles on tomorrow's roads.
Furthermore, FIA deals only with cars (mostly modern), while FIVA's interests encompass historic cars, motorcycles, trucks, buses, tractors and any historic road vehicle on wheels; petrol, electric or steam powered. The FIA talks of "cars" while at FIVA only the term "historic vehicle" is appropriate. So anyone using the term "car" at FIVA's General Assembly is publicly fined €5 (which adds up for a nice collective drink at the end!).
FIVA's definition of what is to be understood as a historic vehicle is: "At least 30 years old, not generally used as a means of daily transport, preserved and maintained in a historically correct condition and therefore part of our technical and cultural heritage". This definition has been recognised by international organisations like the European Union, UNESCO and various governments.
2) Do FIA and FIVA work closely?
At the world level, FIA and FIVA collaborate extensively and the key words of their relationship are reciprocity and synergy. Yes, FIA is a member of FIVA and FIVA a member of the FIA. The two Presidents are invited to each other's General Assembly. A FIVA representative is a member of FIA's Historic Commission while a FIA personality sits on FIVA's Culture Commission, etc. And a FIA-FIVA Relations Committee, composed of three representatives on each side, meets regularly for coordination of certain activities (from regularity rallies for historic cars to legislation) and will shortly present for the signature of both President's (FIA's Jean Todt and FIVA's Patrick Rollet) an updated version of the FIA-FIVA "Concorde Agreement" dating back to 1999.
3) Who are members of FIVA?
FIVA's membership comprises "national members". And national members are historic vehicle clubs or federations in existence for at least three years in that particular country. There can be more than one FIVA national member in a given country, although the policy is to try, wherever possible, to have only one, to facilitate focussed lobbying with governmental and public authorities with the aim- "Keep yesterday's vehicles on tomorrow's roads".
When there is only one member in a country (like UK's FBHVC, France's FFVE, Dutch FEHAC, USA's HVA, etc.) and it complies with FIVA's standards, it is denominated "ANF" (Autorité Nationale FIVA). Its major roles are to represent the interests of the historic vehicle community in its country and to issue the FIVA ID Cards and generally speaking, to protect, preserve and promote the national motoring heritage.
When there are several national members in a country, largely for historical reasons (Germany, Greece, Slovenia, etc.), FIVA's General Committee selects only one as its ANF, to coordinate the lobbying at national level and take every step to ensure good collaboration with the other national member or members.
4) How many members does FIVA have from India?
In India, FIVA has two national members- the Federation of Historic Vehicles India (FHVI), with Dr. Ravi Prakash as President and the Vintage and Classic Car Club of India (VCCCI), which has been the FIVA ANF in India, until it became Vintage Classic Car Federation of India (VCCFI) following a name change. Madan Mohan is VCCFI's President and Nitin Dossa is VCCFI's Chairman. The validity of VCCFI's membership is currently being legally checked by FIVA.
This means that currently FIVA has no ANF in India. However, we feel the best solution for all stakeholders would be to merge both organisations into one. FIVA believes that the many Indian individual enthusiasts deserve such an outcome.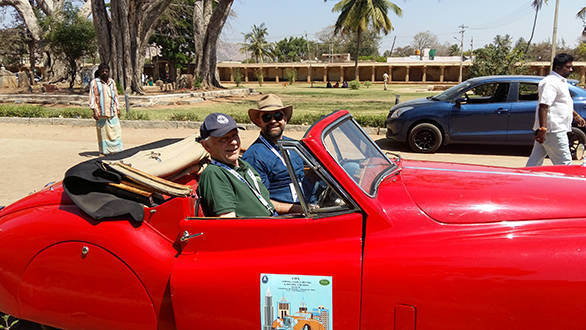 5) You have been to India several times now, what is your view on the classic car movement here?
Your question also confirms that "cars" are paramount, possibly at the expense of other historic vehicles (pay up €5, please Bob!)
From what I have seen, the movement is active but underrated, with enthusiasts demonstrating good motoring culture. There is great potential, which will take time to flourish as long as imports remain costly and there is no national federation uniting all historic vehicle clubs.
I also noticed that the focus is on high-end pre-war vehicles with little respect for national heritage or "made in India" - cars, motor cycles, trucks, buses, etc.
The road traffic conditions, congestion in cities and (enormous) distances also may not help in attracting specialised foreign historical vehicle tour organisers
6) Why did FIVA choose do this General Council meet in India this time?
To show that FIVA is a world-wide organisation, not simply a European-American one. The General Committee also knew it would be an experience with added-value, since our host (FHVI) took the opportunity to have alongside our meeting, a symposium with youngsters and female enthusiasts in the limelight, and a one-day cultural tour drive.
7) What changes would you like to see in the movement in India?
Better coordination and synergy between the major stakeholders. Efforts to democratise the historic vehicle movement and action plans to attract younger enthusiasts and to involve families in tours and events.
8) Going forward, what should the people leading this movement in India do, or not do?
Just accept to act together! All the remaining ingredients are there- motoring culture, dedication, will to progress, competent and active professionals and museums, reasonable costs of restoration and maintenance, etc.
9) Can you roughly list what is right with the movement in India and what should change and how?
· I like the positive reception from the general public. They love seeing historic vehicles.
· Massive inflow of onlookers wherever one goes with smiles and excitement.
· Many interesting vehicles, with significant proportion of one family ownership (maharajahs, politicians, business people, etc.), possibly a unique feature in the world.
· Good to impressive motoring culture, active specialised media, interesting museums and art related stakeholders like, Osianama, etc.
· More young enthusiasts than in "mature" areas like Europe or North America.
· Effective lobbying (NGT threats, etc.)
· Tremendous efforts from leading Indian collectors, organisers and stakeholders to give the Indian movement world visibility, by inviting foreign judges and collectors to Indian events. They have also started attending well known and respected historic international vehicle events and India also had a massive presence at FIVA's 50th anniversary in Paris (UNESCO exhibit, Paris Tour, etc).
The areas of progress-
· The movement is still too elite with a few rich owners, with immense collections of historic vehicles. But there are not enough one-vehicle owners of more regular machines and very few collectors of utilitarian or agricultural vehicles.
· Not enough importance or interest for the iconic vehicles produced in India, like Ambassador's, Herald's, Fiat Premier 1100D's, Tempo's, etc. which are even looked down upon and sometimes not even considered as historic.
· Huge import taxes, reducing the prospect of a fast-growing historic vehicle movement
We at FIVA actually see quite a potential for India to become a destination for historic vehicle "tourism", because it has much to offer in terms of culture, heritage, natural history and has a great tradition of hospitality