FIFA 2014 fever: Football stars and their cars
Without a doubt football players are some of the most well paid guys on the planet. With endorsements and club deals reaching astronomical figures, several stars accumulate more wealth than they know what to do with. Except sometimes they know just what to put their money on. We listed down ten football superstars and the sweet rides they own. The list of players is representative of their standing in the FIFA Ballon d'Or 2013 standings.
1. Cristiano Ronaldo
La Ferrari
Ferrari LaFerrari
Having earned 80 million USD upto June 2014, Cristiano has no dearth of green to fuel a very expensive hobby. The man loves cars and has had an incredible collection since the days he began catching the back of the net for Manchester United. His most recent acquisition beats them all, the incredibly good looking but ridiculously named La Ferrari. Some of the other cars he's gone through are the Bugatti Veyron, Lamborghini Aventador, Audi R8, Rolls Royce Phantom Drophead Coupe and some 16 others. Clearly the man loves his wheels as much as he does football.
2. Lionel Messi
The four-time Ballon d'Or winer and one of the most valuable players in the world is also an avid car collector. Messi collection is home to five sports cars including a muscle car and we have an inkling some of these might make the trip with him to Brazil from home country Argentina. Of course pride of place must go to his Ferrari 360 Spyder shared with the Maserati GranTurismo MC Stradale
3. Franck Ribery
Lamborghini Aventador LP700-4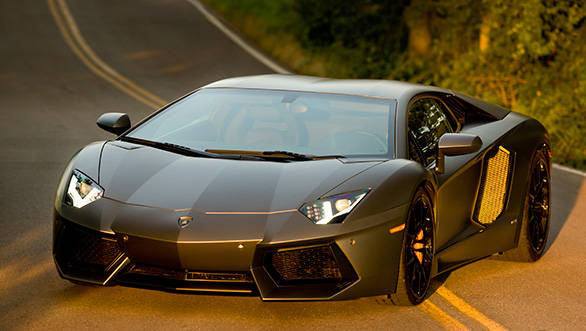 The 2014 Lamborghini Aventador
French hopes cling to this outstanding left winger whose skills with a ball have held him in good stead at Bayern Munich. In 2010 Ribery had several issues during the World Cup but in 2014 we hope to see a man with a plan. Thanks to his association with Bayern Munich which is sponsored by Audi, Ribery has owned several Audis. Players get a new Audi every year. In 2014 it got him an S8 but he is frequently seen in his BMW X6 M that's tuned by Hamann Motorsport. A firm Lamborghini fan, Ribery owns a Gallardo LP560-4 Spyder and an Aventador LP700-4. Have to say, the man's got taste!
4. Zlatan Ibrahimovic
Porsche 918 Spyder
Porsche 918 Spyder
The Paris Saint German striker is known for his vicious and scathing attacks on the opposition's defence, usually ending in a stunning goal. Winner of the 2013 Puskas award for goal of the year, Ibrahimovic is also known for a sensational car collection. With his nearly 40 million USD earnings as of June 2014, Ibrahimovic can well afford some of the stunners in his garage. Top of the list is his newly acquired Porsche 918 Spyder, a hybrid sports car that has a limited edition run of just 918 units and costs close to a million dollars. Like most other star footballers though, there has to be the customary Ferrari in his collection - in Ibrahimovic's case it's an Enzo.
5. Neymar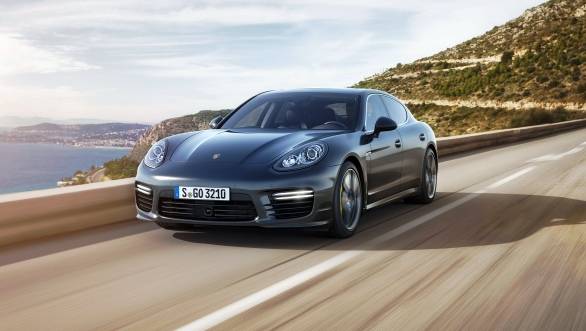 2014 Porsche
If there is one player expected to shine at the World Cup in Brazil then it's Neymar. The Brazil national who also plays for Barcelona is one of the football crazy nation's biggest names who could take them to World Cup glory. The 22-year old striker is already on the Forbes richest athletes in the world list, though at a more humble 16th place with earnings of over 30 million USD. And like all young football superstars, access to that much money means big spending on lavish cribs, a helicopter, a yacht, supermodel girlfriends and of course, expensive cars. Given his youth and a fascination for all things as fast as his pace down a field, Neymar owns an R8 GT and a Porsche Panamera Turbo S.
6. Andres Iniesta
Bugatti Veyron
At the recently held Ballon d'Or Andres Iniesta came away in third place, a worthy recognition of this Barcelona midfielder and Spanish national. What Inisieta isn't is one of the richest players in the world, even though his earnings of 7 million USD aren't exactly meagre. The funds have allowed this rather shy yet hugely talented star to splurge on an Audi A7 but he's also rumoured to now own a Bugatti Veyron.
7. Robin Van Persie
Range Rover Sport
The Manchester United striker discovered football at the age of 5 and ever since he's been known as a formidable striker. Playing for his home team Netherlands, a lot of hope rides on this young player's shoulders to take the Dutch team to the very top. With an average earning of around 12 million USD annually, Van Persie isn't known so much as a petrolhead,  though the Porsche Panamera, the Cayenne Turbo, the Range Rover Sport or the Audi S5 Sportback he is often seen in tell another story. Incidentally, Van Persie is more fond of his vintage cars and he's been collecting them for sometime now.
8. Arjen Robben
Audi S6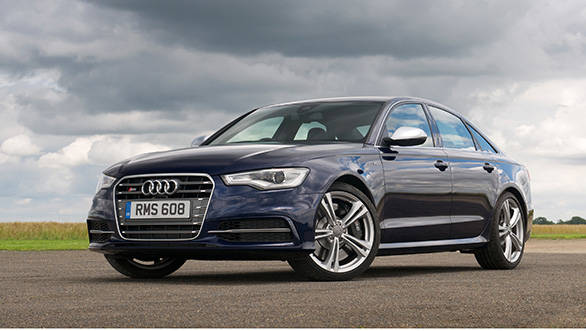 2013 Audi S6
Another Dutch national, the midfielder and sometimes winger is touted to be one of the best football players in the world. Of course FIFA ranks him as the 8th best player in the world as of 2014 and that means Robben can also be assured of a decent pay packet from Bayern Munich. Yet despite his 20 million USD annual earnings, Robben has been content to take the cars Audi provides the Bayern Munich players. So he has the S6 and a Q7 and seems pretty satisfied with these rather humble (in perspective) choices.
9. Gareth Bale
Audi R8 V10
Now here is one player who need not be humble after moving from Tottenham Hotspurs to Real Madrid for a whopping 118 million USD. Gareth Bale's annual earnings have been pegged at around 36 million USD and that has given him the means to invest in some pretty heavy duty cars. Gareth seems to be following in team mate Cristiano Ronaldo's footsteps, renting a house similar to Cristiano and he also seems to be aping the same interest in cars starting off his collection with an Audi R8 V10.
10. Andrea Pirlo
Unknown
Finally an Italian on this list and what an Italian. Pirlo is one of the best game makers in the business and at 35 years of age, this defensive midfielder player has the vision needed to take his home team to World Cup glory. Pirlo also plays for Juventus but alongside several astute business moves, earns close to 33 million USD annually. Unfortunately we just don't seem to be able to find what Pirlo drives. So if you have a clue, let us know what wheels he owns.
Price (Ex-Delhi)
Starts Rs 2.55 Crore
Price (Ex-Delhi)
Starts Rs 79.06 Lakhs
Price (Ex-Delhi)
Starts Rs 95 Lakhs
Price (Ex-Delhi)
Starts Rs 12 Crore
Price (Ex-Delhi)
Starts Rs 4.78 Crore
Price (Ex-Delhi)
Starts Rs 2.25 Crore
Price (Ex-Delhi)
Starts Rs 1.19 Crore
Price (Ex-Delhi)
Starts Rs 1.45 Crore
Price (Ex-Delhi)
Starts Rs 7.5 Crore