Feature: Touring Rajasthan on the Ducati Scrambler
One of the strangest things about my riding career is the fact that I've never toured Rajasthan in the winter on a motorcycle. It is strange because it is almost guaranteed to be a good time. The roads are excellent, the scenery changes quite drastically as you move and the traffic is usually light enough to allow you to take in this scenery. The weather is almost guaranteed to be fantastic and at night, you've a wealth of royal or aristocratic heritage properties you can choose from. It's a no brainer. Maybe that's why I've never done it.
The Ducati poses on Sambhar Lake
So when BB (Biswaroop Banerjee, CEO and executive director) from Motoziel called to ask if I had ten days to go join them for a near-final recce of their upcoming luxury tour of Rajasthan, the answer wasn't hard. Then he dropped the bomb, we'd be riding Ducati Scramblers. 'Oh very yes,' I said before someone in the office pointed out how many bikes were waiting to be ridden back at work. The hard fought negotiations whittled my royal outing to four days.
A quick stop for photographs on the Sambhar Lake
I met my riding companions at breakfast on day one before we headed out for the run to Jaipur at our hotel in Delhi. Santosh Vijay (head tours, Motoziel) would be leading the ride with BB bringing up the rear. In the middle were me, British journalist Kevin James Lear (look up Motorbike TV) and Parakram Rautela (freelance travel writer).
Rajasthan's roads are wide open, well-made and devoid of traffic. Makes riding easy it does
Santosh I've known from before but meeting Kevin was a real highlight. He's huge, British, likes to take video selfies (that's more or less his actual job) and his surname is Lear. In short order, we - okay I - had named him King Lear and the British Raj themed jokes would not stop. Especially after Motoziel's Rajasthan expert Digvijay 'DeeJay' Singh joined in. At one point, a waiter was persuaded to say, "Rice, your majesty?" to King Lear. Explosion of giggles around the lunch table. To Kevin's credit, he never let us get the better of him although masala peanuts did on day two itself. And you'll be happy to know that by the end, he'd fallen in love with India and has promised to bring back the Kohinoor.
The Scrambler's interesting off the road. Its too stiff to be ridden lazily but loves being caned
Day one was spent in thankfully light highway traffic after we crawled out of the traffic jam that is now officially named the Gurgaon Expressway. We ended the day with some lovely trail riding outside Jaipur. The Scramblers proved to be potentially great off-roaders. The suspension is too stiff to lollygag about so you've to ride really hard to get the bike to show its true colours. Not something you want to do on day one, right?
It seems mining in the Aravalis is allowing monsoon winds to get into places in Rajasthan that usually don't get rain. And when that happens, you get a green, fertile Rajasthan
The highlight of the second day was the crossing of the Sambhar Lake, about an hour and a half outside Jaipur on back roads that eventually deposited us in Bikaner. The Sambhar Lake is a wonderful stopping point. It begins with charming old wooden railway cargo carriages and ramshackle old diesel locomotives. These are part of a small captive railway system for the salt flats built during King Lear's... I mean, the British Raj - still running.
Mehrangarh is amongst the best kept, most impressive forts in Rajasthan. Just one of the stops we made
Our crossing didn't go to plan though. We found the Scrambler very happy in talcum powder sand and then on the crusty salt flats. But about half a kilometre into the crossing, we hit wet patches and decided to abort. By this point, our Scramblers were thickly covered in the salty mud that we would now spend the rest of the day's scraping off our bikes as the outer layers dried and crusted over. I have to give credit to the Scrambler's stock block pattern tyres. They're softer compound than the tread looks and more capable off-road than you think.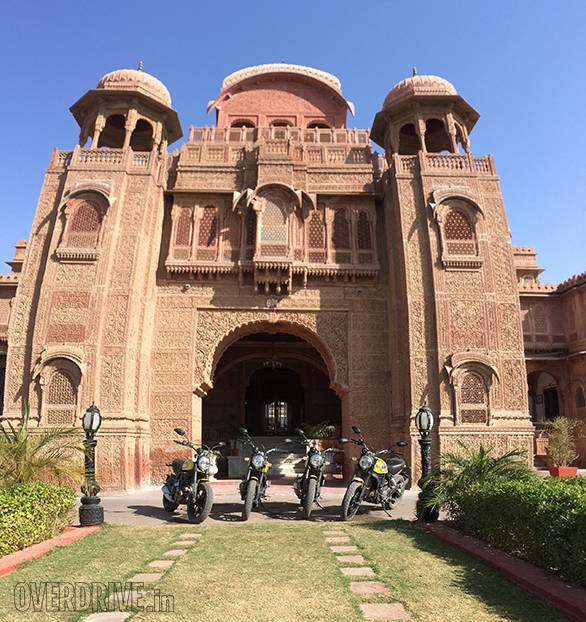 The bikes pose outside Bikaner's impressive Laxmi Nivas Palace
At Bikaner we stayed at the Laxmi Nivas Palace which is incredible - I've visited this en famille as a tourist earlier on. The rooms were huge, the food excellent and the hotel and its grounds are just spectacular. We left for Jodhpur in high spirits, as a direct consequence. Except for His Majesty. He'd been suffering and having trouble in the back up car. And had the ignominy of the Bikaner doctor asking him, "Don't you understand English?" Poor sod.
We didn't often ride into the sunset but when we did, it produced some stunning silhouettes
The ride from Bikaner to Jodhpur is either uneventful or emblematic of Rajasthan depending on your perspective. The roads are straight, well-tarred and traffic is comically light for the most part. The scenery is typically Rajasthan with flat lands that run right to the horizon. It only changes a couple of hours before Jodhpur when the dunes start before Dechu. Our stop for the night was the Manvar Desert Camp which was spectacular, it goes without saying.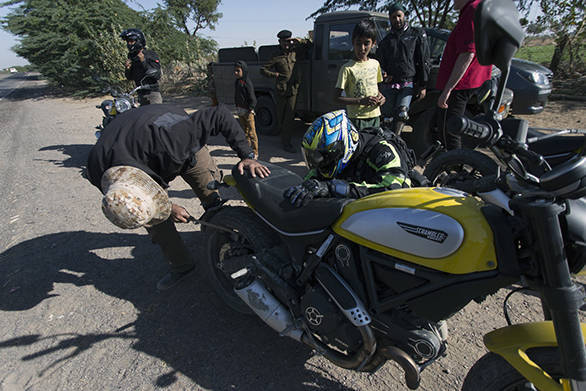 Digvijay and Shumi dig out dried up Sambhar Lake mud along the road somewhere
My final day with the group was the short ride from Manvar to Jodhpur which we completed well before lunch without incident. When I parked my Scrambler for the final time in the spectacular Raas Haveli in the heart of the city and directly below the Mehrangarh Fort, I felt a twinge of sadness. My ride was at an end with this lovely crew. Which was made worse by the fact that King Lear would be back on a motorbike the next morning and this group would be on 'holiday' for another six days.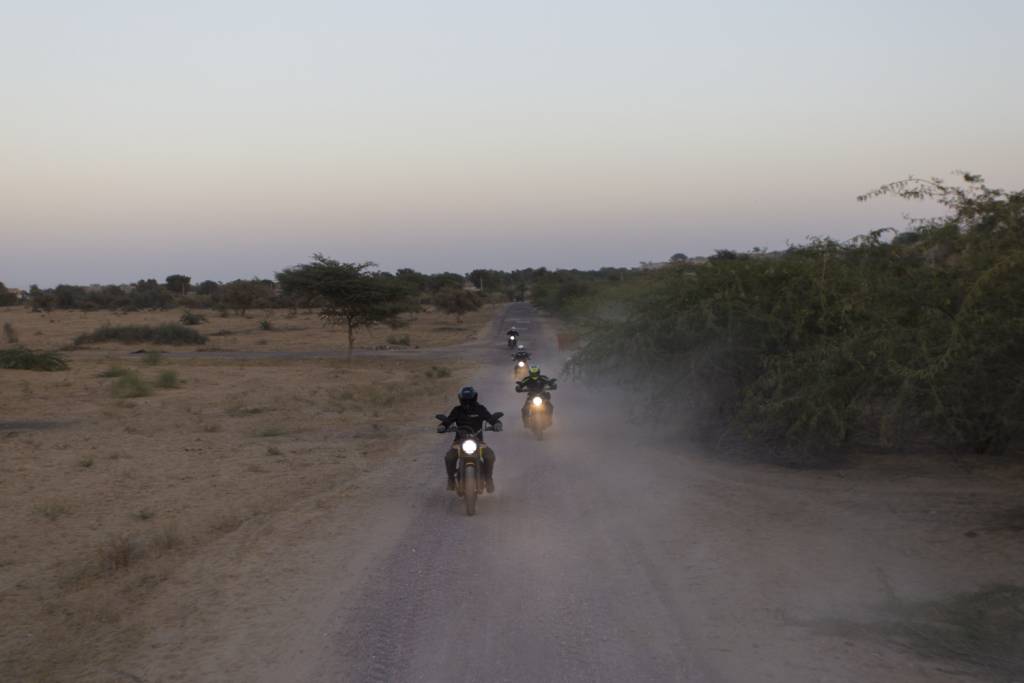 Light off-roading and soft roading is where the wee Ducati Scrambler shines. Its slim-light feel and abundant torque makes it easy to ride
We spent the afternoon walking up to the magnificent Mehrangarh Fort and walking around its extremely well-kept expanse.
The next morning I was fast asleep in an aluminium tube spearing back towards Mumbai. While four Ducati Scramblers were painting Rajasthan yellow. Next time, I'll find the ten days. by jove.
Images by Rohit Kumar (Motoziel) & Shubhabrata Marmar
Motoziel announces motorcycle tours, gear shops and more
Motoziel is a New Delhi-based startup that has massive plans for India. The name, Motoziel means motorcycle destination in German. The company is run by Kalyan Mazumder, MD and Biswaroop 'BB' Banerjee, executive director & CEO. To start with, Motoziel intends to operate in two specific areas - motorcycle touring and motorcycle protective gear/accessories. For the touring business, Motoziel has a fleet of Ducati Scramblers, Triumph Bonnevilles, Harley-Davidson Iron 883s and shortly, Triumph Tiger 800s that will be used by customers on guided luxury tours. The very first one, is the final version of the recce I went on, The Rajput Trail set for February 13 to 26, 2016. Motoziel has also announced tours in Nepal, Bhutan, Tibet and Ladakh for April, May, June and July respectively. Motoziel is primarily targetting riders outside India who would like to get the Indian experience. The company is also working on two-way tie-ups where a company outside India will market their tours and Motoziel will market international guided motorcycles tours in India for them. Motoziel is also talking to a whole host of motorcycle gear brands with the intention of entering the motorcycle gear and accessory business. The company is in the process of setting up a huge gear store in Delhi soon stocking many of the brands they're speaking to. Motoziel is supported by Steelbird, the helmet manufacturer, as an angel investor in the company.
More from OVERDRIVE on the Ducati Scrambler:
Feature: Five things to do before taking the Ducati Scrambler touring
Five reasons to love the Ducati Scrambler and two to not
Comparo: Ducati Scrambler vs Triumph Bonneville in Ladakh
.
Price (Ex-Delhi)
Starts Rs 7,99,000
Price (Ex-Delhi)
Starts Rs 9,38,000
Price (Ex-Delhi)
Starts Rs 12,15,800