Feature: MotoGP circuit Valencia
The Valencia track is usually the last circuit of the season for MotoGP. It isn't a well-liked track like Mugello or a historic one, like Assen. But the charm of Valencia is that for a spectator, almost the whole circuit is visible from nearly every stand. But that also makes for a compact layout. On our ride on the all-new Ducati Panigale V4, the Valencia circuit, at a fast clip was a mix of second and third gear corners with the higher gears coming into play in just a handful of places, including the main straight.
Turns 1-5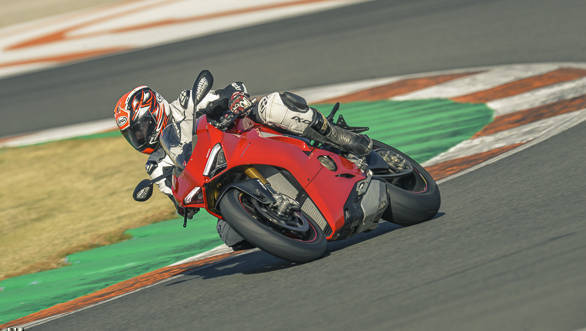 This is a nice little layout but it's very tight. You enter turn one which is a blazing fast as you brake from very high speed. 290kmph for Ducati test rider Alessandro Valia, 276-280kmph for me on a handful of laps. This right turn is a very fast but there is room on the exit so it doesn't scare you that much.
After a short burst of acceleration you brake for the second gear hairpin that is turn two the leads gently uphill to a right kink, turn three which can be taken flat out, or with just a momentary closure of the throttle as you turn the bike. Turns four and five are reasonably quick right hander but are the first right turns on the lap after many lefts so you're always warned to not trust the grip too much.
Turns 6-11
This is a more open complex than the initial part of the lap. Turn 6 is a fairly tight second gear left that leads to a Turn 7, another left kink that shoots you into the braking zone for the long downhill hairpin that is Turn 8. Turns 9 and 10 are very fast chicane but Turn 10 leads immediately to hard braking for Turn 11, another hairpin, this time to the right that's slightly downhill. These turns are not very complex in terms of line but you do have to work out how to conserve both effort and momentum for fast laps.
Turns 12-14
This is my favourite part of the lap. Turn 12 comes at the end of the fast uphill straight. You take 12, an uphill right with a narrow exit as fast as you can because you're building momentum. On the few laps I nailed it, you get to knee down so fast it'll scare you the first time. Then moments later, you're working the bike as fast as you can over to the other side for turn 13 which is a deviously brilliant left. You enter this corner as the tarmac rises to a crest so you cannot see the other side. You're pulling the bike towards the grass on the inside while the gas is open as much as you dare. A gentle off-camber almost until the braking area later makes managing traction challenging here combined with the speed. Valia sees 210kmph through his, I was easing up to almost 190kmph (I think). The problem is you're always turning but it remains blind for a long time. Finally, you see the outside kerbs and start allowing the bike to run wide before braking hard for the final turn, a 90° right that leads to the long main straight.
This is an extremely physical lap with lots of direction changes and three places where the speeds are truly thrilling.
Price (Ex-Delhi)
Starts Rs 15,30,000
Price (Ex-Delhi)
Starts Rs 23,50,000