Automotive art by Princess Vidita Singh of Barwani
Vidita is a gifted automotive artist who has imaginatively documented India's automotive history through her canvas. From March 31 to April 5, she exhibited 29 of her paintings at the India Fine Art Gallery, Mumbai. A lot of people showed up for her exhibition and appreciated her work. Actor Jackie Shroff was also there on the opening day and purchased a charcoal canvas of a Mercedes-Benz 540 K. Jackie said, "I used to own a 540 K and loved it. Vidita's done a splendid job of putting it on canvas."
It is less common to find a young woman who is so passionate about automobiles, let alone a princess from a royal family in India.
Princess Vidita Singh, one of the first automotive artists in India, brings to life these stylish cars in elements that are uniquely Indian. She has even done a series with cars covered with flowers and a Jaguar and Bentley being part of a typical Hindu wedding baraat procession. She hails from the royal family of Barwani, an erstwhile royal kingdom in Madhya Pradesh picturesquely situated between the Narmada river and the Satpura range of mountains. Be it a Lancia at a Polo game, a Delahaye proudly carrying an eagle mascot typical of the princely state of Jodhpur, or a Cadillac whooshing through a narrow road, Vidita has managed to capture the beauty of these coach built cars, in colourful surroundings.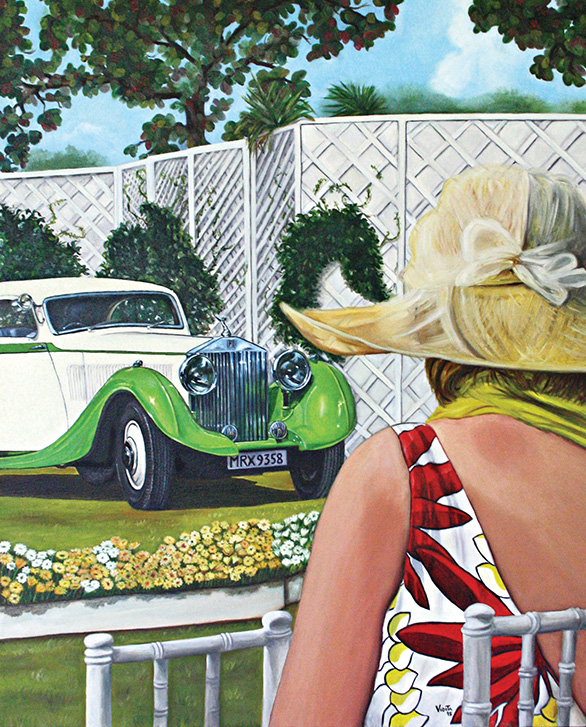 Vidita says, "Through my artwork, I want people to see the beauty in cars especially vintage and classic automobiles. There is quite a bit of nostalgia attached with my paintings. I usually juxtapose cars in backgrounds which they would have visited in their heydays. For me automobiles have a soul and I try my best to bring that out in my artwork." Chrome and reflections in photo-realistic detail, is a specialty of Vidita, who not only employs oil on canvas, but also charcoal and watercolours to create her unique art, that appeals not just to automobile enthusiasts, but to all art aficionados. "Getting the proportions right against the background is the most difficult task. After the basic subject is painted, I add the details," Vidita explains while talking about the process behind the work. Vidita's exhibition was promoted by Pratap and Praggyashree Gaekwad of the erstwhile royal family of Baroda. This family is known for its patronage of the fine arts and their love for automobiles.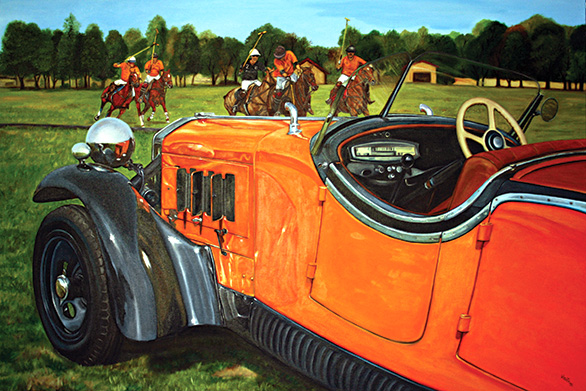 Vidita also hails from a family that loves cars. Her father Rana Manvendra Singh of Barwani is a pioneer in the field of automotive restoration in India. He is also a published historian and the driving force behind the Cartier Concourse d'Elegance that has put India onto the world map of historic car events. Inspired and encouraged by her father, Vidita feels a passionate need to preserve India's rich automotive history and traditions, and, she does this through her canvases. Interestingly, she also exhibited a painting recreating the scene of a foreign woman wearing a hat admiring a Rolls- Royce Continental at the Cartier event.
She has done her Masters in Art History and Diploma in Art Restoration from the National Museum, New Delhi. Vidita started painting cars after passing out from school but only took it up professionally after college. She was passionate about classic and vintage cars from childhood, but the mechanicals did not interest her. It was the aesthetic appeal of the body styling and colour combinations that captivated her. Vidita says, "As an artist it is important to be passionate about your subject as this helps inject life into your paintings. I luckily grew up being surrounded by vintage and classic cars. My grandfather, father and uncles were all so passionate about old cars that the passion automatically passed on to me."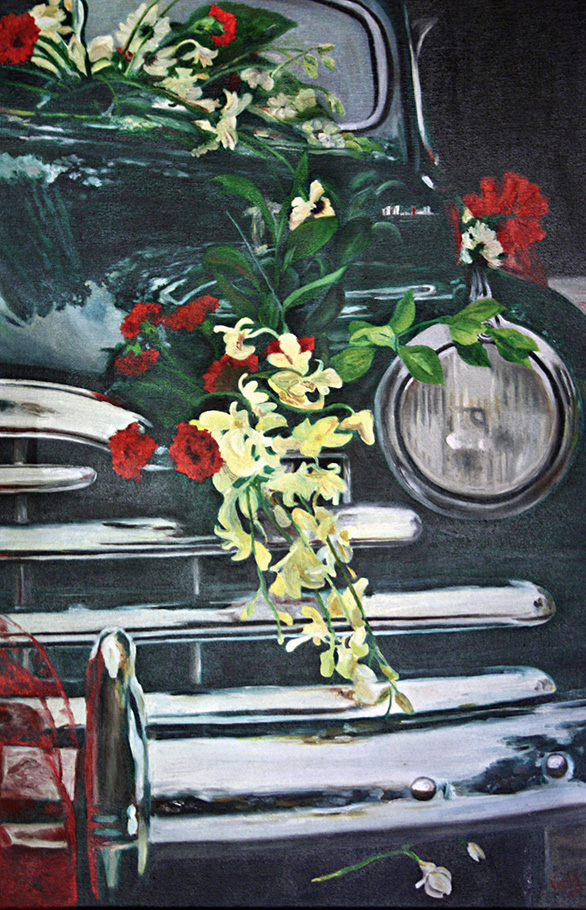 Princess Vidita's painting style has evolved over the years and now reached a stage where her work can be considered to be that of a very talented artist with a mastery over her art. Vidita says, "I am also inspired by the art-deco movement. I like to keep my cars as realistic as possible, infusing life into them by keeping in mind their character and history. The backgrounds of my paintings usually have a rustic Indian feel, unless it's an art deco theme painting, then its abstract. My favorite medium is the traditional oil medium, but I enjoy working with charcoal and watercolors as well. I choose cars that appeal to me aesthetically and have history or a story associated with them."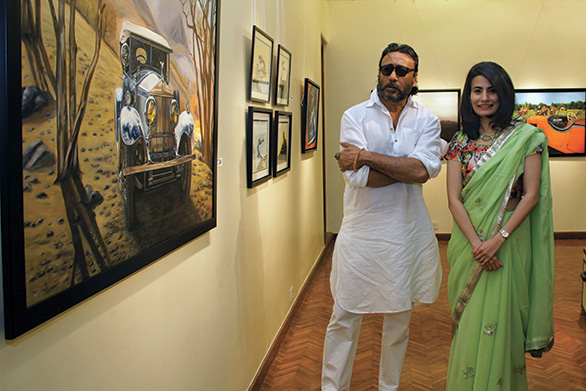 Vidita has had several successful exhibitions of her paintings. Her canvases have been shown at the 2008 Auto Expo, 2011 Cartier Concourse d'Elegance, couple of Royal Fables exhibitions and also at a solo show in Delhi in 2006. She is an invited member of the American website automotiveartist.com, Vidita has also been featured as an 'Upcoming Automotive Artist' in the Dutch website carartspot.com.