Feature: An American and a Brit to Tiger land
Having just wrapped up the 19th anniversary issue of OVERDRIVE I was looking forward to a break from work and go on a ride. As if on cue I was assigned to attend an event at the Jim Corbett National Park, just over 250km north-east of Delhi. The national park is in the Kumaon region of Uttarakhand, which is where the Himalayan foothills begin, and it seemed like the opportunity for a good weekend ride.
Having had my fill of adventure tourers the previous month I decided to ride a cruiser, and called up Indian Motorcycles who had the Chieftain Dark Horse in Delhi. Perfect! The Chieftain, to remind you, is Indian Motorcycles' full-sized bagger. It comes powered by a 1,811cc, liquid-cooled V-twin called the Thunderstroke 111 and is easily one of the best sounding American cruisers. Our photographer Akshay was to join me too though, and hence we needed one more motorcycle. You see, riding with a pillion isn't really anyone's idea of a good ride.
I decided to get another twin-cylinder motorcycle but one that would make for a nice contrast, the Triumph Bonneville T100. From experience I knew it is reasonably comfortable, light, agile and its parallel-twin engine is peppy, which makes the Bonnie a good choice to munch miles. It might appear like the Chieftain's polar opposite being a compact, nimble city slicker, and that's what I was keen on finding out. Can the T100 holds its own against the purpose-built Chieftain?
Thanks to Triumph taking some time to hand over the motorcycle we left Delhi only at noon meaning the heat was bad. I was dreading passing through several towns in Uttar Pradesh en route to Uttarakhand and expectedly, we got stuck in a traffic jam for about an hour exiting Ghaziabad. Traffic, the air temperature of 37 degree Celsuis and an 1800cc cruiser can be quite a killer combination. Literally. Especially when the motorcycle gets you all possible attention.
I was dripping sweat in my helmet but people couldn't stop asking questions about the bike. The sheer size of the motorcycle had people gawk at it. Of course, the 2.5 metre length, massive fairing, tassles on the handlebar ends and large panniers weren't going to let me hide. The Chieftain is a classic American cruiser meant to munch miles on open roads, and its design screams it out loud! As much as I liked its commanding presence, I was also dreading it being the show err.. traffic stopper.
Meanwhile I could see Akshay snigger on the Bonneville T100. I doubt if people even realised the Triumph wasn't a 'regular' commuter motorcycle. With its round headlamp, round mirrors and flat one piece seat it was being passed off as any other motorcycle. And that was the big difference between the two bikes. The Indian was getting me the stares – whether I liked it or not – while the T100 was barely noticed.
The big Indian is eager to lean into corners despite its massive size and its lack of ground clearance
Engine heat was roasting my legs – big engines need to be ridden at speeds to maintain airflow, which is one reason why big bikes aren't great in traffic, even if something as comfortable and plush as the Chieftain Dark Horse. Its maneouverability despite the 378kg kerb weight was impressive though, as negotiating through traffic was easier than expected. The tassles were a constant irritation though, getting tangled with my arm every other minute.
Clutch action was heavy, adding to the cumbersomeness. The going was smooth and the progress rapid once we crossed the jam thanks to the big twin. Performance was available easily as the throttle response was crisp. And with 150Nm available at just 2,900rpm not many gear changes were needed. What's more, the height of the handlebar and positioning of the foot boards was perfect while the seat was plush and comfortable.
The Chieftain's panniers are water-proof and electronically lockable via the key fob or switches on the fuel tank and took in most of our belongings, and our stuff was safe even in the heavy downpour we experienced on the way. The Chieftain's windscreen was another issue. It is adjustable, electrically, which makes it very convenient. The screen isn't tall enough even at its highest position, sending a lot of the wind straight onto my helmet. The fairing on the other hand blocks all the air coming onto the rider. So I was sweating even in a mesh jacket! I was also sweating in my helmet as a result, but couldn't keep the visor open due to the windblast.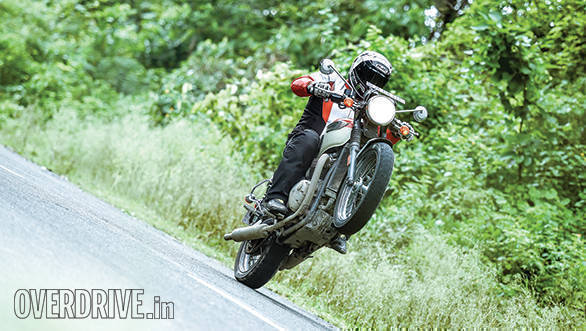 Who said retro-classic bikes can't be fun?
The instrument cluster behind the massive fairing is pretty detailed though, offering information like tank range, consumption, gear position, tyre pressure and oil temperature and ambient temperature. The ride from Delhi to Jim Corbett is straight forward, mostly comprising of four lane highways with barely any corners. The surface is good and we were able to make good time until Moradabad, where we turned off onto smaller, less smoother roads.We encountered yet another nerve wracking traffic jam there that cost us another hour. This time the engine heat was worse, pretty much searing my right thigh.
That's when I switched to the Bonneville T100. The first thing I noticed was how tiny it felt after the Chieftain! The narrower fuel tank and handlebars made it feel almost like a commuter. The seat was narrow too but plush, making for a comfortable seating position. All that compactness and light weight made it a lot easier and quicker than the Indian to negotiate through the crawling traffic and getting past vehicles at highway speeds.
At 900cc, the Bonneville's displacement is only half as much as the Chieftain, but the engine was responsible in a big way for its swift responses. The 55PS output may not sound like a lot but the engine also offers 80Nm at as low as 3230rpm. This resulted in a peppiness that surprised me, and getting to triple digit speeds was a breeze. The T100 uses a five-speed transmission but the ratios are spaced well to not call for too many gearshifts. The Triumph will happily sit at over 100kmph all day and sustaining higher speeds was not an issue, except for the wind blast. Another highlight was the T100's exhaust note, as the Bonneville sounds typical of a classic British twin, courtesy its peashooter exhausts.
The T100 does not get panniers but comes with luggage mounts
The T100 doesn't come with panniers or luggage but mounting saddlebags isn't an issue as it gets mount points on either side. The riding position is comfortable and the seat plush, and riding the T100 non-stop for a couple of hours wasn't an issue. The instrument cluster offers information about tank range and efficiency as well which helps. The T100's suspension soaked up bumps and undulations well while feeling firm enough to offer a confident feel every time I had to change direction.
I rode the Triumph for the remaining part of the ride which wasn't a bad decision. It did pretty much everything the Chieftain did, even feeling better at times thanks to its compact size and light weight. That said there is no denying the Chieftain is very special. It does an excellent job as a purpose-built cruiser with its supreme comfort on the go. Its massive engine makes for effortless progress while feeling extremely refined and being nearly as efficient as the far smaller Triumph, at around 14kmpl.
Build quality is excellent, and the Chieftain is put together very well. Lest I forget, it also comes with a music system! There's USB connectivity apart from a radio meaning you could play your favourite music on the go, while cruise control lets you sit back and relax. The Triumph to its advantage gets traction control, something the Chieftain misses out on, though ABS is standard on both.
The Indian Chieftain Dark Horse feels fantastic as a touring machine and munching miles is easily its favourite job. It is a really large motorcycle which means handling it isn't something everyone can manage. Of course, priced at Rs 33.49 lakh ex-showroom New Delhi it most certainly isn't for everyone. In contrast, the T100 is a lot simpler and is far easier to ride. It feels quick, handles well and looks the part if classic British motorcycles are your thing. It is comfortable and didn't feel much slower than the Chieftain on the road either. It is priced well too, retailing at Rs 8.19 lakh ex-Delhi. It may not come with the luxuries or the panache that the Chieftain boasts and it won't get you any stares either, but is surprisingly capable, even if the appearance suggests otherwise.
What impressed me the most about both motorcycles though was that both felt equally adept at the task given to them, making for a great ride for us that weekend. Hence proved, yet again. Motorcycles are indeed one of the best things that happened to mankind.
Price (Ex-Delhi)
Starts Rs 21,29,500
Price (Ex-Delhi)
Starts Rs 12,15,800
Related Stories