13 motorcycles for riders restarting riding
Motorcycling is glorious. But human beings, strangely enough, are capable of leaving glorious things behind. In time, the sparkly days of the Yamaha RX100 - or were you a Kawasaki Bajaj KB100 guy - are forgotten. The thrill of the Yamaha RD350 or the unique heartbeat of that Jawa/Yezdi fades from your daily life. You accrue family, an all-consuming career. And one day you wonder, how and when was the last time you turned the key.
Human beings, I am happy to report, are also able to change direction and pick up the pace again. This story was prompted by a short message on Facebook from Hemant Suthar. He asked, "Hi Shumi! A quick question - what do you think of the Kawasaki Z650? A good bike to restart biking?" And I thought to myself, that there was a good story idea. And here we are.
Hemant kindly agreed to give me these pictures and let us in on the back story.
Hemant Suthar and his friends photobomb this poor buffalo's selfie from back in the day. Notice the Yamaha RX100s in the background
A picture of Hemant Suthar with his friends from way back when they were riding together.
The trigger is quite simple to understand in Suthar's case. He says, "[I was] Remembering my college days and how we used to go riding. Now I have a friend who has a bike and wants company, plus my cousin who rides a Harley Fat Boy. I [now] have free time and can afford a good bike. Just want to complete my bucket list."
There are other versions of this story and they all say the same thing. There is a time and place to return to motorcycling. That time, if you've read this far, is now for you.
What should I ride?
There are many things to consider before you re-enter the fray as it were. But the motorcycle is the basic starting point. My conversations with other restarting riders leads me to believe that the essential requirement is pretty standard.
First, you want a motorcycle that excites you. And that's why we have a long list for you.
Next, you want a motorcycle that promises to excite you in the ways you want to be excited today. For some, that is a cruiser, for some it's an adventure tourer. In most cases, the use case is about the feel and most of these riders intend to ride on the weekend and take two or three significantly longer trips with friends over the course of the average year.
Finally, you want something that is easy to keep and service. Nobody wants a PITA at this stage in the game.
What you're bringing to the table is time and money. All the restarting riders appear to have reasonable to abundant budgets and are not scared to spend the money if the bike justifies the expense.
And based on these assumptions we have these 13 motorcycles that I believe are a great starting point to restart motorcycling.
The Harley-Davidson Street 750's biggest drawback is its design. It's a little anonymous and the faint snigger of Avenger references will haunt you. However, it is a Harley. And that means a massive product accessory catalog and endless customisation opportunity and encouragement.
But that aside, the Harley-Davidson is as sweet as a kheer kodom (look it up) and the sound and feel of the liquid-cooled 750cc engine is wonderful.
Harley
If you want something just a bit sportier, pick the Harley-Davidson Street Rod instead. It looks vastly more distinctive, has a more aggressive seating stance and has standard ABS too. If you're, erm, older, you might want to double check the footpeg position before you put the money down. The pegs are high and cause a fairly intense knee-bend on the ride.
Harley-Davidson Street 750
The Kawasaki Vulcan 650 S should be in this list too but unfortunately, delays at India Kawasaki mean that we haven't finished testing it at this time and hence, I've no way to give you perspective on it.
Kawasaki Z650, Ninja 650 | Nakeds, light sports
The Kawasaki 650 parallel twin should be given its own monument in the annals of Indian motorcycling. The lower purchase price and shockingly low prices of the used ones has unlocked the multi-cylinder dream for so many of us!
And the new bikes are super easy to ride and they've become physically smaller as well which promotes both your sense of control as well as how friendly they feel. Sweet motors with improved refinement, reasonably good suspension and ABS-equipped brakes complete a very persuasive package.
Just keep one thing in mind, these are some of the least expensive bikes here to buy but India Kawasaki is rapidly gaining a reputation for being an expensive service and spares operation.
I tend not to recommend even 600cc sportsbikes to restarting bikers because they're rather fierce. If sportsbikes interest you, I think you should start with the Yamaha YZF-R3. The 42PS Yamaha isn't slow, build, finish and refinement levels are stellar, and most importantly, it blends real world useability with very real track ability. Given the prices of the new Ninja 400, it's good value for money also. The KTM RC 390, naturally, is still more value but I'm assuming here that a cost-effective single-cylinder isn't what this affluent restarting rider is looking for.
Triumph Tiger 800, Kawasaki Versys 650 | Adventure tourers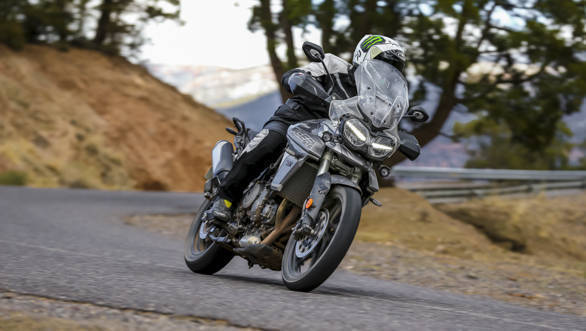 The 2018 Triumph Tiger 800 XRX boasts higher equipment levels than the current bike, including the new screen and wind deflectors, as also LED DRLs and the new TFT display
These are, it turns out, some of the physically largest machines in this group but they also happen to be among the easiest to ride. The Versys 650 is a proper star. When we compared it to the previous generation Tiger, we chose it as our pick in the regular duty cycle with only a small amount of actual off-roading. The Tiger, though, is no pushover either, blending a relatively mild personality with real highway and off-road prowess. It beat some very highly fancied adventure tourers last year and the new one is better still. Here are our initial impressions of the new-gen Tiger.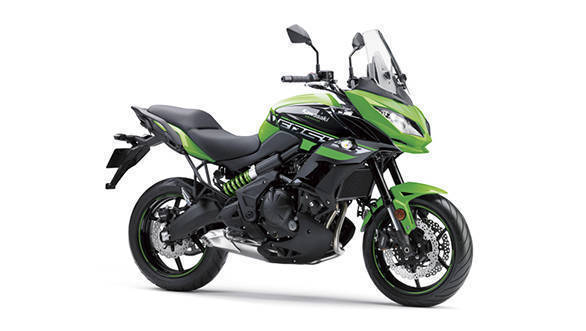 2018 Kawasaki Versys 650
Triumph Street Twin, Triumph Bobber | Street bikes
The old Triumph Bonneville was one of the sweetest motorcycles of all. We know of no one who's come away from riding one without feeling deeply for it. And lamenting its lack of ABS. The new Street Twin, in my book, doesn't have as much character but it's a brilliant starter big bike. Small, compact and very torquey it also has the full complement of electronics including traction control to keep you within your talent envelope. The T100 and T120 have a lot more character - take a test ride before you decide. Also try out the Bobber. If a city runabout is all you need, the Bobber makes a rather stylish, good-looking motorcycle for the job.
Ducati Supersport, Ducati Monster 821 | Sports, sports naked
These Ducatis aren't cheap but they're Borgo Panigale's vision of entry level road bikes. And it's a great vision. Both the 821 and the Supersport are packed to the gills with character and the performance intent is obvious and deeply central to both machines. Because they're backed off slightly for new riders, they're easy to ride and Ducati likes to not skimp on the electronic backup systems either. Both are extremely involving machines and will make excellent ways to return to riding. The only hitch is that the 821 is currently not on the market as we wait for the new 821 to arrive and mark 25 years of the Ducati Monster in style.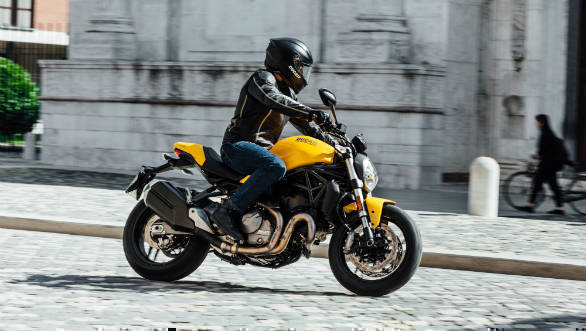 This was an outside choice, really. The new Softails are all much easier to ride than before but the Harley-Davidson Street Bob is the easiest of all. It's got the same liquid grace of the Milwaukee 8 but this is a light and friendly Harley with a extensive customisation catalog even by Harley's own standards.
Okay a few assumptions were made before we added this motorcycle to this list. But this Royal Enfield is an important one because I suspect it will outsell the total of everything on this list if Royal Enfield nails the price and reliability aspects of their new 650cc twin - and the signs are positive. The Interceptor is stylishly proportioned and presents the idea of a retro-flavoured naked bike not unlike the T100 or T120 in concept. But it's the fact that it is locally made and Royal Enfield intends to use its might and scale to push out a startlingly low price that makes the Interceptor such a juicy restarter motorcycle.
That's our list. Have we missed anything? Let us know in the comments!
Price (Ex-Delhi)
Starts Rs 10,99,000
Price (Ex-Delhi)
Starts Rs 5,34,000
Price (Ex-Delhi)
Starts Rs 12,68,000
Price (Ex-Delhi)
Starts Rs 5,99,000
Price (Ex-Delhi)
Starts Rs 6,79,000
Price (Ex-Delhi)
Starts Rs 5,94,000
Price (Ex-Delhi)
Starts Rs 3,14,000
Price (Ex-Delhi)
Starts Rs 2,56,372
Price (Ex-Delhi)
Starts Rs 12,15,800
Price (Ex-Delhi)
Starts Rs 3,50,180