F1 2017: Mid-season review
Human beings are flawed. They make mistakes. Sometimes with dire consequences. Like Fernando Alonso's decision to move back to McLaren. Or indeed McLaren's decision to partner with Honda. Sometimes the mistakes don't have dire consequences, but they make one look quite foolish. Like Sebastian Vettel choosing to bang wheels with Lewis Hamilton on the streets of Baku. Or even the FIA shamefacedly admitting that Valtteri Bottas' wheels had indeed been moving before the red lights went out at the Austrian GP, but they were within permissible limits, despite them earlier saying that he hadn't been moving at all. And despite them refusing, for various reasons, to stipulate what these permissible limits were. At any rate, mistakes like this, while perhaps not ideal, are serving to prove that Formula 1 is indeed a sport that employs the use of humans. Something that maybe we need a little reminder of, every now and again. With one half of the season over, as of the British GP in Silverstone, here's a look back at what stood out thus far.
The battle for the championship title is currently between Lewis Hamilton and Sebastian Vettel. One point separates the two ahead of the Hungarian GP.
At the top
The tussle at the head of the championship, with 10 races down and 10 races to go, is between Ferrari's Sebastian Vettel and Mercedes' Lewis Hamilton. Vettel's managed to edge Hamilton in the championship standings for now, by one single point, but Lewis is right behind. The two have had their fair share of clashes this season, with things all coming to a boil at the Azerbaijan Grand Prix. Yes, that clash that became the high point (or low point, it really depends on how you look at things) of the season. Hamilton slowed down after the corner, Vettel ran into him and believed that Hamilton had brake-tested him and done it fully aware of the consequences. And, unable to handle the rage he felt at that point, pulled alongside Hammy and turned into him. Of course it earned Vettel a stop-and-go penalty of 10 seconds, which some people felt wasn't enough. So after the race the FIA firmly, but gently, slapped Vettel on the wrist and made him apologise to Hamilton. He was also told that he was exempt from all the FIA's driving safety related activities for a period of one year since he was a bad example. Bottom line, fight or no fight, Vettel and Hamilton are neck and neck in the championship hunt. Unless a certain Finn has something to say about it.
The dark horse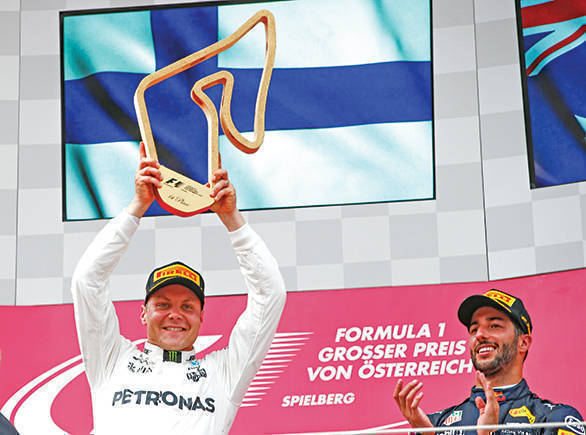 Our championship favourite is a certain Finnish driver, who is steadily toiling away in the background. Valtteri Bottas is a future world champion.
Valtteri Bottas has served his time in Formula 1. After doing the best that he could during his time at Williams, where he managed to rack up a total of nine podiums, he got a spot at the Mercedes-AMG F1 team. Where he's done a fine job of replacing outgoing world champion Nico Rosberg so far. Bottas has been steadily racking up podiums and points so far. In addition, he managed his first F1 win at the Russian GP at Sochi, and followed that up rather nicely with a win in Austria. Which means that while Vettel and Hamilton are sparring up ahead, Bottas is steadily chipping away at the lead they have in the championship. He could well be the biggest surprise of the 2017 season of F1. We're rooting for him!
Certainly not Strolling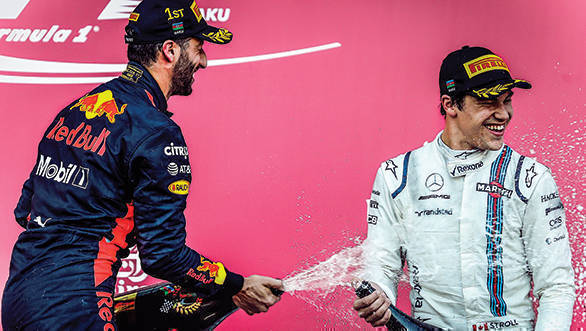 Lance Stroll's biggest critics ended up eating their words after he drove well to finish on the podium at Sochi
When the Williams team signed on Canadian driver Lance Stroll for the 2017 season of F1, there were eye-rolls aplenty. Well, word was that Stroll Sr had parted way with a significant amount of money, to the tune of $80 million, to get his son the seat. Critics seemed to entirely disregard Stroll's racing credentials, which included the 2016 European F3 title win. Until the eighth round of the championship, that is. Daniel Ricciardo might have won the race for Red Bull Racing, with Bottas taking second place, but it was Lance Stroll who truly impressed with his third-place finish. Stroll's first-ever podium in F1 had people acknowledging, somewhat reluctantly, that he might be the real deal after all. Another F3 graduate to watch out for in F1 after all. Meanwhile, Stroll's team-mate, Felipe Massa, is doing very well for Williams after delaying his retirement.
What's up with the wunderkind?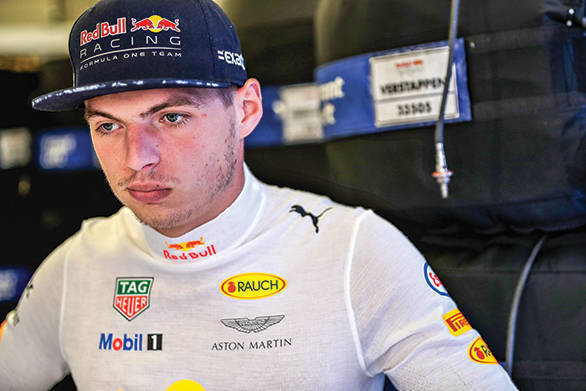 It's been a tough first half of the season for Max Verstappen. Hopefully, the second half of 2017 will turn out better for the Red Bull Racing driver.
As far as F1 wunderkinds go, no one has made quite as much of a splash as young Max Verstappen. The Dutch racer is Formula 1's youngest-ever debutant, and had a terrific second season in the sport. In 2016 Verstappen won the Spanish Grand Prix and then followed that up with six more podiums. In 2017 though, he's been outshone by his Red Bull Racing team-mate Daniel Ricciardo. Despite a podium finish at the Chinese Grand Prix, Verstappen has only finished five races. Five DNFs that include three retirements due to mechanical issues, and a couple of shunts have put quite a dent in his season. Verstappen's said he's well aware that he's having a spate of bad luck, and has joked that perhaps he ought to do something to magic it away. The bad luck that is. At this point we reckon he'd better try whatever he can. Hopefully, things will pick up after the summer break.
Going pink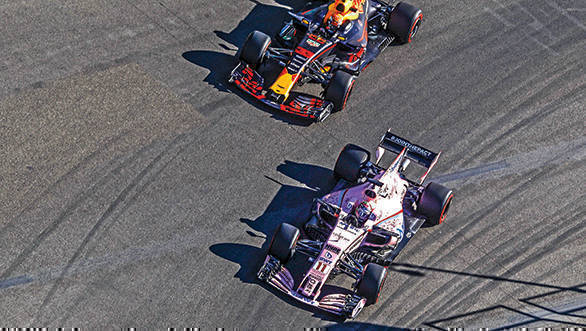 Force India's revised colour-scheme indicates changing times within the team
Force India had their best-ever season in 2016, finishing fourth in the constructors championship. It was this strong finishing position, perhaps, that led to them securing a rather plum sponsorship deal with BWT (Best Water Technologies). A sponsorship deal which meant they needed to change their livery from black and silver to pink. But things aren't all rosy (pardon the pun) with the team. They have begun the process of changing their name from Force India to Force One, citing the need for a more neutral name in order to secure sponsorship. In the meanwhile, the team's owner Vijay Mallya, charged with defrauding banks, has stepped down from his role as India's representative to the FIA and WMSC (World Motor Sport Council). With 10 races gone by in the season, Sergio Perez is currently seventh in the championship, while Esteban Ocon is eighth in the standings. But team orders in Canada and an on-track scuffle between their two drivers see Ocon come off as the less popular of the pair. The team, however, is still fourth in the championship standings, a position they hope they retain for the rest of the season.
Please help Fernando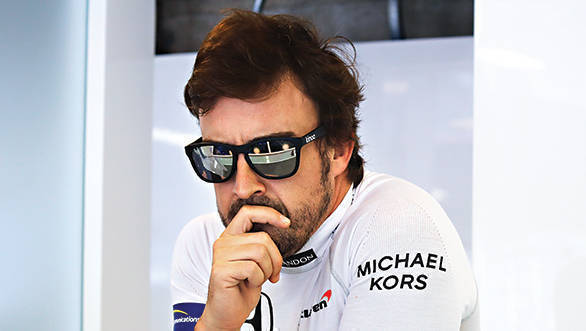 Our pick for one of the most talented drivers on the grid, is currently languishing at McLaren. We wonder what the future will bring for Fernando Alonso.
No, seriously. Someone please help Fernando Alonso. Possibly the most skilled driver on the grid, Fernando Alonso is (seemingly) cheerfully soldiering on at McLaren. The team is ailing, the Honda engines appear to blow up if someone looks at them a little too rudely, but Alonso has managed to smile through it all. Of course, he probably smiled a little wider when he skipped the Monaco Grand Prix and went across the pond to compete in the Indy 500. But even there, even when he was doing so very well in the race, running as high as seventh, his engine blew with just 21 laps to go. Alonso's kept his chin up so far and repeatedly said that he believes the next set of updates that McLaren plans to introduce will make a big difference. We're not sure if he means it, because his manager was seen in a rather public meeting with the Renault team not too long ago. We reckon he ought to move to any team that will have him at this point. If he isn't keen on that, there's always the World Endurance Championship and the 24 Hours of Le Mans that could do with a driver of his calibre. In case you were wondering, McLaren's scored two points in the championship standings thus far. Both were scored by Alonso. Stoffel Vandoorne is, understandably, having a tough season.
Speaking of Renault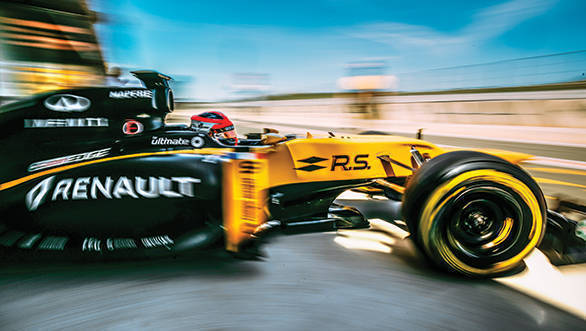 Bring Kubica back!
Renault's got one driver who hasn't got to feel afraid at all. Nico Hulkenberg's managed to score all of Renault's 26 points thus far in the 2017 season. But Jolyon Palmer, on the other hand, has been criticised rather a lot for underperforming in the first 10 races of the championship. Alonso's not the only one who Renault might be considering. The really heartening news that's emerged over the course of the season is that Robert Kubica, who last raced in Formula 1 in 2010, has completed two successful tests for the team (and is about to do a third one on August 2, 2017). The Polish driver has stated that he's gained a large amount of confidence back in his own abilities, and is working towards a Formula 1 return. Renault's said that they don't see any "obvious roadblocks" to Kubica's return to the sport. But team principal Cyril Abiteboul is being a little more cautious, reminding people that Kubica only drove the 2012 car (thus far), which is a marked departure from the 2017 machines, and that he hasn't had to deal with the pressures of a race, with multiple cars on the grid. At the halfway point in the season, the team's eighth in the championship standings.
Haas-sle free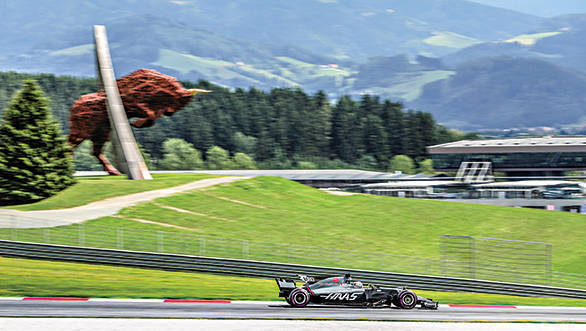 Trouble-free run for Haas so far. Only up from here!
Haas F1 is in their second ever season of Formula 1. And for F1's newest privateer outfit, they've done pretty well for themselves. Part of the credit goes to Romain Grosjean, who is probably the faster of the team's two drivers, and took a best finish of sixth place in the 2017 season at the Austrian GP. But Kevin Magnussen hasn't done too badly either. Together they've managed to get the team to seventh in the championship standings at the end of 10 races. The fact that the Haas team is supported by Ferrari has led to some people in the paddock speculating that their results aren't good enough. But the fact that Grosjean thinks that he had the pace to split the two Red Bulls during qualifying at Austria, and the fact that he thinks beating Perez to sixth place was a victory in itself, is proof that the team is on a good path. For Haas, there's no way but up from here!
Ring in the new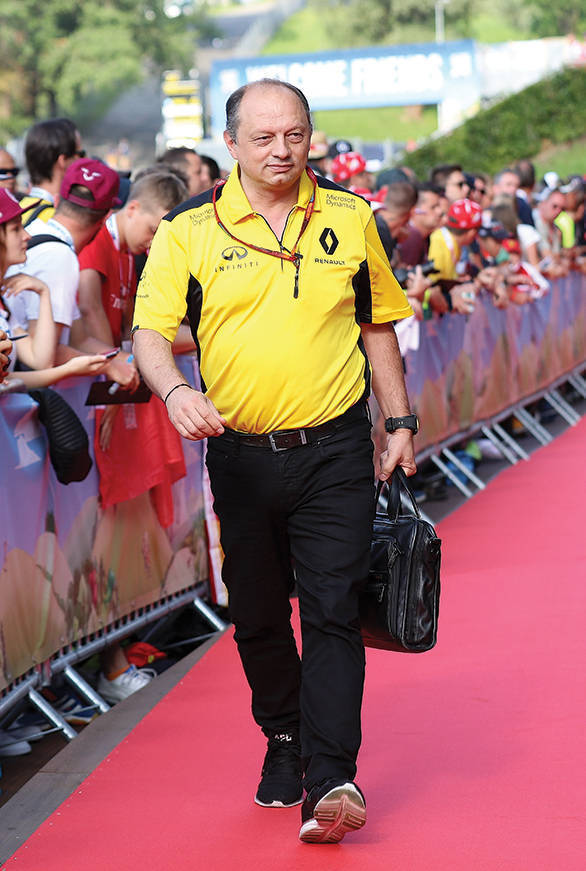 Frederic Vasseur is now in charge of turning the Sauber team around
There's change aplenty in the Sauber team. Probably with good reason too. The team finished second from the bottom in the 2016 season, having scored only two points all season. After the first 10 races of this season, the team is only better than McLaren in the championship standings. But in order to remedy that, they've begun making some changes. To begin with, they've dismissed team principal Monisha Kaltenborn, who has headed the team's operations since October 2012. Replacing her at the team is Frederic Vasseur, who headed the ART GP2 outfit for several years, before a brief stint at Renault F1 in 2016. One other significant change that the team has made has been to call off their 2018 engine deal with Honda. It's back to the drawing board for the team as they try and get back into the sort of form Peter Sauber would be proud of!
Bullish!
Toro Rosso's Carlos Sainz Jr isn't too pleased, apparently
What's going on at Toro Rosso? Well, on the face of it, the team's done okay. Sixth in the championship after 10 races. But let's not forget, this is Red Bull Racing's sister outfit. Which means they really ought to be doing better. However, the big news within the team is that Carlos Sainz Jr isn't particularly pleased that he's a Red Bull driver who is being loaned out to the Toro Rosso team. Given that Red Bull's got two drivers who will likely stay put for 2018, it looks like Sainz Jr won't be able to get to the main team next season. Maybe those rumours linking him to Ferrari might actually come true though. Ferrari boss Sergio Marchionne has already said that he's not pleased with Kimi Raikkonen, who he called a laggard. He's possibly singing a different tune after the British GP. Well, at any rate Sainz is doing better than his team-mate Daniil Kvyat. Seems like both Toro Rosso drivers, and allegedly one Ferrari driver, need to shape up over the second half of the season.