F1 2013: End of the road for Felipe Massa?
Formula 1, like most great sports, has those few defining moments. Moments that cause a lump to form in the throat, the hint of a tear to be brushed aside stoically and the knowledge that 10 years down the line powers of recollection will bring to the surface these very same emotions. So it was at the 2008 Brazilian Grand Prix. The images of Felipe Massa standing on the podium, bravely trying not to shed tears was something that touched the collective hearts of nearly everyone watching that race. Massa fan or not, you had to give it to Felipe -- he had tried his best. And indeed, for a few moments after crossing the chequered flag first, before Lewis Hamilton overtook Timo Glock, Massa had been world champion. For Felipe Massa, it's this moment that defines his career so far. And it's probably for this moment that we will always remember the little Brazilian.
A Brazilian burden to bear
The early 2000s were an interesting time in Formula 1. A new trend had been established -- it was becoming a commonplace occurrence for rookie drivers, some who'd never fulfilled a test role at a Formula 1 team, to be signed on as full time F1 drivers at teams of some repute. Jenson Button had done it in 2000 when he joined the Williams team. Kimi Raikkonen was a rookie to remember in 2001 when he joined Sauber, with Juan Pablo Montoya also making a mark as a rookie at Williams that same year. And Felipe Massa, when he joined Sauber, was the new 'it' kid in 2002.
Grazie Felipe! That pretty much sums it up
Massa had come to Formula 1 with that heavy Brazilian burden on his shoulders. It was what Ayrton Senna and Nelson Piquet had endured thanks to the success of the Fittipaldis, what Rubens Barrichello then had to deal with when he joined the sport, and what Massa had to shoulder thanks to his successful predecessors. But as most fiery young Formula 1 drivers, back in 2002 Felipe Massa was brimful of confidence. Just ahead of his debut at the 2002 Australian Grand Prix, Massa declared, "I used to have two goals: being a Formula 1 driver and being a Formula 1 champion. Now it's time to start fulfilling my second dream." He believed he could do it. And he very nearly did.
Formula 1 debut
His debut F1 season, however, wasn't going to be all that successful. Felipe crashed a lot, failing to finish 8 of 17 races. Of the races he did, finish, though, he was always in the top 10, with fifth place at the Spanish GP proving to be the highlight of his season. A year's hiatus from a race seat appeared to be the order of the day and off went Felipe, testing for the men from Maranello. When he returned to the Sauber race seat for the 2004 and 2005 season, it was a calmer, more mature Massa that the world saw. He didn't crash nearly as much, but he didn't make waves as far points or the championship went. Massa would only come into his own once he began driving for Ferrari. Indeed, it would be the Ferrari team that would make Massa's career, and that very same team that would break his career. As Ferrari have so often done in the past - with other drivers from other eras.
Felipe of Ferrari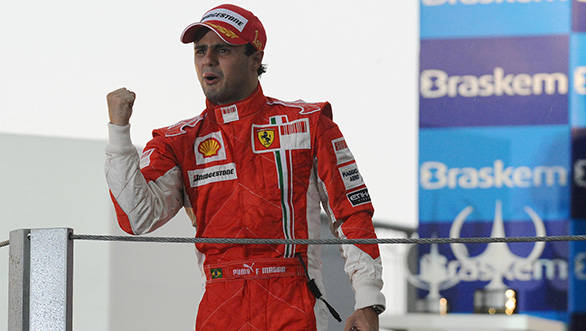 Massa's win at the 2008 Brazilian GP didn't win him the title, but it won over F1 fans across the world
2006, then, was the year when Felipe Massa transformed into a driver who had the makings of a race winner. Indeed, he repaid Scuderia their loyalty when he won his first ever race, the Turkish Grand Prix. And when at the Brazilian GP in 2006, he won the race in front of a home crowd, he became the first Brazilian driver to do so since Ayrton Senna had won in 1993. Massa, Sir Spins A Lot from the Sauber days, was long gone. Felipe Massa had arrived in Formula 1. And between him and Kimi Raikkonen, the stage seemed set perfectly for the Scuderia's post Schumacher era.
The 2007 season, though, belonged largely to his team-mate. Felipe had technical troubles on occasion, was disqualified from the Canadian GP, but still managed to win three races that season. He played quite an important supporting role to Kimi Raikkonen when he helped him win his title at the last race at Brazil. It was Massa who led the race most of the way, and it was Massa who had to move over to help Kimi win the championship. It would have been his second home win in a row. Felipe, however, like most other drivers in Formula 1 are meant to be, was being a loyal team player. Then came the 2008 season. That season that will forever be etched in the minds of the world as the season Massa nearly did it. The images from the Brazilian GP are hard to forget.
Near fatal accident
What then changed for Felipe? Some chalk it off to his near career ending crash during the qualifying session at the Hungarian GP in 2009. Felipe Massa's Ferrari was behind Barrichello's Brawn GP car, when a spring that weighed a little over 2 kg flew off the Brawn GP, struck Massa on the helmet, pierced his visor and knocked him out. Massa was put into an induced coma, surgery was performed and he was sent home to spend the rest of the season recovering. But could that be what changed him? No, not really.
Final blow?
People often forget that on his return to Formula 1, Felipe was competitive. His first race after his accident saw him take second place at the Bahrain GP. A third place at the Australian GP followed right after. Perhaps it was the 2010 German GP that affected the Brazilian. "Fernando is faster than you. Can you confirm you understand this message?" the voice over the radio crackled. Felipe moved over. Alonso won the race. And at the post race press conference it was a visibly disturbed Massa who attempted to smile through it all and said that his team-mate had just managed to get by because he had been faster. In an era when team order were banned, it once again brought to light Ferrari's ruthless nature. Rubens Barrichello had been made to let Michael Schumacher past him at the Austrian GP those many years ago.
To Felipe, after he had aided Raikkonen to one title, nearly taken the next championship himself, and then been out of contention for half a season thanks to a life threatening injury, Fernando Alonso's arrival in Ferrari had signified one thing and one thing alone. Alonso was there to win Ferrari the title - he was their number one driver. Felipe had been made to move over once too many times. The fiery Massa of yore had been broken in. The Scuderia had their able number 2.
Running out of steam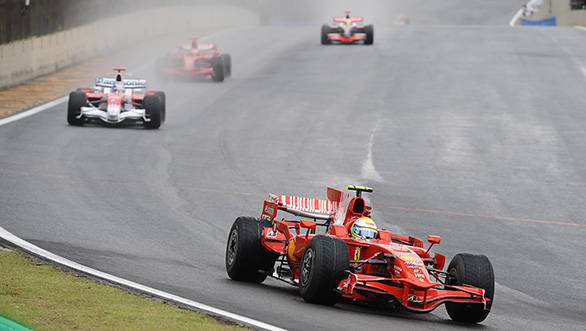 Felipe's Ferrari years - able number two driver and very nearly number one
Since 2011, Massa has only managed to get to the podium twice. Third place at Brazil in 2012, and third at Spain this year. This in stark contrast to team-mate Alonso who took the title fight to Seb Vettel twice in the recent past. Massa's role as a number 2 driver has been in debate for some time now. That Ferrari retained him for the 2013 season raised some eyebrows and that they didn't for 2014, raised none.
So where to next for Felipe?
The Brazilian has said he wants to remain in Formula 1 and drive a car capable of winning races and championships. That isn't going to happen, and we might as well be plain about it. At 32, Massa is past his prime. Can he be a stable driver for a midfield team? Probably. But will a midfield team want to pay a premium for Massa, when they could instead have a pay driver help them increase their cash flow? Unlikely. Nicolas Todt may try all he likes, but finding Massa a seat for 2014 won't be an easy task.
"Show me a driver that has never dreamed about being a Ferrari driver and I will show you a liar," young Felipe had said as far back as 2002. It must be some consolation to him that that, at least, is a dream he managed to fulfil. The title might have eluded him, but those images of Massa on the podium at Brazil - those are special and will remain one of Formula 1's special moments.