Exploring the forests of Chhatisgarh
A recent fire at the Deonar dumping ground led to the air quality index (AQI), in Mumbai going over 350 (which lies in the Very Poor zone on the AQI scale). Since then, the air quality has been very poor and almost on par with Delhi. Frustrated with breathing in all the pollutants, I thought it was time to reward myself with some highly endangered pure and pollutant free air. View detailed image gallery covering the trip here
We head for a jungle safari in the Hyundai, to the Barnawapara Wildlife Sanctuary
I mentioned this to my longtime mate Rammy Nagpal, and he was equally keen on the getaway. We started our 'wild sojourn' by flying to Raipur, the capital of Chhattisgarh. A Hyundai i20 Active was waiting for us at the airport and after topping up on petrol, we headed east on the NH6 to the Barnawapara Wildlife Sanctuary, 110km away. After covering about some 60km, we turned left onto a country road. And soon we were driving through forest cover. The air-conditioner was turned off and windows rolled down. In just a few minutes, we we reminded of the value of pure air. Though we had not eaten, the mood became upbeat. And by the time we reached the rustic Muba Machaan Resort, we were almost ecstatic because the forest looked inviting and we could not wait to get into the sanctuary.
Driving on the dirt tracks in Barnawapara was enjoyable
After a simple but well cooked lunch, we reached the forest entry gate of the sanctuary. Privately owned vehicles are fortunately allowed into this sanctuary but you have to take a forest guide with you. The entry charge and guide fees come to around Rs 500, which is very nominal. The dirt tracks are rough in some places and you need to have decent driving skills and a vehicle with good ground clearance. Our Active's impressive ground clearance of 190mm ensured we sailed through our jungle safari.
Even the Hyundai i20 Active had a 'royal good time'
The Barnawapara Wildlife Sanctuary was established in 1976 and covers an area of 245sqkm and includes plains, plateaus and hills. As we entered the forest, we found it adorned with teak, sal and bamboo trees and the fresh aroma of jungle air filled us with joy. Though it was a Sunday, we had the forest largely to ourselves because Barnawapara still does not feature on most tourist itineraries. This is actually a blessing because you can truly escape from the daily rigours of everyday city life.
Young gaur or Indian Bison in Barnawapara
Green bee-eater, Barnawapara
Over a span of three safaris through this pretty sanctuary, we saw several cheetals (spotted deer), nilgais (blue bulls) and gaurs (Indian bison). Normally gaurs are quite difficult to come across, but in Barnawapara, the sightings are rather frequent. We also got a fleeting glimpse of a pair of sloth bears which are also very difficult to see. But the guide told us in this sanctuary bears are a common sighting. We also saw some wild boars and lots of birds, but did not see any of the leopards that Barnawapara is also famous for. Quite honestly, this was not a major disappointment, because just being in the forest and breathing the crisp and fresh air was so rejuvenating and rewarding.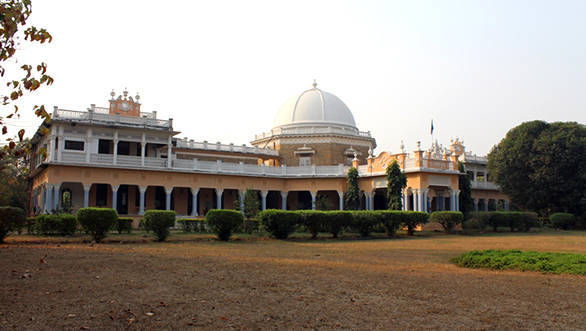 We spent a night at the comfortable Palace Kawardha
From Barnawapara we headed in the North West direction to Palace Kawardha where we stayed for a night. Part of this lovely palace has been opened up for paying guests and we had a comfortable stay here. It is one of the few heritage hotels in this region, as a result of which it is on the pricier side. But it turned out to be well worth it because of the most spectacular safari we got to go on, in the newly established Bhoramdeo Wildlife Sanctuary. This sanctuary adjoins the Kanha Tiger Reserve and the authorities are hopeful that there will be some spillover of animals from Kanha to this sanctuary.
The Maruti Gypsy remains the favourute machine for jungle safaris
The terrain is rugged and hilly and you need a strong 4WD vehicle to properly explore it. We rented a Maruti Gypsy locally and the driver who was a tribal really took us around enthusiastically because we were amongst the first people from a big city to visit it. What was most impressive though was the terrain and landscapes. The elevation in this sanctuary changes constantly - from the top of a hill we would suddenly descend into a canyon and often find ourselves driving through rivers beds, some with water and some dry. It was a truly dazzling drive with the forest casting its spell on us. In fact, we got so mesmerised that we took hardly any photographs, something that I now regret.
The beautiful Bhoramdeo Wildlife Sanctuary
Next morning we checked out from Palace Kawardha and proceeded to the Bhoramdeo Temple after which the sanctuary is named. The Bhoramdeo Temple is also known as the Khajuraho of Chhattisgarh. It was built between the 7th and 11th century and is dedicated to Lord Shiva. The outer walls of this ancient stone temple have Khajuraho style erotic sculptures making Bhoramdeo also a landmark for religious Indian art.
Forest road on the way to Kanha Tiger Reserve
From Bhoramdeo, we proceeded to Chilpi Ghat and then to the Kanha Tiger Reserve, better known as Kipling's Country because it was in these jungles that Rudyard Kipling was inspired to write his famous Jungle Book. His imagination was ignited by the dramatic beauty of the forest and the tremendous variety of wildlife, which exists even today, safe within the boundaries of the Kanha.
Barasingha's have been successfully protected in Kanha
Barasingha's have large antlers with more than 12 separate tines
Kanha has a very good population of cheetal or spotted deer
We stayed at the small and personalised Bagh Tola Resort managed by my old friend D'Cunha and his charming wife Joylette. This lodge is on the Mukki entrance side of Kanha. Private vehicles are not allowed and you can only go on safaris in vehicles registered with the Forest Department. You need to pre-book the safaris online, and it's quite a pricey affair. Over our three jungle safaris in Eric's Maruti Gypsy, we saw many cheetals, wild boar, barasinghas, a jackal, plenty of birds including a serpent eagle and also a tiger. Yes, we did get a very good sighting of this majestic striped cat as it leisurely strolled to a small water hole and proceeded to satisfy its thirst - right in front of us! In the evening, we celebrated this sighting with a drink around the campfire. To make it even more special, Rammy pulled out his guitar and played some Jim Morrison hits to further liven up the evening.
The writer with Eric, Joylette and Rammy
After our second day at Kanha, it was with heavy hearts that we said our good-byes and drove to Raipur to take the return flight home. The next morning, the papers again reported that the AQI in Mumbai was Very Poor and harmful to health. Why, oh why do we live in such polluted cities? Aapro Freddy was so right. God knows.. . God knows, I want to break free.
Image gallery: Driving through the forests of Chhatisgarh
Price (Ex-Delhi)
Starts Rs 6.8 Lakhs
Price (Ex-Delhi)
Starts Rs 7.74 Lakhs