Exploring South India in the all-new Toyota Glanza
The morning alarm went off and I could barely open my eyes. I wish I could sleep a bit more but then the golden rays coming from the window didn't want me to. What were they trying to convey? Happiness, as the weekend is here. A typical weekend is about lazying around in the house and not following the usual routine that is followed on the weekdays. But this time around, I decided to make a small change in this plan. I called the kind people at Toyota and got myself their brand new offering, the Glanza. A new car, a new day, a new plan….I was feeling good. (cue music).
Happiness is all about sharing, isn't it? So I called up my friend, Guntas, and made sure he joined me in this unplanned trip to a natural retreat in the South of India. We flew down from Mumbai to Coimbatore and collected the Toyota Glanza at the airport. As soon as the car arrived in front of us, Guntas was fascinated by the sporty red shade of the hatch. Both of us reached out for our phones because a road trip has to start with tons of Instagram stories with the right #s (hashtags), a quintessential need for our generation. Since I had made this plan, it was obvious for me to know the route.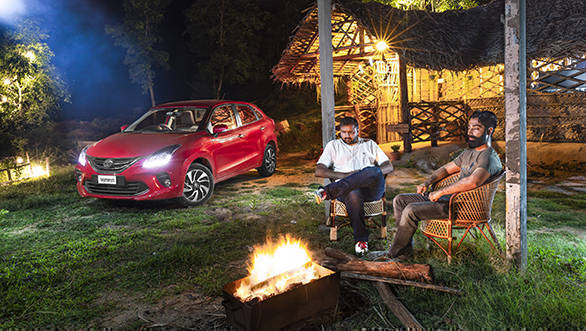 Right? Luckily and happily, my partner took care of it. And by that I do not mean Guntas but the Glanza! Thanks to the Glanza's large touchscreen and multiple options of connectivity, we got our navigation bit sorted. Also, the other absolute must-have for a road trip is music, which was provided by Toyota's Smart Playcast system. Driving out of the city, the Glanza nicely waded out of the buzzing traffic, thanks to its compact dimensions.
While I was enjoying my drive, Mr. G tried to catch up on some sleep cocooned in the comfortable seat. The first destination for this trip was serene Munnar a.k.a Kashmir of South India. It is a hill station popular for its verdant tea plantations. However, the main reason behind heading to Munnar was not just these beautiful green landscapes but an eco-friendly stay at this place called The Mudhouse. Made out of clay and mud, this place makes use of renewable sources of energy like solar panels to power the rooms and premises. This place is also known to grow their own organic cardamom, tea, ginger and so on, and use it in food preparations. We ended the day with delicious food and a bonfire, amidst plantations and tall trees, something that we can never experience in the city.
It was time to head back to Coimbatore the next day. Instead of taking the regular route, we took a detour through a relaxed hill station called Valparai. Guntas had no idea as to why I was adding more miles to our trip until he saw the map on the car's infotainment screen. Both of us had a child-like grin. A view with mountains, a dam, forests and beautiful trees was ahead of us on the route from Pollachi to Valparai. That was not the only reason for this detour though.
We were at the tip of what is one of the most exciting driving roads in India, with 40 hairpin corners! A 1.2-litre engine, firmly held steering wheel, game face on, shift to Drive, and off we went with a loadful of revs and sporty engine note to match. This smooth running produces linear power delivery to make sure you enjoy the corners and are comfortable at the same time. The feedback from the steering too, is in line with the overall performance, that makes sure you enjoy the drive. 1..5….25..38..40! There were certain corners which were extremely tight but with the right amount of braking, steering and throttle, it was all fun.
Why did we choose the Glanza for this unplanned trip? While I got a compact backpack and one luggage bag, Guntas was all ready to shoot a proper vlog for this one. I say proper because of the equipment that Guntas brought with him. All I had was my iPhone whereas my dear friend, in addition to his iPhone also got two cameras, couple of lenses, microphones, chargers, hard drives, etc. As soon as the tailgate opened, there was a sigh of relief, as we were skeptical if the luggage would fit in the Glanza but everything fit in just right.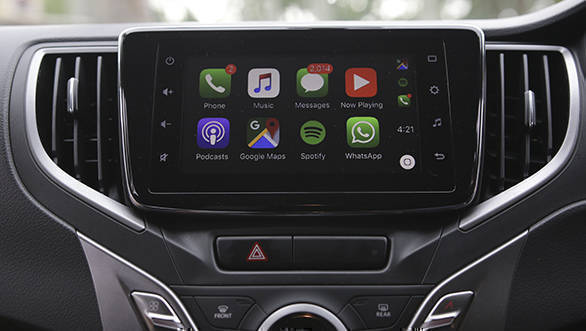 The fact that Toyota has a dense network of more than 270 centres across India made sure we have peace of mind during this trip. And not to mention, the Glanza also comes with a warranty of three years or one lakh kilometres which can be further extended up to five years or 2.2 lakh kilometres which speaks volumes about the confidence that Toyota has in this new hatch. Overall, it is a fun car to drive, with good practicality, good quality components and great performance. With tons of memories and happy vibes, we finally decided to head back to our base. Does the journey end here? Well…. ;).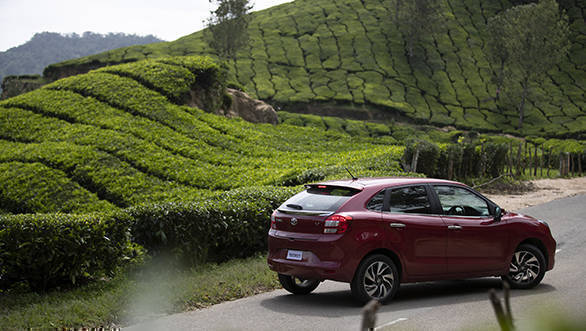 Price (Ex-Delhi)
Starts Rs 7.22 Lakhs