Experience: 2016 Suzuki Gixxer Cup race bike
The racetrack is a wonderful place. Beyond the fact that it's safe and allows you to ride to your personal limit, I love how you can have fun riding pretty much any motorcycle at the track. This holds especially true at a tight and technical one like the Kari Motor Speedway where technique is everything. Naturally, it was thrilling to hear that that Suzuki was inviting a bunch of journalists down to experience their 2016 Gixxer Cup Race bike at Kari. To make things even more thrilling, Suzuki was making this ride a 'fun race' for the journalists. Funnily enough, the days leading up to riding this little 150cc bike had me more anxious and nervous than any of the insane supercars and ridiculously fast sportsbikes I've experienced in the past few months!
The good news is that the Gixxer Cup is aimed squarely at new riders and nervous wrecks like myself. The Cup bike looks remarkably similar to the delightful Gixxer SF it is based on, exactly what Suzuki intended. Suresh Babu, national head, product planning and a wicked rider himself (he rode to second place in the 2014 Raid de Himalaya!) tells me the idea was to keep the race bike as close to stock as possible. This not only keeps costs down but also works well from a marketing point of view - buy on Monday what they race on Sunday. Besides a few tweaks to the carb, a free flowing air filter and the loud exhaust this is essentially a stock bike. There are of-course racing embellishments like the clip-on bars, rear-set footpegs, rear seat cowl and a new fork brace but this is largely the same Gixxer SF you will see on the street. Even the tyres look the same but closer inspection reveals a small printed S that signifies these tyres use a softer compound. Sadly, none of these mods are purchasable for street use but if you plan on buying them for closed circuit use, Suzuki says something can be worked out.
Special soft compound rubber looks stock but is very grippy
One of the many, many reasons I'm so fond of the street Gixxer is that it comfortably accommodates my 6'1'' frame. This is not the case with the race bike because the low clip-ons and high set footpegs make this a cramped little number. The fact that the tiny windscreen carries over from the SF means a full, chin to tank crouch is mandatory to extract maximum speed from the little engine. This starts to hurt after a few laps, especially if you're as tall and terribly out of shape as I am. The cramped riding position though brings many benefits. First, the Gixxer's ground clearance issues are completely eradicated - the only time I scrapped a footpeg was when I lost the front end and very nearly binned it at Kari's infamous off-camber, left-right chicane called the Bermuda. This only minutes after I went advising some peers who were Kari first timers to be careful of that very corner! Nevertheless, the clip-ons and new brace over the stock forks have produced a much sharper and more reactive turn-in. At no time does the bike feel fidgety or nervous and it's a very likeable set-up that balances response with predictability.
Clip-on handlebars make for an aggressive riding position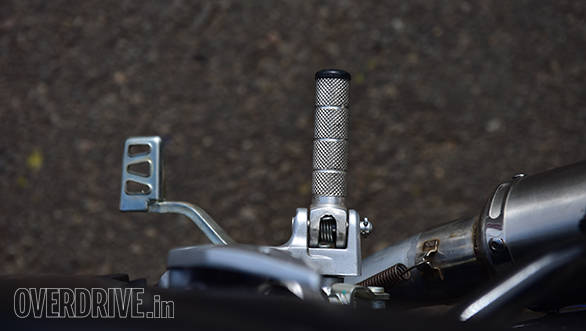 New footpegs are set higher and further back. This makes for a cramped riding position but there is no issue with footpegs scraping the tarmac like in the stock bike
Like last year's bike, the race bike runs a larger front sprocket, up by a tooth which allows a higher top speed down the main straight. The loss in acceleration is made up for by the air filter, full system exhaust and rejetted carb. Suzuki claims a humble increase of 1.5-2PS for a total of about 16.5PS while a rough ten kg weight saving means the Cup bike should weigh just under 130kg. This is not a recipe for big speeds and the best I saw on the Gixxer's clocks down the main straight was about 116kmph. Thankfully, the engine has a meaty midrange and doesn't insist for sky high revs on corner exits. I never found the need to use second gear, and this tractability is what helps the bike set lap times that compete with the more powerful Group C race bikes.
Corner speed and composure is where this bike excels
Straight sections on this bike are a waiting game - the real fun is to be had in the corners. The MRF rubber offers impressive grip for such a street legal looking tyre; only when I pushed a little too hard for my skill level did I have an issue with traction. Otherwise, even at knee dragging angles, the bike feels planted, stable and reassuring. A quick look at the telemetry on the RaceChrono mobile app I like to use on track showed why small bikes are such good learning tools. My lap times were all over the place, partly down to patiently overtaking slower riders but also thanks to a lack of consistency. Because of the minimal power, a mistake cannot simply be overcome by winding the throttle open to make up for it. Lost speed in any corner will ruin a lap time. It's what makes these little bikes the stern but excellent teachers we hated in school but now look back on with immense gratitude.
Stability is unwavering, even at knee dragging angles
Winning the media race was a nice feeling but a look at the lap times was humbling. My best lap was a 1:24.6s - a similar time to what I set on the near 25PS Pulsar RS200 a couple of months ago. That's quite impressive but I soon found out that the Gixxer Cup bike has a lot more to offer. The first race weekend of the season took place at Kari soon after our ride and the fastest qualifying time in the Novice category (ages 13-23) was 3.2s higher than my best effort. Even more humbling was that it came at the hands of a (supremely talented) 13-year old, Sri Lankan  Aaron Gunawarden.
Nursing my wounded ego I remind myself of the purpose of this racing series - to act as a launch platform for talented young riders. Having tied up with the Red Bull Road to Rookies Cup earlier this year, the Gixxer Cup is a valuable tool for budding racers. The two best riders in the Novice category this year will be sent to Spain for for further coaching. If the riders make it past that, they will compete in the Redbull Rookies Cup, the winner of which gets a direct entry into Moto3! If you're young and you think you're fast - aim for next year's championship. At Rs 2,000 for a weekend with the bike, fuel, tyres and even gear taken care of, this is some of the most affordable racing you will ever find.
Price (Ex-Delhi)
Starts Rs 1,11,871