A NEW BEGINNING: 2020 Mercedes-Benz V-Class Marco Polo
Give me an open road, and you'll find me somewhere on it! You can attribute that quote to me, and that is what my bumper sticker would read! If there is one thing I need more than the air I breathe, it is the opportunity to get out on the road from time to time, heading to God knows where. Ladakh is a favoured haunt, so is Rajasthan, Gujarat, Uttarakhand, Kerala, Goa, Karnataka, and North East India. I just need a set of wheels and off I go. My go-to spots are the ones that have less habitation, thus fewer people around and nothing to mar the landscapes. So a tent, sleeping bags and camping equipment are de-rigueur for the road trip. My kids had unfortunately not been a part of this side of my life yet. My teenager is quite averse to the whole outdoorsy life, too many bugs, too pampered, and over-doting parents (make that me) who just wouldn't put him through the rough stuff! My daughter, on the other hand, was too young so far to accompany me on some of these experiences.
So you can imagine my unbridled pleasure when Mercedes-Benz India, announced plans to introduce the V-Class Marco Polo in India. The Marco Polo is Mumbai's one-room kitchen, on wheels! A tiny apartment you can take anywhere with you. It is in short, a camper van built in the way only Mercedes-Benz knows how. So it's a bit luxurious, a little swanky, but then luxury out in the wild where you don't have to rough it sleeping on the ground, isn't that something anybody would crave for? Took me no more than a few minutes to convince my son to accompany me on this road trip. My daughter, on the other hand, it felt like we just opened up a gate for her to run free, god bless her soul!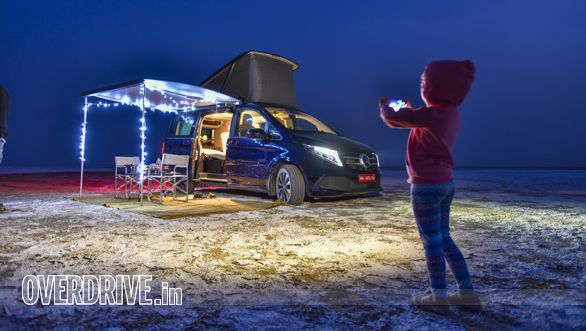 The camper van concept is new to India and for most, it will still stay an alien concept. The concept of living in your vehicle as you travel, is something that very few in this country have ever considered. Camping as a concept by far and large still has to catch on. Though several people have indulged in it in one form or the other, most don't come back to it. So a camper van is literally unheard of. Unlike the glorified uber-luxury vanity vans, which in a way are similar to camper vans, a camper van has that one advantage that is unmatchable. It allows you to sleep comfortably within its cabin. Not one or two, sometimes as many as six people can reside inside, sleeping on proper beds or at least as good as it can get in a van. Which in the case of the Marco Polo is pretty impressive.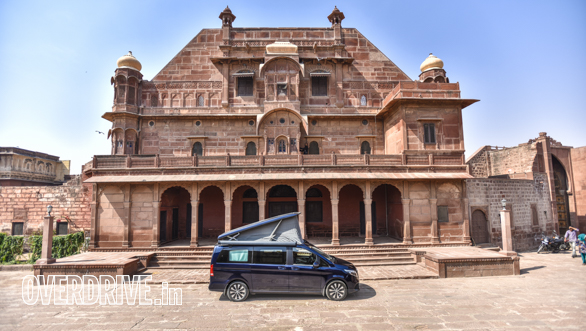 So imagine my surprise when Mercedes-Benz, came up to me and suggested I take the camper van for a drive. How would you like to drive it exclusively to Bombay from Delhi when the Auto Expo is done? How would I like to drive it, for over 1,500km? I would like it as much as a man walking through a desert would like some shade, a beer and an air-conditioner! It took some time but eventually I did get the keys to the Marco Polo, India's first camper van, and it was with much glee that I set off from a Mercedes-Benz stockyard in Gurgaon for my 1,500km road trip that included a night halt at the stunning salt flats around Pokhran in Rajasthan, family in tow!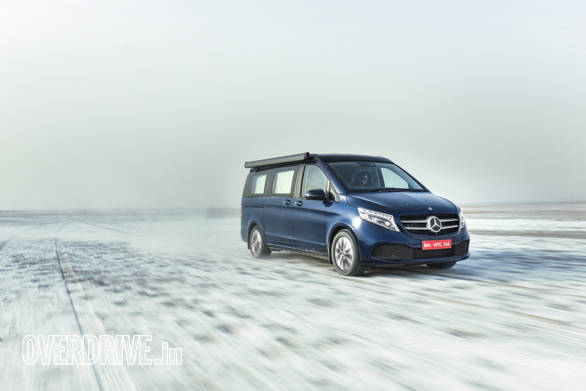 Camper Vans Have A Legacy?
So what exactly is a camper van? The concept of living inside your vehicle came up sometime in the middle 1800s when people began living in their horse-drawn wagons vans as they travelled between cities. Over the years this got more refined, and popular credit goes to a British naval aristocrat for sparking off the camper van industry in the early 1900s. Eventually though it was the Volkswagen van that sold in huge numbers and enthused people all over the world to convert their vans into recreational motorhomes. In fact, a little-known German company by the name of Westfalia began creating these kits to convert vans into campers. Westfalia is the same company that also does the mods on the Marco Polo. They were once a 100 per cent subsidiary of Daimler but later were bought off by the Rapido Group. They, however, still do the V-Class conversions to the Marco Polo for Mercedes-Benz in addition to a few other vans as well.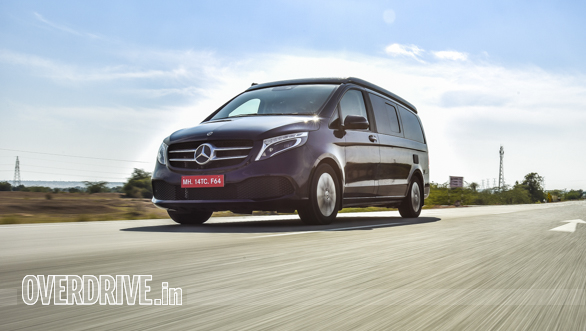 The camper van concept became hugely popular as the swinging sixties came alive. Hippies, many of who simply gave up their worldly possessions, uprooted themselves from their daily lives, moved into a van and set off looking for nowhere particular to spend a few nights and then move on. Early camper vans were simple, people simply got rid of the seats in the back, replacing them with mattresses. Safety wasn't a big concern in the 60s and 70s and through the 80s, the anti-war crusade, Woodstock and the whole surfing wave caught on! Camping in your van became a big thing. The opportunity to drive around the country looking for big waves without having to splurge on hotel rooms at a seaside resort became a thing. While van sales didn't necessarily flourish, it still led to a movement, inspiring several manufacturers like Ford, Citroen, Peugeot, Renault and many others to come out with their version of a mobile living space. It saw them chop the roof, raise it, attach a tent-like housing to it, add seats that folded into beds inside and then throw in some more extras, like a cooking range, refrigerator, television and in some cases even a washing machine and a sink. The more outlandish ones even shoved in a bathtub! Soon others followed that up with smaller bodybuilders and workshops creating bespoke versions of the camper van. Today we have much more luxurious and larger options like the RVs built on a bus chassis, some with insane luxury fittings that cost several crores. They've all had their roots somewhere in the humble camper vans.
Premium Real Estate On Wheels
The Marco Polo is one of the more luxurious versions of the camper van, complementing the Mercedes-Benz badge it wears proudly on its hood. It is built on the V-Class platform and the one I got the keys to was powered by the 2.0-litre diesel. There is a 165PS of max power and 380Nm of max torque on offer with a RWD layout. I didn't bother much with the technical spec of this car, neither did I bother testing it. Whoever owns one of these will have made a choice led by their passions, because this is by far an undiluted lifestyle purchase. You don't get a Marco Polo because it makes good business sense or is fast or an engineering marvel. No, this is for those with a passion to travel, to see the world, by living on the roads that connect various dots on a map. How fast it goes, how efficient it is, are all moot in the face of the extras you get on board and what can you do with them.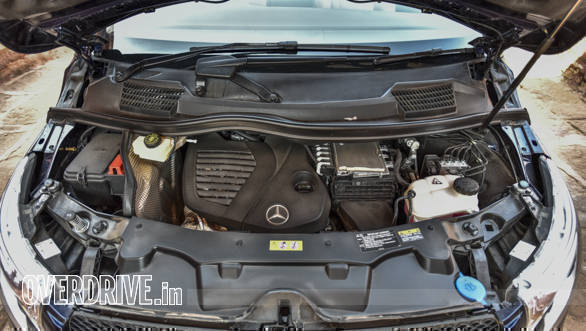 Dynamically Inclined
Nonetheless, with all the extras fitted on this is a significantly heavy vehicle, kerb weight is an enormous 2,335 kilos. So you can imagine how hard that diesel has to work to get things moving. Yet it does, admirably. It quickly gets up into triple-digit speeds as well, with a full complement of passengers and their luggage on board. The 9-speed automatic transmission also keeps efficiency in check. Dynamics aren't crisp, it's safe as long you decide to keep things safe. This is a van, a tall one at that with a narrow track and enormous length. And it's carrying a load on its roof, those hydraulic stanchions to raise the roof and open up the sleeping area along with the heavy waterproof tent, the mattress on the springform bed, all add weight to the roof. This makes it top-heavy, and the Marco Polo can list dangerously from side to side if you aren't careful and push it too hard into corners. The dampers and suspension do a handsome job of keeping the Marco Polo upright but this is a vehicle to be driven at a leisurely pace and not for getting anywhere in a rush. The suspension also has admirable ride quality damping any blemishes on the road surface. The Marco Polo rides like you're on a magic carpet. And every other aspect I could sum up in just a few words, it all works just like a Mercedes-Benz should. The only thing I felt a bit weird about was the position of the steering wheel. It comes close to how a steering wheel is positioned in a car, yet has that slight tilt to it like in most vans. So you sit slightly above the steering wheel, and look down at the steering wheel rather than not straight ahead.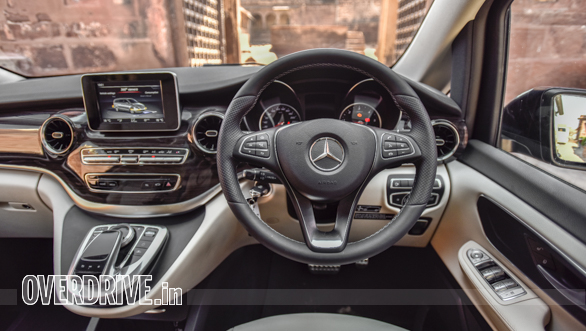 Coming back to the lifestyle angle, I'd decided to take my family along on this road trip. This was the first time they have ever come out with me into the wilderness. No better way to wean them into the outdoors lifestyle then, is there? No hassle of pitching a tent, sleeping on hard floors and in sleeping bags, building a campfire, and all the effort. And to them just as it was to me, the entire experience was a revelation. I'm not averse to sleeping in a car. I've done it several times, parked on the side of the road and slept in the driver's seat if it was a sedan or rolled down the rear seats flat and crashed out in SUVs. Most of these were spur of the moment decisions, we got late, didn't make it to our destination on time, were lining up a through the night leg of driving and just got too exhausted. This time I was consciously taking the time out to sleep in the car with my wife, son and daughter in tow! So yes a modicum of safety, and comfort would be essential to the whole experience. It also meant my luggage for a change included some bedsheets, fleece quilts, and I still carried my sleeping bag. Add to that several other essentials and I was ready.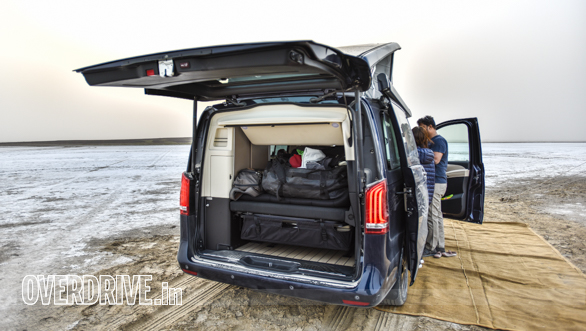 Throw The Sink At It!
Now the Marco Polo does several things. It has two burners which you can cook your food on. This is fed by a 5kg gas tank which stows away at the back of the van. You have to be careful of what you cook or oil splotches will find themselves on the roof lining. So if your heart desires some bacon and fried eggs, do it outside over a camp fire. Right next to the burners is a sink with a water spout. A pump pushes water out through the spout from a 38-litre water storage tank which is placed on the left side of the Marco Polo. Every time we drove into a gas station, the attendants would head to open up that flap mistaking it for the fuel filler. Right next to the water intake vent is an additional socket to plug in an external power source. This is so that you can switch on all the electrical appliances inside the Marco Polo without consuming power off the battery. Unfortunately, it is not useful in India, not until we have campgrounds that offer a connector that allows you to hook up to the mains. An additional tank holds all the wastewater and this has to be flushed out periodically. At the left of the burner is the refrigerator which is capable of cooling things down to 13 degrees. So frozen foods will stay frozen, or you can simply set the thermostat and fix the temperature from the control panel. All these operations are controlled from the central control panel found on the floor between the driver and passenger seat. The Marco Polo I drove had the older control system, the ones that will be delivered will have the new MBUX unit with one-touch features and more intuitive and simpler controls for all these auxiliary functions.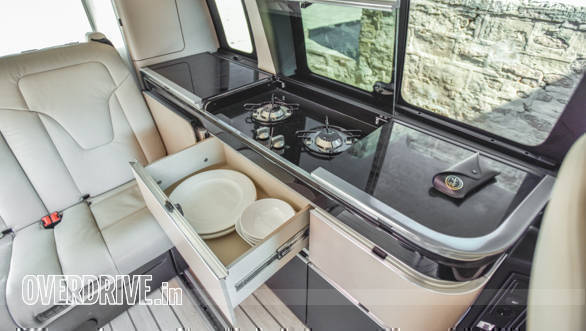 Sleep On It
Then comes the main party trick, the bellows style camper roof. It's a simple operation, and raising the roof or lowering it takes all of around 15 seconds. The tent is made of a breathable waterproof material with a dual lining. The rear part of the roof also rises by a couple of feet to add some more room inside. There are small ports for ventilation and on hot days you can unzip a window on either side of the tent. You sleep on an FRP board that has a springform bed on top of which goes an inch thick mattress. That board is a little more than six feet long, and about two metres wide so it's got the space for tall people to sleep comfortably. There is also enough and more headroom, so you can sit up comfortably, just don't lean on any of the sides. The board which sits on top of the Marco Polo's roof frame can accommodate a maximum load of around 160 kilos, which means either two not very heavy adults or three to four kids can easily accommodate themselves up there. The sides of the tent are wire encased so it folds down neatly as the roof collapses. This means you don't have loose tent ends snagging out of the roof, it all neatly folds into place. Two adjustable for brightness LED lamps on bendy stalks provide enough illumination to light up that space. Climbing up into that space is a bit of a challenge. Kids will do it easily, using the seats to clamber on to the roof. For adults it's a bit more tedious, just keep in mind to not step on the seat hand rests.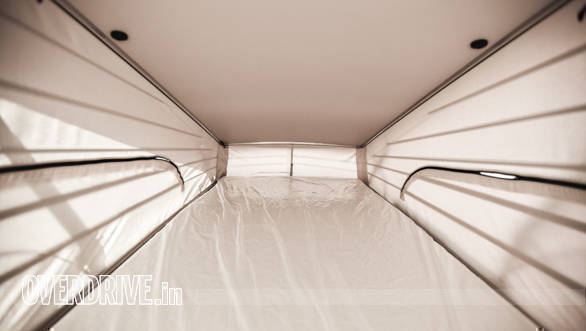 On the lower level, the seats fold down flat and line up with the rear load bay platform, which is slightly elevated from the floor. This is because at the back, you have a storage bin where the tool kit, and the camp chairs and table are stored. This bin is suspended three inches off the floor, which is smart since this avoids any loose bits bouncing off the floor and rattling, a noise you don't want to hear when you leave the road.
Once the seats fold flat you can also flatten the side bolsters of each seat to make it a fully flat bed. Mercedes-Benz also provides as an accessory, a mattress, that goes over the seats and you now have a proper bed to sleep in. With my wife and daughter beside me, the space was a bit cozy, add the fact that my daughter in her sleep, tried to explore every position there was available! My teen on the other hand, who had the whole upper berth to himself, had less space than he does at home, but still for once put aside all his teenage angst and genuinely enjoyed the whole experience. That stopped a few more of my hairs from going grey!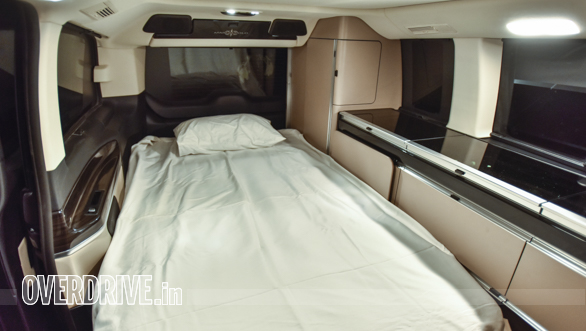 Blinds can be fitted on every window, including the front and rear windscreen to give you complete privacy. The upper bunk can be raised and clipped on to the roof, and this gives you standing room inside the main cabin, comes in handy when you want to change clothes. There is a 230V power outlet as well as a couple of USB charging points in addition to three 12V sockets found at the front, middle and rear of the cabin.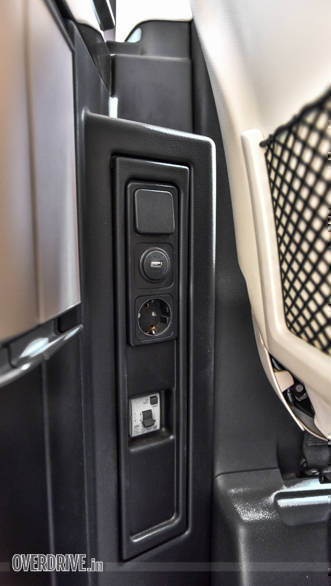 Some models of the Marco Polo also get an auxiliary heating unit which is handy if you head out into winter conditions. Our Marco Polo did not have that, which was inconvenient because this meant keeping the engine running and the heater on the climate control switched on. Inconvenient because keeping the engine running kicks off a warning buzzer that just won't shut off. The auxiliary heating unit is something you will have to specify in your order list if you intend heading out in the winter months.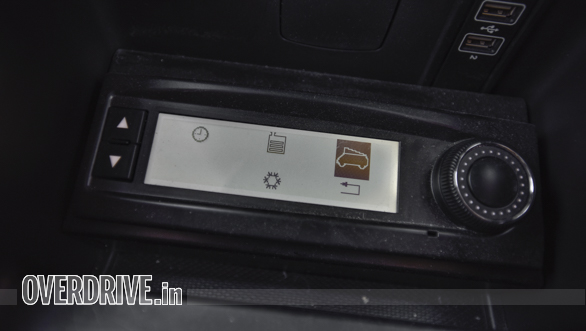 Our Marco Polo also came fitted with the optional outdoor awning. It's a simple system, and gives you some relief from the noon day sun if you want to simply have an afternoon sit-out and chill with a brew! You can also opt for an outdoor shower unit and several other camp furniture that makes your outdoor living more enjoyable. For us, the basics were a great place to start. I'm now thinking of how to wean my kids off the luxuries of the Marco Polo and get them to come down to earth, get into a tent!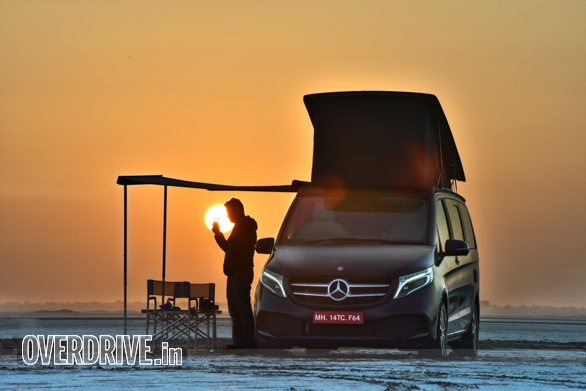 Note: OVERDRIVE thanks Fort Pokhran for its field support and hospitality. Fort Pokhran is an alluring heritage hotel and for more information visit www.fortpokaran.com
Price (Ex-Delhi)
Starts Rs 68.4 Lakhs
Price (Ex-Delhi)
Starts Rs 1.38 Crore