Everything you need to know about karting in India
Ever heard of Terry Fullerton? Chances are you haven't. But here's a quick introduction then. Back in the 1970s when Ayrton Senna, often acknowledged to be the greatest Formula 1 driver in the world, was competing in the Karting World Championship, Fullerton, who'd won that title in 1973, was his team-mate and rival. Perhaps his was a name that not too many would have heard of had it not been for one post-race interview question posed to Senna at Adelaide in 1993. When asked who the driver was who he enjoyed racing against the most, Senna, who'd by then had infamous battles with the likes of Nelson Piquet and Alain Prost, took Fullerton's name. He described him as a 'complete driver'. The world immediately sat up and took notice - Ayrton Senna's greatest rival was someone from his karting days! And why not? Karting was really the best racing school in the world. Something that F1 drivers, past and present, all appear to agree with. If you want to make it truly big in the world of single seater racing and indeed any racing series, karting is the first and most vital step.
From four-stroke karting held across the country in the early 2000s, to a full-blown two-stroke national karting championship, things do appear to have come a long way. And from only having the likes of Narain Karthikeyan and Karun Chandhok as drivers who rose through the ranks of karting to compete in racing championships abroad, to having the age of Indian karters racing abroad drop to the single digits, things have sped up a fair bit. And with more karting tracks coming up, more championship avenues opening up, and more people being interested in motorsport in the country at the grassroot level, we decided to tell you everything there is to know about Indian karting. So that you can have your own shot at becoming Ayrton Senna. Or Terry Fullerton for that matter.
Go to school!
Let's face it. You can't become a doctor without going to med school. And chances are that even if you do try and teach yourself everything about karting by simply watching videos, observing other people and training really hard, you're likely to miss out on a few things here and there. The very best way to learn everything you need to know about how to get your racing lines right, how to control a go-kart in the wet, and how to put up with the psychological pressure that your rivals will put on you, you need a coach. A racing coach who can show you the ropes and teach you everything that you need to learn. And unless you can get Fullerton himself to teach you (yes the man is a world renowned karting coach today), you ought to look closer home. There are two excellent options to start with.
The first is Meco Motorsport, based in Chennai and run by old hand Akbar Ebrahim. Back in the day Ebrahim was the country's first Formula 3 driver. When he hung up his helmet and racing shoes, he decided to spend all his time training young racers. And he does this with his own karting and racing school. The karting training at Meco Motorsports is divided into three levels, all designed specifically to help a racer get his basics right before progressing to the next step. And while Ebrahim is considered one of the best karting trainers and driver coaches in the country, he also has a reputation for being a taskmaster and an instructor who doesn't suffer fools. But then again, if you can survive his karting school you're likely to have an answer to whether you're good enough to play in the big league or whether you ought to stay a hobby karter. You'll have learned a lot by the end of it!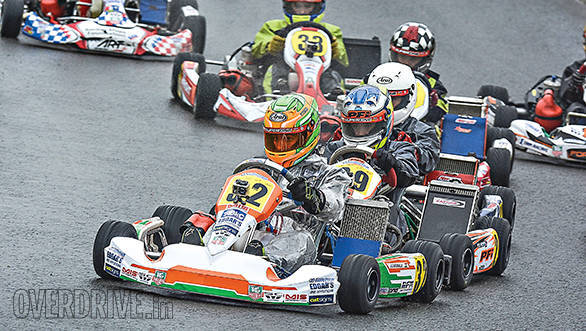 Jehan Daruvala in the tri-colour kart is now competing in the Formula Renault 2.0 NEC series in Europe
The second is Rayo Racing, based in the Mumbai-Pune area, and run by Rayomand Banajee, multiple national karting and racing champion. Rayo is one of the finest karters and racers the country ever produced, and even though he didn't race abroad very much, it is generally acknowledged that he could dice with the best of them. Just in case you thought that Rayo is likely to go easier on you than Akbar, well, don't be fooled. Having himself trained under Ebrahim, he is just as firm, once even making one of his drivers shave his head after his fringe got in the way of visibility, costing him a karting race. Needing to pick between the two ought to largely be based on geography.
Akbar Ebrahim is one of the country's best karting instructors, and Armaan Ebrahim who graduated through the rungs of karting is currently winning races in the Lamborghini Blancpain GT Asia Series
Of course, more options exist, with BPC Racing and Indian Karting offering training programmes in Bangalore, Dark Don Racing in Chennai and Mohite's Racing Academy in Kolhapur.
Track time
We're often asked where on earth go-karting happens in India. Well, there are more venues than you might believe existed. While over the last few years of the championship, karting had been primarily restricted to the Kari Motor Speedway (the short loop of course), the Kartainment Track at the Hyderabad Airport, and the Mohites Racing Academy at Kolhapur, two new venues have recently cropped up, ideal for two-stroke karting. The first is Chicane at Hyderabad, the second is the Meco Kartopia Track in Bangalore. Which means that National Championship events can be held at all of these tracks, training schools too.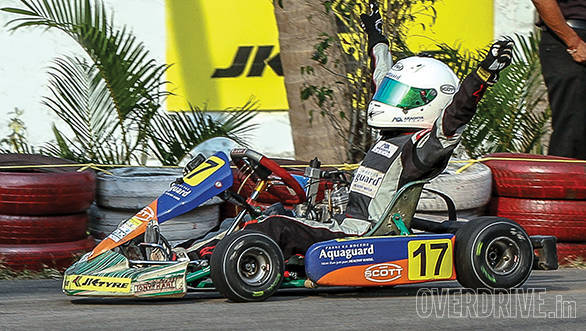 Young Yash Aradhya is jubilant after winning a race
But if you're looking to practice on your own in your own city, there are several four-stroke tracks around the country. Goa has Go-a-kart and Track 2, Bangalore has E-zone and Grip, Pune has Downtown Racing and Indikarting, Mumbai has the rooftop track at Smaaash, Hyderabad has the Lahiri Karting Track, Chennai has the ECR Speedway, Noida has F9 Go Karting, and Amritsar and Kolkata also have decent tracks.
Team spirit
Now let's assume that you're already race ready. You've managed to either hone your skills with hours of practice at a go-karting track, all by yourself, or by putting yourself through the rigours of one of the aforementioned karting schools. Now you're truly ready to don your helmet and overalls and go karting competitively. The best way to do it is to approach a karting team, which has the means, knowhow, expertise, karts and manpower to put you into a proper racing kart. If you're fortunate enough to have made it through either Meco Motorsport or Rayo Racing's academies, then you're likely to be able to find a spot in their karting teams as well. If not, there are other options you could consider. Chennai-based Dark Don Racing has been around since 2012, Bangalore-based BPC Racing has been around only since 2014, but has already seen huge amounts of success in the sport, Mohite's Racing Academy has been around for close to a decade now and runs a successful karting operation, and there's the recently started Erda Racing team as well.
The faces
If you're going to break into the business of professional go-karting, then you simply must know what you're up against. Or rather, who you're up against. And in 2015 with only one round of the JK Tyre-FMSCI National Rotax Max Karting Championship already over, and the second one already underway as you read this, the competition is already very, very tough.
Over in the Senior Category, we'll start with reigning National Champion Ameya Bafna. From being the kid of the pack, to working his way through the rungs of motorsport and becoming a serious force to reckon with, Ameya Bafna has come a long way. He's not only impressed when it comes to karting, but also when it comes to Formula car racing, and tintop racing too - winning races, even if he only was a guest driver at the 2014 edition of the Polo Cup, prove exactly this. He isn't the only one though, with his Rayo Racing team-mate Nayan Chatterjee also offering some stiff competition. In fact, so strong was Nayan's desire to win in the past, that he competed in both the Junior and Senior classes of the National Championship (if you are 15-years old, you are eligible to compete in both classes) simultaneously, putting himself through back to back qualifying and racing sessions. He's also another driver who has been busy trying his hand at racing single seaters. Also someone to keep an eye out for is Ricky Donison, the 2014 National Champion in the Junior Category. But he's going to have his work cut out for him especially now that he is competing against old hands. Like Chittesh Mandody, who has over the years racked up a total of three titles in karting alone, while finishing runner up several more times. And then there's the one karter that the entire grid is afraid of. Vishnu Prasad's got so many karting titles under his belt that when we asked him to count, he got all muddled up with the other titles he's won. Finally after some thinking he got back to us to tell us he's got six national championship titles in karting alone. No, Vishnu, we won't confound you further by asking you about the other titles you have!
The 2015 Senior Class is likely to be dominated by Rayo Racing's Ameya Bafna and Nayan Chatterjee and Meco Motorsport's Vishnu Prasad
The Junior Category this year sees some young 'uns who have graduated from the Micro Max category. Yash Aradhya, who won the 2014 Micro Max title, and has been nominated by the FMSCI for the FIA-CIK Academy Trophy, where he will represent India in a series of karting events across Europe, makes it to the championship. He's also competing in the WSK Super Master Championship and the BNL Karting Championship. One of his biggest rivals is Akash Gowda, who has spent the last year competing not only in the Junior Class of the karting championship, but also in the FB02 Championship where he had one very memorable race holding off a hard charging Armaan Ebrahim! Competition will also come from the other CIK Academy Trophy driver, Paul Francis. Paul made quite a splash in his debut season of racing in 2013. Two years later and he's grappling with the steep learning curve racing in Europe. Another young driver to watch out for is Mohammed Nalwalla - a relative rookie, but with talent on his side.
Then there's the little ones. Yes, those young 'uns who look pint sized but are likely to beat both you and me at a karting shootout. And we won't be able to chalk it off to them having a weight advantage. There's 10-year old Shahan Mohsin, who kicked off his 2015 campaign in style, with four wins of four races at Round 1 of the National Championship, which you can read more about on Page 194. Young Ruhaan Alva is another karter, relatively new to the sport but with already some experience karting abroad. Other up and coming racers include the Bohra brothers - Nikhil and Akshay, and Chirag Ghorpade too.
Who else is there?
Well, if you really do still have doubts about the fact that karting is the first and best way to break into four-wheeler motorsport, we'd just like to point out to you a few Indian karters who are already making a name for themselves in international single seater racing. Jehan Daruvala is off competing in the Formula Renault 2.0 NEC and Alps Series in Europe, Tarun Reddy is competing in the FIA MSA Formula Championship, Arjun Maini is contesting an entire season of European F3 and Akhil Rabindra is set for a season of the BRDC F4 Championship. The right steps at the right time then. And the option of being Ayrton Senna, Terry Fullerton, or any other world champion you'd like to be.