Everything you need to know about ISOFIX child seats in a car
Have you ever wondered what's the safest way to transport a new born, toddler, or even a 4-year old in a car?  In India, it's a common sight to watch parents transport these little ones either on the lap or in their arms. We've also noticed a few dim wits seat a toddler on the front seat in an airbag equipped car. Now, imagine if the car was to meet with an accident.
Firstly, there's no way one can hold a child securely with their arms wrapped around, in the event of a crash. Secondly, an airbag explodes at 250kmph. It can be potentially fatal to your bundle of joy as the child is too fragile to handle the impact. Also, one must remember that seatbelts in a car are designed to restrain an adult only, which makes wrapping it around a little kid pointless.
Child seats, as a concept, is alien to many parents in India and this is regardless of their socio-economic background. It's about time they realise the importance and effectiveness of these seats in securing a child, in case the car is involved in an accident.
Why ISOFIX?
ISOFIX, essentially, is a standardised international child seat fitting system. In other words, it is the international standard for attachment points for child safety seats in cars. It was first developed in 1997 by the child safety seat maker Britax-Roemer in association with Volkswagen. Thereafter, in 2006, it was made standard in all new cars sold in most international countries.
Car seats differ in design, shape and size. So does the length of a seatbelt as well as seatbelt anchorages. This makes it problematic to fix a child seat correctly and securely. In fact, a number of surveys indicate that child car seats are fitted incorrectly,  making them ineffective in securing a kid in the event of an accident.
Toyota India has introduced the 2016 Etios Platinum with ISOFIX seats as standard across all variants
ISOFIX seats solve this problem by providing an easier and secure way of attaching child seats in a car. It's also different because it removes the need to use the car's seatbelt to secure the child seat.
ISOFIX car seats and child seats feature specially designed fitting points. In the case of the car seat, it may be a metal clip that's located in the base of the seat of the car. While, in case of the child seat, there are ISOFIX connectors, which are essentially two prongs sticking out of the back. These connectors click into the metal clip in the car's seat, providing a secure anchorage for the child seat.
Additionally, most cars and child seats feature an anti-tipping or anti-rotational device to keep the child seat firmly in position in case the car tips or rolls-over. Usually a fabric belt attaches to the top-tether anchor point in your car located either in the boot floor or the seatback of your car. Additionally, there's a support leg that extends from the base of the child seat to the car's floor. This however, cannot be used in case there's a storage bin located underneath the floor.
Types of child seats
While there are regular and cheaper child seats available in the market, they cannot match the restraining ability of an ISOFIX child seat. The cheaper one's are secured by the car's seatbelt by wrapping it around specific guide loops around the seat. However, in the event of a front end collision, the forward movement owing to inertia is far more than an ISOFIX child seat that's anchored to a solid base.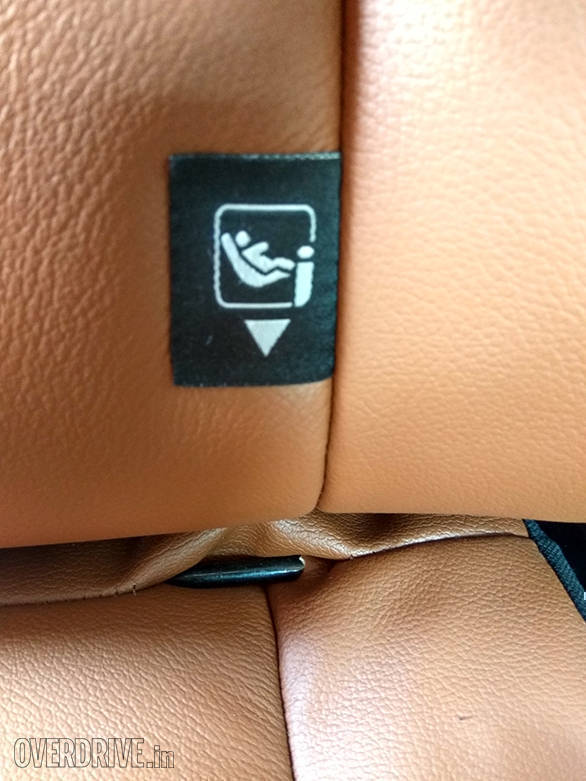 ISOFIX child seats are categorised on the basis of a child's age, height and weight. The United Nations standard ECE R44/04 has listed four groups- 0, 1 ,2 and 3. The first group is for an infant up to 15 months or up to 10 kg. These seats are rearward facing which prevents head movements during rapid deceleration.
Group 1 seats are mostly rearward facing too, while front facing is also legal. It's applicable to children from 9 months to 4 years and weighing 9 to 18 kgs.
A Group 2 seat is larger than a Group 1 seat and is suitable for children between age 4 and 6 and those who weigh between 15 to 25 kg.
Group 3 seats are also known as Booster seats for children who fall between the age bracket of 4 to 10 years. The weight limit ranges from 22 to 36 kgs. Also, these seats can be used in case the child is over 10 years but does not weigh over 10 kgs. These seats are forward facing and useful to keep the child in a secure position using an adult seatbelt. Booster seats are recommended for children until they are big enough to use a seatbelt.
Child seats, just like a motorcycle helmets are rendered useless after an accident. This is irrespective of whether the child is in the seat or not. Child seats are usually tested for use in the event of a single crash only and there's uncertainty about how the restraints would perform in a subsequent crash. Its advisable that owners replace the child seat in case the car meets with an accident.
Price and availability of ISOFIX child seats in India
There are a number of online sites that retail in ISOFIX seats. You can also source one from a baby store. Prices hover around Rs 30,000 plus mark for ISOFIX child seats by international brands such as Maxi-Cosi.
Fitting an ISOFIX seat in the car
Once you've ascertained the right child seat for your kid, fitting it to your car's ISOFIX points is pretty simple. Firstly, locate the ISOFIX points in your car. This can be done by going through the owner's manual or looking for the ISOFIX label on the rear seats.
In the Toyota, the ISOFIX points are marked in black and loacetd at the base of the second row of seats.
The ISOFIX connectors are two prongs located at the back of the child seat or its base. Push these connectors into the ISOFIX slots on the car's seats till you hear an audible click. These days, child seats also come with colour indicators (usually a red band that turns to green) that confirm safe installation.
Next, attach the top-tethering belt to the designated top-tethering point in your car. Usually there are indicators that depict if the tether is secured correctly. Do not use head restraints or a luggage hook to tether the seat as these are unable to withstand the forces generated during a crash.
ISOFIX seats in Indian cars
As is the case with most safety systems in our vehicles, ISOFIX seats are not regarded as a necessity. While many luxury cars in India get ISOFIX seats, we are slowly witnessing these seats in mid-size cars too. Toyota India, for example, has introduced the 2016 Etios Platinum with ISOFIX seats as standard across all variants. There aren't many cars available with ISOFIX seats at the same price point.
There is no mandate by the Government that directs car makers to offer them as standard equipment. However, as ABS is about to feature as standard in all cars sold in India we hope to see the Government make ISOFIX seats mandatory in all cars at the earliest.  Yes, our road accident related fatality rate is alarming and its about time measures are put in place to reduce this number.
Price (Ex-Delhi)
Starts Rs 12.23 Lakhs
Price (Ex-Delhi)
Starts Rs 16.26 Lakhs