Electric Dreams: Honda e
When you read of a Honda that has 50:50 weight distribution and RWD, this tiny EV runabout is probably not what comes to mind at first. But the Honda e not only features these juicy driver-focussed details but wraps it in very appealing bodywork.
The e's styling is a massive departure from what has been seen on other cars from the carmaker in recent memory. The general neo-retro look, which uses concave surfaces, simple lines and contrasting black panels are unlike anything else around. Combined with the flat, squat stance, the e looks like little else on the road.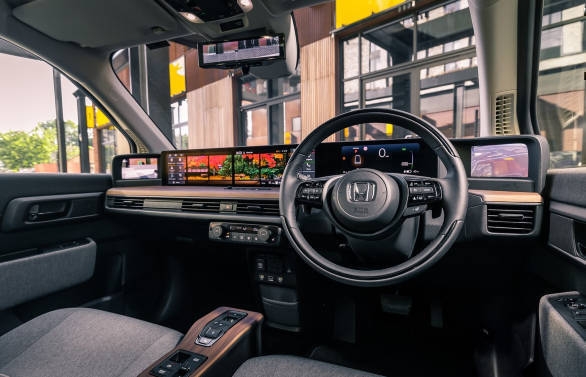 But this hatchback's party piece is its interiors. The theme is heavily retro here too, with the simple controls, flat surfaces, cloth upholstery and wood panelling. But most striking is the five-screen setup on the dash. The two closest to each door are displays for the rear-view cameras, a la Audi e-tron. Then there's an instrument cluster and two 12.3-inch LCD touchscreens in the middle. Aside from being heavily customisable in controlling all vehicle functions, this unit can also be used to display your chosen media via the on-board Wi-Fi connection. Further, there's a voice assistant along with all the latest connectivity and driver-assistance tech.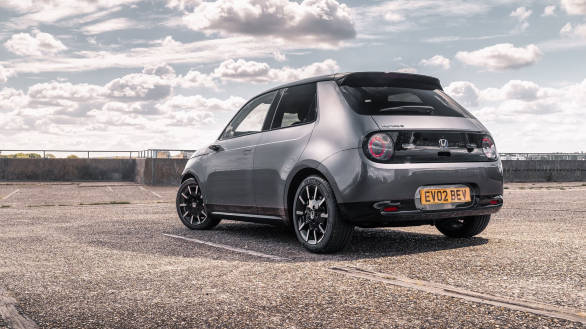 The Honda e is powered by a 35.5kWh lithium-ion battery. This is good for 222km range, which maybe is a bit less than expectations but Honda says this is good enough for most usage cycles, and there were benefits in terms of weight savings and packaging. The e is brisk enough for most needs with 113PS and 315Nm. This gives it a 0 to 100kmph time of 8.3s and a top speed of 145kmph. A base version with 100PS and a 0 to 100kmph time of 9s is also available.
The e's appeal comes from how Honda has taken the effort to reimagine almost everything that is expected of a city car. It seems like Honda set out to build a fun, unique car first, and then factored in the positives that its EV powertrain could provide. This simple thought process is reason enough to be very excited about Honda's EV onslaught.
Price (Ex-Delhi)
Starts Rs 99.99 Lakhs