DVD Review: 500cc Grand Prix & Joey Dunlop - No Ordinary Man
When there is no racing on TV what do you do? I had the incredible pleasure of watching the fierce racing from the 90s thanks to the 1990s 500cc review set from Duke Video. I received 1992, 1993 and 1997 to review but the off-the-shelf set has every single year as a box pack from 1990-1999. MotoGP today seems tame after watching the DVDs. The bikes were wilder, the action much closer and you can see the bikes wriggling and squirming as the riders fought to harness their incredible and fierce power. Duke offers seasons from 1983 onwards and we have three of the best.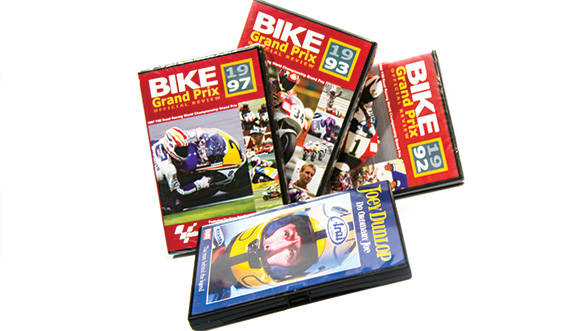 In 1992 Mick Doohan dominated until his career-threatening crash at Assen. 1993 was the year that Kevin Schwantz and Wayne Rainey had an epic-season long battle until the Rainey, the Yamaha rider had his career-ending crash and finally, 1997 is the season when Doohan overcame his injuries in implacabale fashion crafting a masterful season with 12 wins in it. If you're too young to have watched these races live - I am, they weren't broadcast here - the action on these DVDs will give you a whole new pantheon of motorcycle racing stars to look up to.
On the other hand, Joey Dunlop wasn't a star in the usual sense. The man with a mop of unkempt hair is a legend. He was active in the road racing until his death in Estonia in 2000 at 48. His record? He won the Ulster Grand Prix 24 times. In 1986 he won his fifth consecutive TT Formula One world title. And he won at the fearsome Isle of Man TT a gobsmacking 26 times including three triple wins. The DVD, Joey Dunlop – No Ordinary Man chronicles the most unlikely racing star ever. After all the accolades - including an MBE from Great Britain for his services to his sport - Joey remained the consummate ordinary man. He quietly took his race transporter and delivered clothing, toys and food to Bosnia and Romania, which came to light later and earn him an OBE. To the very end he was a firmly grounded Irishman who didn't seek the fame that found him. This amazing DVD walks you down memory lane with the greatest motorcycle road racer ever.
Rs 10,200 approx, dukevideo.co.uk (1983-1991)
Rs 1,200 approx, dukevideo.co.uk (per Bike GP Season Review)
Rs 1,100  approx, dukevideo.co.uk (Joey)
Price (Ex-Delhi)
Starts Rs 1,02,700