Driving to some Hidden Gems
My wife Madhu and I decided to end 2019 on a high note by going on a driving holiday and meeting up with some dear old friends. The partner for this journey was the Jeep Compass Trailhawk and it turned out to be the ideal companion. Joining us for the initial part of the voyage was Madhu's cousin Poonam, who had never, done a long road trip before.
Sometimes the pleasures of the journey are equal to the delights of the destination
We left Mumbai early, but despite the early start encountered heavy traffic which stayed with us almost all the way to Baroda, our first halting place (approx 425 kms). Despite the heavy traffic and undisciplined driving with truckers hogging almost all lanes, we made it in time for a late lunch, which is a testimony to the improved quality of some of our highways.
In Baroda we stayed at the luxurious Madhav Bagh, a delectable and royal home stay run by the friendly and gracious Indrayani and Shivrajsinh Gaekwad. The decision to break journey in Baroda was inspired by the personal interest they take in the comfort of their guests and the fact that Indrayani is such a great cook, completely sealed the deal, making us ignore all other options. In fact I would highly recommend Madhav Bagh as an overnight halting place for all those who are heading out on NH 8, one of India's busiest highways that connects Mumbai to Delhi.
Madhav Bagh - the palatial residence of Indrayani and Shivrajsinh Gaekwad, now offers an inviting home-stay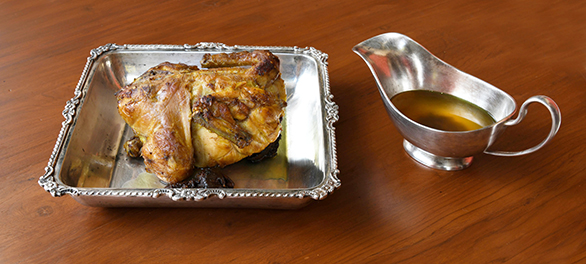 The roast chicken cooked by Indrayani is to die for (Image courtesy: Dinesh Shukla)
After a delightful stay we hit the road next morning for Ravla Bhenswara (approx 500 kms). The noble family of Bhenswara has converted their ancestral home Ravla Bhenswara into a most delightful heritage hotel that gives you an interesting insight into rural India. The next few days were truly enchanting as we caught up with Thakur Dalvir Singhji, his son Kunwar Shiv Pratap and the entire Bhenswara Family, all of who are very dear old friends. They did all possible to make us feel completely at home and it is their kind of love and affection, that makes our country such a unique and hospitable place.
Tuberculosis being a big problem, our government has arranged mobile check-up centres, and we came across this one in the village of Bhenswara
The Jeep Compass Trailhawk at Ravla Bhenswara
The noble family of Bhenswara are ardent automotive enthusiasts (Image courtesy: Ravla Bhenswara)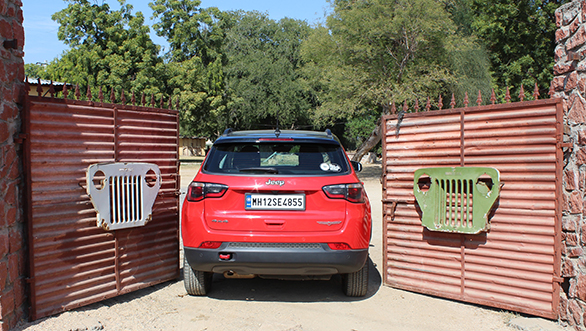 The Bhenswara Car Collection is housed in their farmhouse that has an entry gate, which will appeal to Jeep fans
Thakur Dalvir Singh of Bhenswara (centre), son Kunwar Shiv Pratap (left) and grandson Shiv Dutt , all learnt to drive on these classic Jeeps
Our next halt was Jodhpur, where we stayed with our cherished friends Thakur Raghvendra Pratap Singh of Jhalamand and his wife Thakurani Devyani Singh. They too have converted their castle Jhalamand Garh into an attractive hotel. Raghvendra is celebrated for his cooking skills with his specialty being the 'Royal Cuisine of Rajasthan' based on homemade recipes collected through several generations. Raghvendra is regularly invited all over India to conduct food festivals and we obviously feasted on his food. And when we could drag ourselves away from his dining table, we went sightseeing and one afternoon were also fortunate to watch a polo match with HH The Maharaja of Jodhpur Gaj Singhji II, from his private pavilion.
The Jeep Compass had some unique parking spots on this driving holiday
Jhalamand Garh Heritage Hotel is an inviting retreat in Jodphur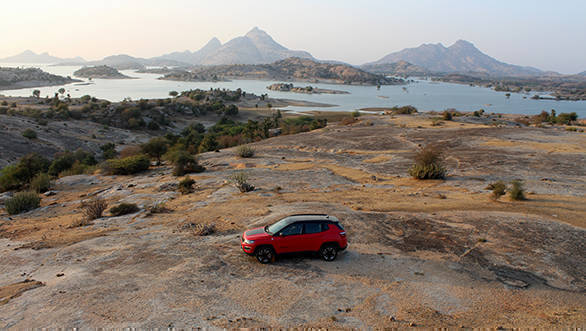 The Jawai Dam backwaters add to the beauty of the rugged Arravali Mountains
Then it was onto Kesar Bagh a rejuvenating resort owned by the noble family of Jojawar, who I was meeting after a fairly long time. It is located within their ancestral farm that is flanked by hills and water bodies that attract a good amount of birdlife and also some wildlife like jackals, foxes, rabbits, etc. This resort is a great place to recharge your batteries and revitalize both your mind and body. The Jojawar family has also opened up their ancestral castle in the village for guests and I had delicious meal here. My wife Madhu sadly missed all this as she had to fly back home from Jodhpur due to some prior commitments.
Kesar Bagh in Jojawar offers a serene stay in natural and unspoilt surroundings (Image courtesy: Kesar Bagh)
Rao Maharaj Singhji of Jojawar, his wife, and son Kunwar Amitvikram Singh having an alfresco 'regal repast' at Kesar Bagh (Image courtesy: Dinesh Shukla)
The dinner around the campfire in Kesar Bagh, Jojawar was awesome (Image courtesy: Kesar Bagh)
Feeling fully refreshed I proceeded to the Sitamata Wildlife Sanctuary and after a rewarding game drive during which I saw the difficult to sight chausingha, or four horned antelope, I spent the night at Fort Dhariyawad. This heritage hotel is quite popular with domestic tourists and is the best place to stay at if you are keen to explore the Sitamata Wildlife Sanctuary. Sadly our domestic tourists treat the sanctuary more as a picnic place, rather than a destination to appreciate and enjoy the gifts of nature.
Another enviable parking spot at the Fort Dhariyawad
Sitamata is a lesser known wildlife sanctuary where its possible to spot flying squirrels
Fort Dhariyawad offers a comfortable stay and access to the Sitamata Wildlife Sanctuary
My next destination, the Pangarh Lake Retreat is located right in the lap of nature, at the very edge of the picturesque Pangarh Lake. It is owned by the noble family of Bijaipur and their passion for outdoor life, inspired them to build this comfortable tented camp on a lake that attracts birds of all feathers. I was here when the cold wave hit North India with temperatures in the night dropping down to almost 1 degree centigrade. The next day to get away from the bitter cold, the family asked me to join them at Castle Bijaipur a portion of which they too have converted into an alluring heritage hotel. The highlight of Castle Bijaipur is the old wing which is completely authentic and original and provides a glimpse of our glorious and historical past. Another highlight is the yoga and meditation class conducted by Rao Narendra Singh himself, and as he says, "The Castle Biajipur is a haven of peace for the busy mind".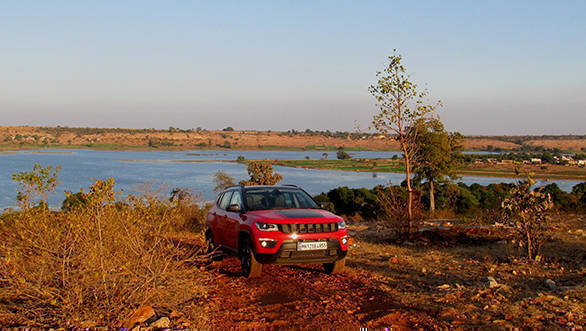 The stunningly scenic approach to the Pangarh Lake Retreat
The tents at the Pangarh Lake Retreat are comfortable and located right at the edge of the lovely lake
The Pangarh Lake Retreat has a wonderful view
Such simple and rustic dhabas, or highway eating places, are rare and fast disappearing
Castle Bijaipur's old wing is in completely original condition and provides a wondrous window to the world of the past (image courtesy: Castle Bijaipur)
After this incredibly enjoyable driving holiday it was time to point the Compass homewards and I decided to take the route via Madhya Pradesh. On the last day I drove 870 kms without a break and reached Mumbai some 16 hours after leaving Castle Bijaipur. The Jeep Compass Trailhawk made this possible as it's a very comfortable SUV for long drives. The seating, the ride, handling, driving dynamics and ability to keep going even when the paved road runs out, contributed in making my 2750 kms driving holiday a very easy and enjoyable one. Now let's see in which direction the compass takes me next.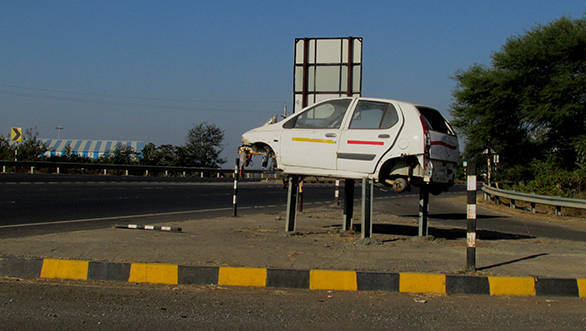 The Madhya Pradesh government is now placing smashed up vehicles at accident prone road junctions to discourage rash driving. A great idea.
The Jeep Compass Trailhawk proved to be the ideal partner for this long (2,750km) road journey that also included some off-road driving
(Left to right) H.H. The Maharaja of Jodhpur, the author's wife Madhu, her cousin Poonam and our consulting editor Bob Rupani at the world famous polo ground in Jodhpur
Photos: Bob Rupani
Price (Ex-Delhi)
Starts Rs 17.79 Lakhs