Driving the Honda WR-V around the beautiful Western Ghats in Maharashtra
Back in the day, SUVs had a straightforward purpose. They were primarily vehicles that could go places which were otherwise difficult for sedans and hatchbacks. The modern day SUV, on the other hand, has many responsibilities to fulfil which includes providing the right comfort, convenience, efficiency, performance and safety elements. In addition to that, it should also be capable of going places. The current crop of modern compact SUVs promise to fulfil all these options on paper, but how good are they in real-world conditions. In order to understand and experience the traits of the right compact SUV, we chose one of the strongest contenders in the game, the Honda WR-V, and took it for a getaway to the western ghats, a destination known for its biodiversity, landscapes and abundance of nature.
So, road-trip ready vehicle…check, location…check, team to shoot this feature…check. But then the last bit seemed to be a challenge, because our team does not travel light. Tons of equipment, regular luggage and people. As soon as the team arrived at the OVERDRIVE parking lot, the first concern was raised, where would it all fit?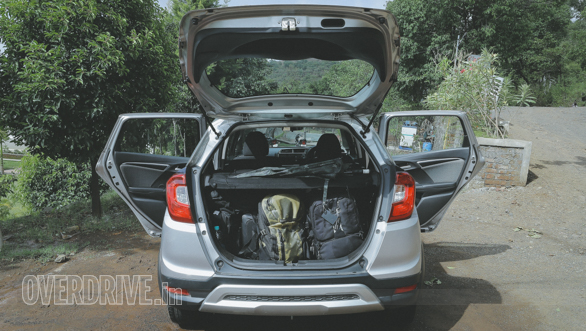 And so our road trip began arranging every piece of luggage like a jigsaw puzzle inside the vehicle. Not that it took too long because the WR-V has an enormous boot, and everything fit in comfortably. With all doubts settled, we could finally start our trip…right? Now came the conundrum of fitting ourselves in! However, this was quickly addressed as soon as the team stepped inside the cabin. Easy ingress and egress makes it easy to find space inside the cabin.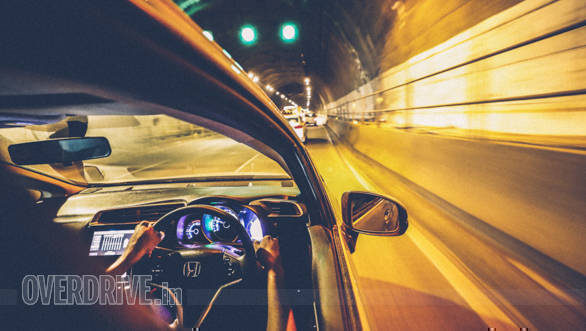 You can literally walk into the WR-V, find a nice spot to park yourself as well as the others and you're done! Now that everyone inside the WR-V had made themselves comfortable, it was time to get started on our trip. The only trouble now was that we had lost time and ended up starting from Mumbai later than expected, this turning out to be a little worrisome. For a city that never sleeps, the traffic is always intense, more so during peak hours. A car with compact dimensions, that is nimble on its feet and with a strong engine can quickly manoeuvre itself through the mess. And that is exactly what the WR-V, got us out of the big bad city in no time.
As soon as we hit the expressway, the 1.5-litre diesel heart of the WR-V came into its element. With a 100PS power output and 200Nm torque rating, we were munching on miles with great ease. And to top it up, the smooth shift of the 6-speed manual transmission made sure we were maintaining our pace on the way. Thanks to our celebratory mood, we missed refuelling the WR-V but then Honda claims 25.5kmpl and that was of great help.
We've always believed that food is an essential ingredient of a road trip, and the WR-V was indeed the vehicle that took care of our hunger pangs after a really long stint behind the wheel. So, we chose to stop by an eatery on the outskirts of Satara district and treated ourselves to the authentic Maharashtrian delicacy, Misal Pav. We've eaten this staple before, in the big cities but the Misal we ate at this tiny eatery was a treat for our tastebuds. Slow cooked over coal, its distinct flavour stood out.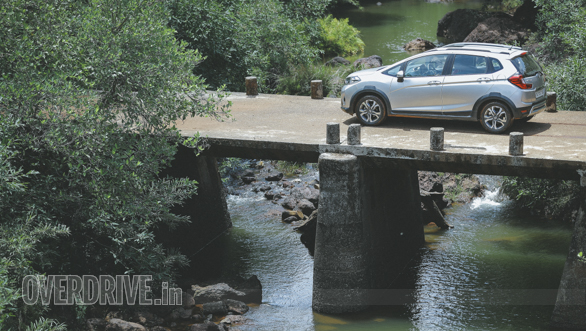 This break also turned out to be special because its owner, Kisan Ramchandra Bedekar was amongst the first people to discover the famous, 200m high Thosegarh waterfalls. The route, we were told, was unpaved but we had complete faith in the Honda WR-V's ground 188mm ground clearance and well-tuned suspension. Upon reaching the waterfall, we stood mesmerised by its surreal sight. We continued our journey to the Chalkewadi Windmill Farm, one of the largest windmill farms in Asia. The windmills stretch over a 5km plateau and supply electricity to Mahabaleshwar, Panchgani and Satara. Throughout this journey, the Honda WR-V made us believe that a compact all-rounder SUV is much more than just a host of tech features. It is also about practicality and drivability. And both of these traits are rightly covered in the WR-V.
More images from our Honda WR-V drive feature: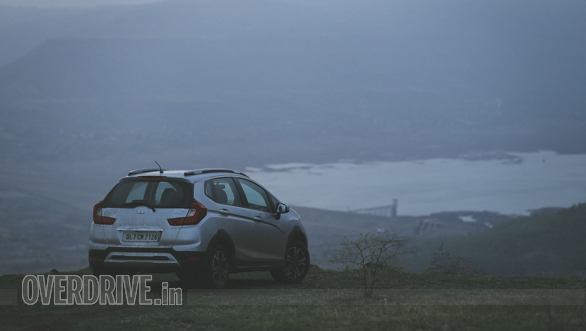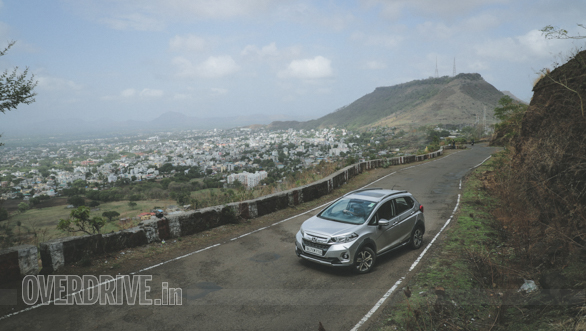 Price (Ex-Delhi)
Starts Rs 8.5 Lakhs