Driving across dunes in the X-raid Mini All4
I pick up the vacuum cleaner and begin sucking up the dirt from the walls of my house. Easter is just around the corner and the house needs a solid dusting down. It's a menial task that I grumble and reluctantly do but who's going to argue with the missus? Just a day ago I was in Dubai and driving what is one of the most awesome cars I have ever driven in my life. It's an opportunity that comes just once in a while and I've been lucky enough to have two of them. The first was when I got to drive an F1 car in France and now there is this, the 2014 Dakar winning X-Raid Mini All4! Vacuuming after such an epic drive then is a very humbling experience, but some days the sun just shines on you, some days it's just cloudy overhead!
The dust-kicking Dakar-winning monster of an X-raid Mini All4
In 2014 the Mini All4 Dakar piloted by Nani Roma and Michel Perin sailed to victory amidst tough competition. It was one of the 11 Minis that took the start line in Argentina and finished in top spot just 5 minutes and 38 seconds ahead of the second-placed 'Mr Dakar' himself, five-time Dakar winner Stephane Peterhansel. The car I am driving is the very same one that Nani Roma took to that epic win.
The Mini All4 Dakar looks like a close relative of the Mini Countryman, there is some shared DNA in there. It is however nothing like the Countryman SUV. After everything in the Countryman is stripped bare, it's rebuilt from scratch. The rally car is inches longer, wider and taller with greater ground clearance. In fact when I first caught a look at it in the parking lot of the Courtyard Marriott it was standing alongside a Toyota Landcruiser and that mammoth SUV looked a wee bit smaller.
The Mini All4 Dakar retains about two percent of its original elements. Stuff like the Mini badges, windshield, door handles, tail lights continue to remain standard production parts. Everything else is redesigned and hand fabricated.
Like in any typical race car of this order there is a lot of carbon fibre used to build the body panels and interiors. You might think this is done in the effort to reduce weight, but this raid SUV weighs close to 2.5 tonnes in a rally stage! That's because of the on-board electronics and other stuff needed for the long arduous stages of the Dakar. There are three spare wheels for instance, two in the boot and one strapped to the undercarriage. It has an inbuilt hydraulic jacking system which makes changing wheels on a Dakar stage faster. There is around 400 litres of fuel on board, enough to allow you to wander around in circles in the desert just in case. There are even spares and tools for the drivers to make some repairs at stages.
The on-board navigation instrumentation is invaluable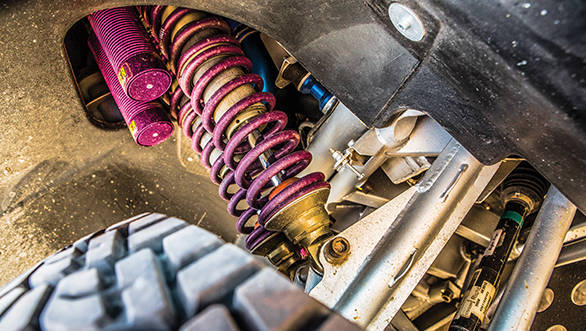 Twin Reiger dampers have their own ventilation system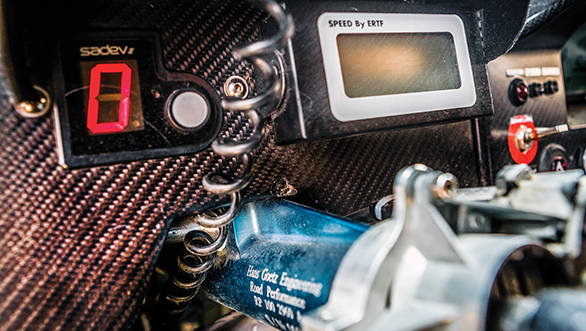 Sadev provides the racing transmissions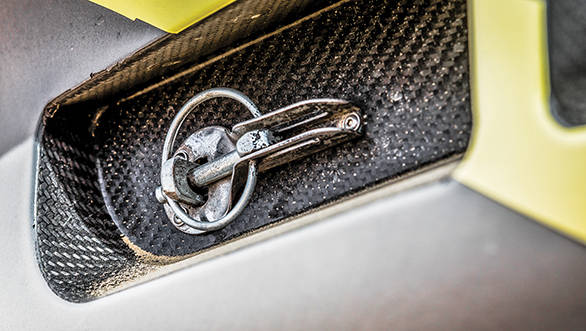 On the Dakar everything needs to be fastened firmly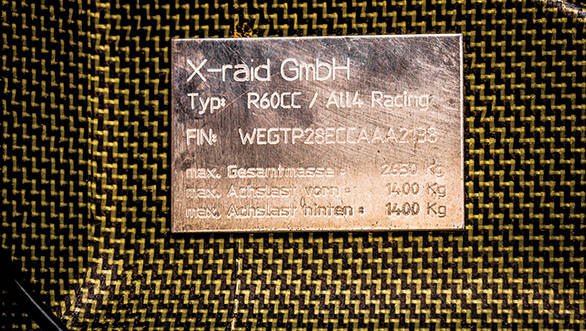 X-raid runs the Dakar Mini team and also develops and builds the entire package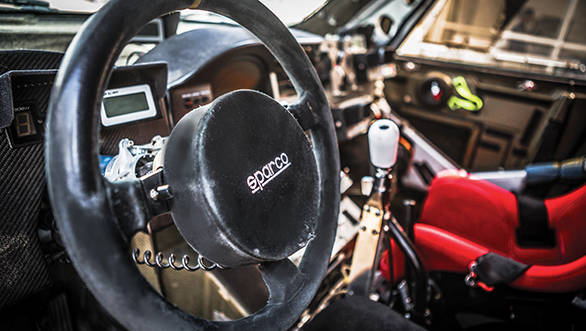 Rally raid steering devoid of any controls
Interestingly, you'd think that at an event like the Dakar, you'd see tyres the size of Titan that could hammer through the rocks and climb those mighty dunes with just one spin of the wheel. But the Mini All4 Dakar has a set of 245/80 R16 all-terrain tyres. Not so gigantic, eh?
Now on to the juicier bits. Mechanically the Mini All4 Dakar is nothing like the Countryman. Under the hood is a 3.0-litre twin-stage turbo diesel developed by BMW in Austria for extreme conditions but which, in stock production form, is also seen on the 5 Series sedan. Yup, that same engine is offered in India as well, it's the one that comes with the M Sport package on the 530d. However, an immense array of tweaks pushes peak output to 307 horses and torque to a magnificient 700Nm, both of which are also delivered earlier in the rev range compared to the stock engine. What this does is give it shattering performance, 0-100kmph should come up in, and I don't believe anyone's tested this yet, well under 6 seconds. There are quicker you say? Well sure, but none that weigh close to 2.5 tonnes gross, burn diesel and have to do it off-road, all the while looking like a baby whale in bright red livery kicking up a force 10 sand storm behind it.
For 2015 X-Raid may try the newer generation of engines, probably even the triple turbo now available in the M 550d which could provide quicker acceleration. There is something developing on that front but insiders won't say much. Anyway a six-speed sequential transmission with reasonably long ratios delivers torque to all four wheels through a sintered metal multi-plate clutch to handle the immense torque. Top speed is limited to 186kmph but even that on a surface that's always dynamic is way too fast. Oil-cooled lockable front, middle and rear differentials distribute the torque evenly between the front and rear wheels.
The chassis is a monocoque and as I mentioned earlier, made almost entirely from carbon fibre. To this an aircraft grade tubular steel roll cage is bonded. On the more crucial front, the entire suspension has been tweaked significantly to give it a huge operating range. One look inside the wheel wells and you'd notice the towering twin stack of fully adjustable Reiger dampers with nearly 8 inches of travel that are built for off-road abuse, and there are four of these on each axle.
There are also several cooling vents including a small heat exchanger at the front that runs the air-conditioning system. Yup, the inside of this rally raid SUV can be a comfortable place. The other ventilation ducts direct airflow over the damper reservoirs as well as the massive 320mm ventilated discs. In fact the rear brakes have a water cooled system because the drivers prefer a more rear brake bias which increases heat within the system.
So there I found myself in the middle of several sand dunes close to Dubai. Its where the Mini All4 Dakar feels the most comfortable, not me. The landscape is a mix of moderately sized dunes and flat stretches but all of it sandy. Temperatures here soar to above 50 degrees celsius in the shade with ground temperatures touching close to 56 degrees. The lack of vegetative cover and a dry hot wind intensified the conditions except for the lone bivouac built by Mini that proved to be a haven in the midst of what is a fiery hell! This is exactly the kind of environment that the Mini All4 Dakar has been yammering about. It has just come back from the Abu Dhabi challenge and is on its way to Qatar for another off-road rally. In between these stints a bunch of eager scribes are being given the opportunity to drive it.
At first just the thought of driving a car that costs well over Rs 12 crore in some of the most inhospitable terrain on the planet is a deeply frightening thought. I'm no skilled rally driver, neither am I Finnish and therefore gifted with surreal car control. So the excitement is punctuated with a gnawing fear which I am trying to quell by sipping ice cold spring water. When my turn came up to get into the driver's seat, I was given the run of the mill set of instructions by the navigator which basically starts with and ends at "LISTEN TO ME!"
So I strap in and feel some sweat break out on my brow! I'm waiting for my first set of instructions and instead just see my co-driver simply point a finger in the direction in which we must go. As I look ahead there is a flat stretch of land, arid, bare and smoother than a baby's bum. There's a slight heat haze in the distance and I can see a mirage forming near the horizon. The seat is stretched a bit too far behind for my liking. The interiors are quite dark, the windows quite small, I can't find the air-con controls and I haven't yet figured out what the rest of the dials mean. But there is no time to absorb all the details as my co-driver impatiently wags a finger at the horizon and then waves his hand forward urgently.
Blink, clutch, first gear and I drop my foot on the gas pedal. Bang, the Mini All4 Dakar digs all four wheels in the sand and pitches forward with the strength of a whale throwing up a small khamsin behind it. As racing cars go, the clutch does not feel too heavy which is surprising. But also equally shocking is the fact that you don't get this circuit racer like vicious kick in your back. This is simply because we're driving on sand and the wheels are struggling hard to find purchase and then this is a diesel so power delivery is significantly linear.
After first gear you never ever need the clutch since this is a sequential shift and all you need is to pull back on the lever to shift up and push forward to drop them.
As I mentioned the power delivery is impressively linear, so while the torque is immense it builds up smooth and quick only once the turbo kicks in. Interestingly because this is the desert, it's flat, yellow, bright and completely devoid of any visual markers like trees and shrubbery so you don't seem to be moving rapidly at all. Yet a quick look down at the speedo tells me we are spectacularly fast for the surface I am driving on.
[caption id="" align="alignnone" width="586"]
Taking those inevitable leaps of faith over the dunes[/caption]
The other thing you can never ever tell is if there is any turbo lag at all, simply because this is a race car and you end up keeping the revs within the power band. One giveaway that you are accelerating incredibly fast is the rev limiter coming in hard and fast.
By now the awe I have built up for this car is increasing exponentially because the Mini All4 Dakar is turning out to be superbly easy to drive. It's got an incredibly precise power assisted steering so keeping the Mini All4 Dakar going in a straight line isn't that hard a job. That's when I hear a loud roar blaring through my headphones, "Don't steer so much!". Obviously I've been overcompensating but now I allow the Mini to do its thing, of course all the time praying that easing the reins a bit will keep me safer. It works, the Mini All4 Dakar gets more stable instantly, you just have to learn to ignore the small twitches and know when it needs to be corrected. In all honesty the Mini All4 Dakar feels like a Segway that knows how to keep itself upright. I could have sworn there were a million gyroscopes in there controlling body movements on every axis. You only need feed in hard inputs when you require to change direction, in a straight line you just need a light hand on the wheel. But let me not disillusion you. The course we were driving on was just a few kilometres long and the surface not as unpredictable as on the Dakar. So while you do need to focus on what you are doing its definitely not as much of a strain as it would, I assume, be on a 300-odd kilometre Dakar stage.
On the long straights you feel small twitches in the cheeks of your butt indicating the Mini All4 Dakar is either constantly skimming the surface of the desert or slightly pitching in and out of deeper sandy patches. This is a highly unnerving feeling because that skittishness is entirely unpredictable. And even though you know the Mini All4 Dakar is tracking as straight a line as possible, driving in.
Navigating through the dunes can be tricky business
On the Dakar there is no escaping the dunes, some small, some towering over the landscape, but pass them you must. Some of the greatest images of the Dakar are those of the rally vehicles cresting those dunes, front wheels finding nothing below them but air. In the desert the challenge is to not get bogged down in the soft sand. Surprisingly the Mini All4 Dakar never ever seemed to have much of a problem coping. With a full time four-wheel drive system it seems to relish the loose grainy stuff, digesting everything the desert can throw at it. Of course that does not mean it sails through smoothly and the copious clouds of sand kicked up is testimony that the tyres are working hard at keeping this SUV moving.
Perched comfortably in those deep Recaro seats I'm feeling quite secure. Soon however things get a bit painful. This happens when you take those leaps of faith over the dunes. You climb up a dune with the throttle buried deep because you need the power and torque to reach the top of those dunes. As they teach you in desert driving schools, getting to the top of a dune needs momentum. Except that when you get to the top you have little or no idea what the rate of descent is on the other side. So there I come off a dune, looking up at the sky until in a see-saw-ish sort of way the nose begins to swing forward and then bam, I feel all four wheels hit the sand.
Inevitably there is a lot of taking off and hard landing, the latter providing a world of hurt. Because the suspension has a limited amount of travel, every time you come flying off a dune the landing gets pretty hard. I did not reach those limits every time, just a couple of times and I was more than willing to back off and coast but later on, on a drive with Dakar veteran Nani Roma you know exactly just how stiff a spine you need for this sort of thing. In a desert there are plenty of dunes which means plenty of air time. If they gave frequent flyer miles for every time a driver got airborne, they'd all be platinum members for life after just one Dakar.
After both of those sessions, one with me behind the wheel and one where I was driven by Nani Roma my respect for the drivers and the machines on the Dakar has grown ten fold. I do suspect that the entire story may not sound too exciting but then driving the Mini All4 Dakar isn't very exciting to be honest. The exciting bit is realising just how much this vehicle must withstand over two weeks of unpredictable terrain and weather. That the men who sit inside these boxes need extraordinary resilience. On a circuit or even in the WRC things are more predictable, you have the luxury of knowing what you're getting into.
A sit down with Michel Perin, co-driver to Nani Roma to understand the intricacies of a multi-nation rally raid like the Dakar
In the Dakar you go in blind and there are a million things that can go wrong, this is the mother of all unpredictability. And then to keep this up for nearly two weeks and sometimes longer is nothing short of phenomenal. More than the vehicle I think it's the aura of the Dakar that the Mini All4 is wrapped in that overwhelms you, that gets your blood rushing and your heart thumping. In hindsight I think I'll stick to just being a spectator!
Price (Ex-Delhi)
Starts Rs 39.5 Lakhs