Desert Storm through the eyes of a competitor
Start
It is three in the morning and I am driving in a desert. The track is winding and sandy and I am blinded by my own headlights reflecting off the fog and dust. It doesn't matter though, I'd given up watching the road a while ago. I am doing 60kmph looking only at my GPS, and over the din of the broken silencer, I can hear my wife shouting that we are running late. Welcome to the Storm!
The 12th Maruti Suzuki Desert Storm was held from 23rd February to 1st March. One of the longest rallies in the country, it covered 2,500 km in six days. The rally had four categories: Extreme (4WD cars), Moto (motorcycles and ATVs), Ndure (4WD cars running in TSD format) and Xplore (2WD cars in TSD). My wife Savera D'Souza and I drove our Grand Vitara in the Ndure class supported by Team Maruti.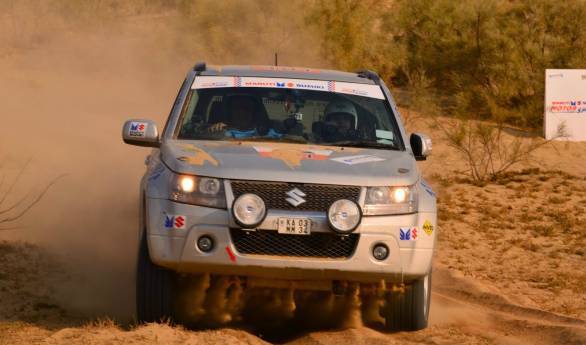 Satish Gopalkrishnan and Savera D'Souza piloted their Maruti Suzuki Grand Vitara to victory in the Ndure class of the 2014 Desert Storm
The Extreme category attracted the top rallyists in the country. Nine-time Raid de Himalaya winner Suresh Rana (Ashwin Naik), reigning Asia Pacific Rally Champion Gaurav Gill (Musa Sherif), 2002 Production World Rally Champion Karamjit Singh (Parminder Thakur), six-time Desert Storm winner Sunny Sidhu (PVS Murthy), INRC winner Lohitt Urs (Kumar K) and Desert Storm veteran Raj Singh Rathore (Vishnu Singh).
The Ndure class also promised fierce competition with defending champions Somdeb Chanda (Nirav Mehta), 2012 winners Savera and me, Ashish Budhia (Arindam Ghosh) from 2011, 2010 winner Dhiraj Arora (now navigating for Pratap Singh Thakur) and Raid de Himalaya 2013 winner Jagmeet Gill (Chandan Sen) in the fray.
Xplore was a two horse race between the current APRC production cup champion Sanjay Takale (Mohammed Mustafa) and five-time Raid de Himalaya TSD winner Rajesh Chalana (Yogesh Gupta), while Moto featured the budding rivalry between two world class bikers, CS Santosh and Helmut Frauwallner.
The Desert Storm was ceremonially flagged off from Delhi on the 24th of February. Our first stop was Sardarshahar, 350km away, where the rally would really begin.
Night
The rally route was divided into "special stages" (SS1, SS2, SS3 etc.). Cars followed GPS tracks and road book and traversed the SS, while maintaining prescribed speeds. Inside the stage, several time controls (TCs) tracked a car's progress. Two special stages were connected by a free zone - a section with no TCs.
The first leg started from Sardarshahar at midnight. In Leg 1A the stages were covered in soft, fine sand. To make things worse, the Extreme cars that had already gone ahead had churned up the sand making it very difficult to drive on. Keeping momentum was the key. This was easier said than done though, since night-time navigation in the desert isn't easy. One wrong call could get us off route and into deep sand. Despite the challenges, we managed to complete the stages without getting bogged down. Many Extreme cars weren't as lucky though. We saw lots of cars stuck in the sand; some because they had broken down, others because they had dug themselves in too deep. The route took us back to Sardarshahar where we caught up with other competitors, compared penalties and found out that we were leading the pack by more than 2 minutes.
Day
Leg 1B started with SS3, a 6km hike through dunes on treacherous sand. I had reduced pressure on all tyres to 17 psi. I also shifted to 4-Low, the only time in the rally I had to do so. I could feel the effect of low air pressure right away. The car was practically floating on the sand. I drove in 3rd and 4th gears to keep digging in to a minimum and shifted to 2nd gear only momentarily at the base of steep dunes. We had an uneventful run except for when I had to overtake an Extreme car that was still in the stage. There was a TC at the stage finish and we checked in on time.
The next stage was SS4, a 90km long section of grit, packed sand and broken tracks. Speeds were high and we encountered frequent Time Controls. There were seven TCs in this stage and we were on time for most of them. We reached Bikaner in the evening where we learnt that we had added two more minutes to our lead.
In It To Win It
Leg 2 was from Bikaner to Jaisalmer through two special stages. SS5 was a collection of camel cart trails. The sand was packed and if one followed the track made by cars that went ahead, there was no danger of getting stuck. SS6 was similar but longer, and though required speeds were over 40kmph, the hard and smooth terrain ensured that we were always on time. The first 60 km produced five TCs and single-digit penalties for us. We had 45km to go in the stage and I had fuel for another 100. Then without warning the terrain changed. Suddenly we were climbing hills, the track was bumpy with big ruts and there was sand everywhere. I went slow on the bumpy sections to save the car and before we knew it we were running two minutes late.
I had to assume the other cars, all ably piloted by experienced Stormers, were going to do well in this section. And there was the immediate threat of the car just behind me catching up. I had to either keep going slow, or trust my new Ironman suspension to hold up to the abuse it was going to get. I decided to go for it. There was no let up from the terrain, it kept getting progressively worse. While it was rutted and bumpy when flat, the track would be covered with loose sand while climbing dunes. So to get momentum to climb, I had to drive fast on the bumpy section, risking breaking the car. We saw many bikes and cars stuck on the track. I guess this section had taken everyone by surprise. Every time I had to go around a stuck vehicle, I lost whatever time I had gained and also ran the risk of digging into the sand. In one instance, while avoiding a bike, I ran over a tree stump which stripped off the right-side mud flaps and fender linings. I tore the back bumper climbing a dune and bent the sump guard while coming down one too fast. The silencer had lost one of its mountings and was hitting against the body. It took us 20km to finally get back on time. A TC came up soon after, and we zeroed it.
With 25km to go in the SS we had another problem; my fuel warning light had come on. After having done so well in the previous section, it would be a shame to run out of fuel now. Surreptitious prayers went skyward while I kept the car in high gears and coasted in neutral whenever I could. After what seemed like an eternity, we reached the end of the stage. We were lucky to find a service vehicle in the free zone and bought 3 litres of petrol. At the next village we bought 10 more litres from a shop - enough to get us to the next gas station.
We reached Jaisalmer in the evening to find out that we had gained 8 minutes in the last two TCs and now led by more than 12 minutes.
Lost and Found
Leg 3 was going to be a short loop of Jaisalmer. The first stage, SS7, was 80 km of grit and it was fun driving. There were 5 TCs and we zeroed them all. We were a couple of kilometres into SS8 when we saw the road ahead blocked by an official's car. When I pulled over, the official asked "Are you on the right track?" and I knew we were screwed. A quick look at the road book showed that after we crossed the previous village, we had taken a left turn instead of going straight. We were focused on the GPS and didn't realise that the road book had deviated from the Extreme track and that we would be skipping SS8, 9 and 10. I turned around and retraced our path as fast as I could. We got back on route and checked in to the next TC five and a half minutes late, our highest penalty in the rally. The rest of the stage was uneventful but Savera and I spent it brooding over our blunder.
The next day, Leg 4 took us back to Bikaner. Despite the 5 minute penalty, we were still leading by a big margin. SS11 was 60km long and a repeat of the tough sandy sections from Leg 2. I was bracing for impact but once we entered the stage, we saw that overnight rain had made the sand wet and packed - easy to drive on. We had a stress free outing and got only a penalty of 2 seconds from 5 TCs.
There was a free zone after SS11 and after a leisurely drive we were at the start of SS12 with around 15 minutes to spare. I stood around shooting the breeze with the other competitors and it was only when someone asked me the time that I realised my watch was missing. As soon as I saw that my wrist was bare I knew where the watch was. I had stopped for a bio break 9km previously and had taken off the watch and left it on top of a bush. If I were to go get it, I would have around 12 minutes to do the 18 km round trip, averaging more than 100kmph on Rajasthan village roads. Not to mention the time I would take to run into the bushes, get my watch and run back. It was a no-brainer - I was going back. The watch, a Tissot T-Touch, was a gift from Savera on our wedding. She had wanted me to have it because that particular model had an altimeter which I could use while trekking in the Himalayas, and it looked good with business casuals too. I ran back into the car, turned it around and floored it. It's probably the 10 years of being together, and maybe rallying reinforced it, but all I had to say was "forgot watch" for Savera to get what I was doing. We drove in silence, with me standing on the accelerator. I had no time to look at the speedometer or the clock to see how fast we were going or how much time we had left. We both recognised the bulge on the road where I had earlier parked. It's no fun running on sand, let alone doing it flat out and in circles, trying to find the right bush. I did find the watch, and got back into the car. We were back at the start of SS12 with less than a minute to spare!
After our little escapade and the huge adrenaline rush, it took us a while to settle down into competition. SS12 was sandy but it had rained here too, making the drive hassle free. We zeroed many of the seven TCs but checked in 10 seconds early into one. No harm done though, we were still leading by more than just a few minutes.
Finish
Leg 5 started early, at 04:30 hrs. We had only one stage, SS13, but it was dark and foggy with visibility of less than 20m. We still had to maintain averages of 40+ kmph. I had fun driving blind and fast, looking only at the GPS track. It felt like a video game. In retrospect, it was a very stupid thing to do, we could have run off the road or worse. The Storm was definitely keeping us engaged till the end. Luckily there were only three TCs in the stage and we got out if it without any damage. A 420km long transport stage took us back to Jaipur. The official results weren't out yet, but we were pretty sure that we had won the Desert Storm again.
All smiles after winning the Desert Storm in the Ndure class
In the Extreme class, the overall title went to Sunny Sidhu (PVS Murthy) driving a Mahindra SuperXUV. Second and third were Maruti Gypsys driven by Sandeep Sharma (Varun Davessar) and Amartej Buwal (Nakul Mendiratta).
Moto, as advertised, had seen a thrilling battle between Santosh and Helly. Santosh claimed six stages to Helly's five and took the overall win, while Suresh Babu came third.
Xplore saw a major upset when hitherto unknown Nitin Yadav (Ravi Bansal) upstaged Sanjay Takale (Mohammed Mustafa) to take second place. The title though went to Rajesh Chalana (Yogesh Gupta), who had dominated all five legs.
Sunny Sidhu and PVS Murthy - winners in the Extreme Category
In the Ndure class, we were first, followed by Pratap Singh Thakur (Dhiraj Arora), Ashish Budhia (Arindam Ghosh), Somdeb Chanda (Nirav Mehta) and Yoginder Singh Rana (Sakthivel).
Cross-country rallying is about the adventure rather than winning or losing. It takes us deep into the desert, up and down dunes, through dry river beds and high mountain passes. One comes back satiated, exhausted and itching to go back for more. Both Savera and I had a great time at the Desert Storm and we'll surely be back!