Dakar 2021: Recapping the Hero MotoSport journey to the top 15 in pictures
This year's edition of the Dakar gave the Hero MotoSports Team Rally, the only Indian team at the world's toughest race, their best result ever, bittersweet as it was. Coming back from Dakar 2020, where the team lost their compatriot Paulo Goncalves in a tragic accident, all three riders - Joaquim Rodrigues, Sebastian Buhler and India's own CS Santosh - apart from other Dakar riders as well, were dedicating their performances to their friend and mentor, with #RacingForSpeedy emblazoned on their motorcycles. Scroll through to see our pick of the best images from the team's valiant effort at Dakar 2021. 
This was CS Santosh's seventh go at the Dakar, with his best place finish coming in 2018 with a 34th overall
Sebastian Buhler, who made his debut with the Hero MotoSports team in 2019, finished the Prologue stage in a commendable 5th spot, and completed Stage 1 in 29th
Joaquim Rodrigues, or JRod, in his fifth Dakar outing, takes the role of mentor and guide for the other two riders, being more accustomed to this type of terrain
After a rocky first stage, the team pulls back with two Top 15 finishes in Stage 2, with JRod and Buhler in 12th and 14th respectively
CS Santosh holds steady at 36th place over the long and fast Stage 3, with JRod breaking into the top 20 on stage, and Buhler one spot behind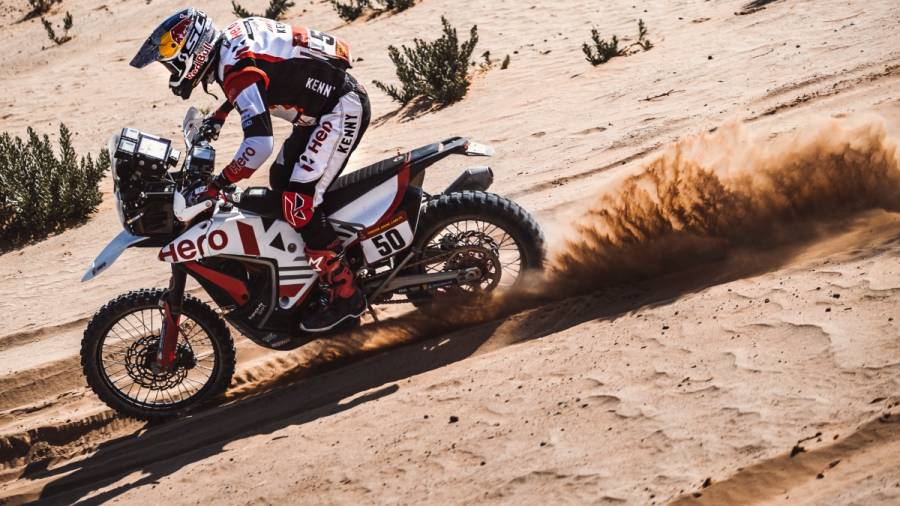 Tragedy strikes on the longest stage of the rally! Santosh crashes out of Stage 4, and everyone's prayers are with him as he's kept sedated in emergency care in Riyadh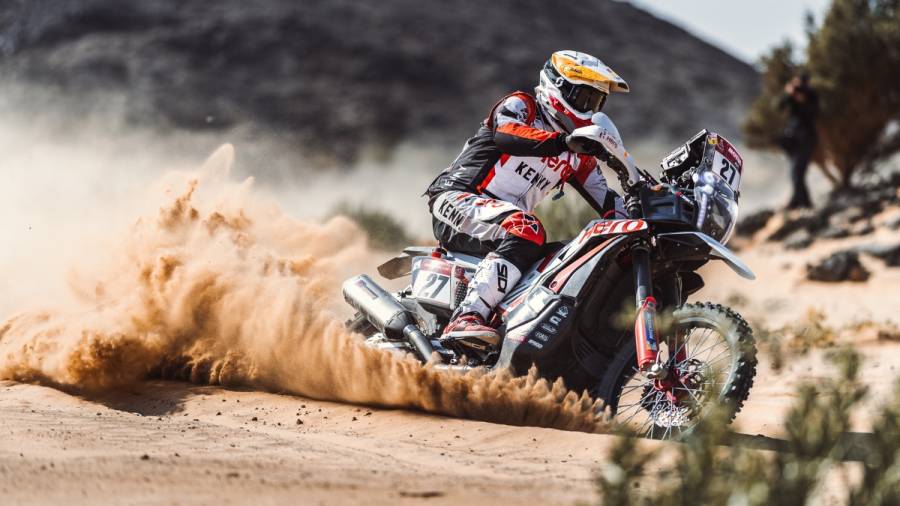 On the other hand, JRod manages a 6th place finish in Stage 4, with Buhler in 24th
Rallying together after a tough Stage 4, also the stage where Goncalves crashed last year, the two riders pull back into the Top 20 overall, with Buhler finishing in 20th, and JRod in 22nd
With a shortened Stage 6 due to the long previous stage, the team solidifies their positions at the halfway point - JRod finishes Stage 6 in 8th, Buhler in 21st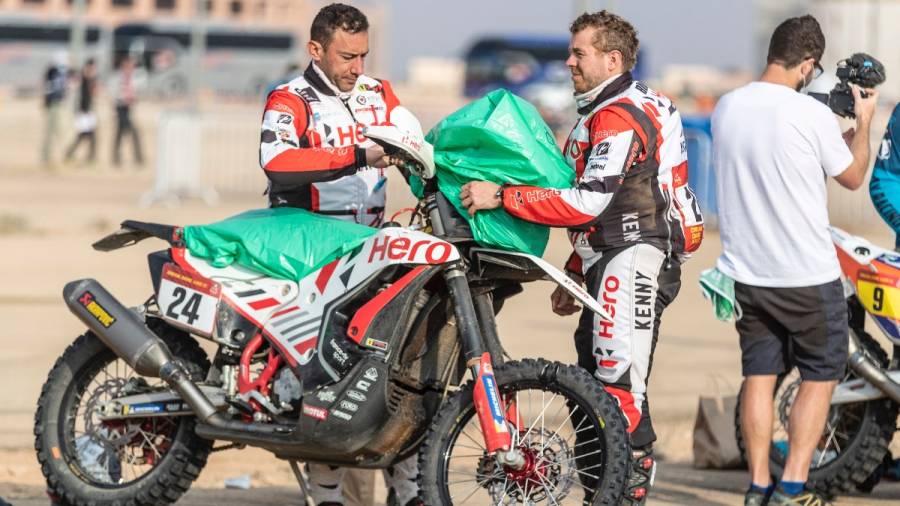 Stage 7 - the first half of the marathon stage, where competitors must compete without assistance from their teams - sees JRod finish 9th, and Buhler in 21st
Buhler puts in his best ever stage finish - in 10th! JRod hit a rock, quite hard, and injured his shoulder, and nursed the bike and himself back in 25th. Both riders are in the Top 20 overall
The toughest stage of the Dakar - and the most picturesque, Stage 9 took competitors to the coast of the Red Sea. JRod finished in 13th, Buhler in 24th.
Another historic stage for the team, with their fifth consecutive Top 10 stage finish in the relatively short Stage 10, courtesy JRod's 10th spot placing, with Buhler coming in 21st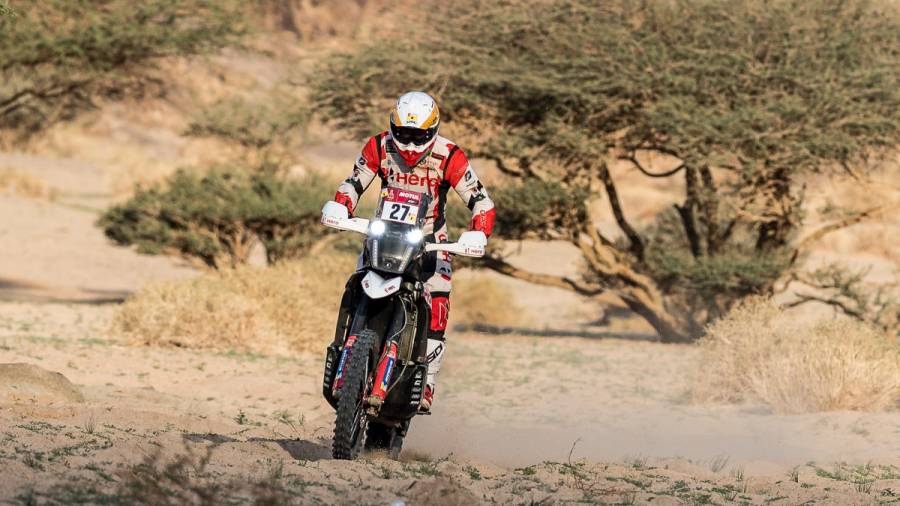 JRod misses a waypoint right at the end of Stage 11, and penalties see him finish in 26th, while Buhler finishes in a strong 12th spot. Overall, JRod is 12th, Buhler is 15th
Great finishes in the last stage of the Dakar - JRod in 9th, and Buhler in 11th, which cements their positions in the Top 15 overall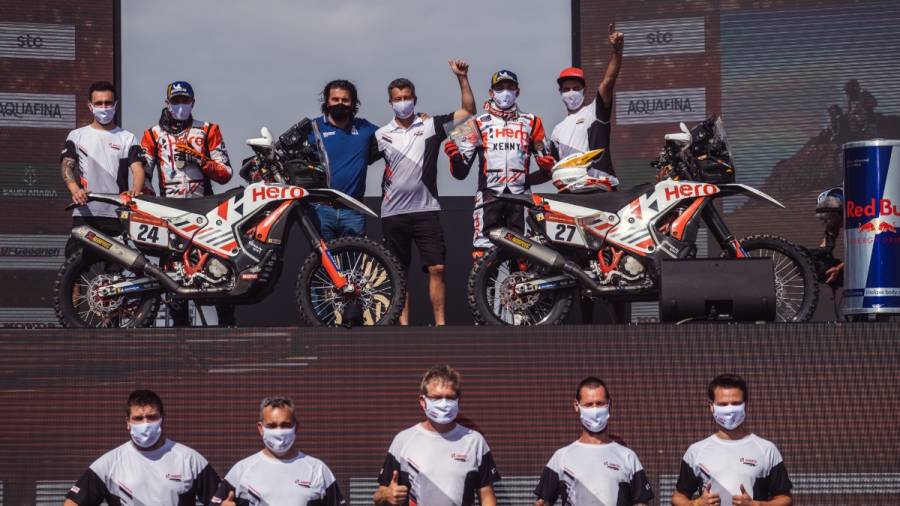 An emotional Hero MotoSports team on the podium for their best finish - JRod in 11th overall, and Buhler in 14th, a personal best for the rookie
After the completion of the Dakar, we get news that Santosh has been safely flown back home and is brought out of sedation, with a steady recovery to look forward to. Here's to next year, champs!