Dakar 2020: Kings of the dunes
Winning the Dakar is a matter of pride,
that it's a feat, no one can dispute.
And conquering the treacherous terrain,
takes a driver of considerable repute.
A victory just once is incredibly impressive.
Even better is winning it twice.
But what about that rare accomplishment,
of having won the dreaded Dakar thrice?
Carlos Sainz is living proof that skill matters far more than age.
To read how he won his third Dakar, you'll have to turn the page
Not many have managed three wins,
as of last year that number was just five.
But having already won two Dakars,
it was for a third title that Carlos Sainz decided to strive.
With co-driver Lucas Cruz in tow,
Sainz set off to Saudi Arabia on his quest.
He was determined that in the No.305 X-Raid Mini,
they would prove to be the absolute best.
It was something of a slow start for the duo,
in the rally's first stage they were only third overall.
But winning Stage 3 moved them to the head of the standings,
a position from which they ne'er were to fall.
Carlos Sainz and Lucas Cruz in their Bahrain JCW X-Raid Mini Team
So by the end of the 2020 Dakar,
Sainz had another title, and a further four stage wins, to his name.
And at 57 years, nine months and five days, he was the event's oldest winner
- a significant claim to fame.
It was second-place overall for Nasser Al-Attiyah,
The defending champion had certainly put up a strong fight.
But his Toyota Hilux Dakar,
Was simply no match for the X-Raid Mini's might.
Stephane "Mr. Dakar" Peterhansel,
could manage no better than third place.
That battle for a record 14th Dakar title,
will have to be waged in next year's race.
Fernando Alonso's Dakar had some highs
- the F1 star managed to take second place in Stage 8.
There were lows too - like mechanical issues and a roll.
He ended the rally 13th overall, which while passable was not exactly great.
Special mention must be made of Mathieu Serradori,
in 32 years, the first amateur to beat the factory pros.
The Frenchman took a fine victory in Stage 8,
although repeating something so spectacular won't be easy we suppose.
We cannot move onto two wheels without saying this,
doing so would be simply quite absurd.
And so we ask you to join us in shouting,
"All hail King Carlos III!"
***
The Dakar 2020 was a historic event,
especially for a certain self-proclaimed desert rat
who became the very first American to ever win the rally,
and to him one must doff one's metaphoric hat.
The Dakar 2020's been long, Brabec's had to traverse many miles.
But that overall victory is so, so, sweet; no wonder he's all smiles
Ricky Brabec's a most talented rider,
but at the Dakar, lady luck hasn't favoured him.
On his debut in 2016 he finished ninth,
alas, since then things have looked quite grim.
He had two DNFs in '17 and '18,
and in 2019 that became three in a row.
He'd even led the rally for three days,
which made his Stage 8 exit a rather big blow.
Not one to be cowed down,
"I will win soon," was all that Brabec would say.
After moving into the lead on Stage 3 this year,
it seemed that the Dakar was finally going his way.
Ricky Brabec of the Monster Energy Honda Off-Road team en route his first Dakar win
A lead of over 16 minutes from Pablo Quintanilla,
was Brabec's when he crossed the finish line.
Considering he'd taken Honda's first win in 31 years,
his victory was particularly fine.
After 18 consecutive wins for KTM,
the 2020 rally proved to be somewhat bleak.
Sam Sunderland crashed out, Toby Price finished third,
Brabec had effectively ended their winning streak.
But it isn't possible to talk of the 2020 race,
without a very heavy heart,
because on the seventh stage of the rally,
a beloved member of the Dakar family did depart.
Paulo Goncalves was the epitome of grit, determination and courage.
He was also brave, and good and kind.
His passing was mourned by the entire Dakar community,
and our thoughts are with those whom he left behind.
***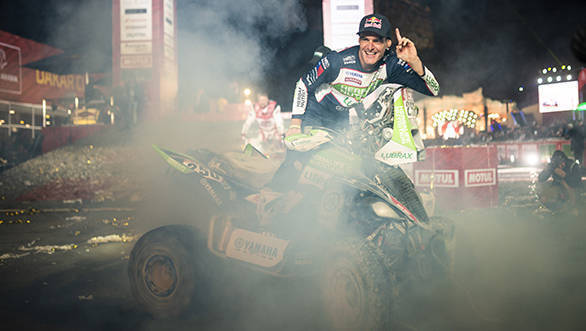 For Ignacio Casale it was clear – he needed to be a master tactician.
That, he said, was the only way he'd be assured of a third Dakar win
Now we move on to a prolific racer,
someone who first tackled the dunes in a truck.
Before then moving onto bikes and quads,
the latter being where he truly had some luck.
Ignacio Casale has tried it all in the Dakar,
he even contested last year's event in a side-by-side,
but winning a third title on a quad,
would truly be a matter of pride.
So it took very little convincing from Yamaha
to get "El Perro" back in their team.
And once they got him onto that Raptor 700,
he set about chasing that dream.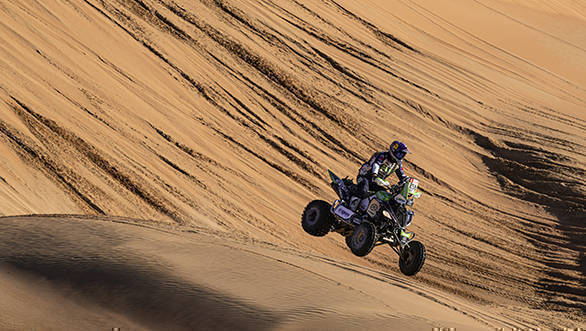 Ignacio Casale (CHL) races during stage 11 of Rally Dakar 2020 from Shubaytah to Haradh
Simon Vitse and Rafal Sonik,
rounded out the top three.
And try as they did to breath down Ignacio's neck,
it soon became apparent that he was home free.
Over the course of the entire event,
there were four stage victories for the Chilean.
And he stayed true to his word - he'd promised his fans
that a tactical approach was going to get him the win.
***
Having ended Dakar 2019 in P4,
Casey Currie was raring to go.
He wasn't in it to merely make it to the finish line,
it was victory that he wanted to score.
He'd done all the homework that he needed,
he'd trained with Brabec and Andrew Short,
and with co-driver Sean Berriman by his side,
he was sure he'd get exactly what he sought.
And so it was another American,
as things would come to pass,
who would emerge victorious at the Dakar,
this time in a Can-Am in the side-by-side class.
***
That the Dakar is incomplete without the rally trucks,
is a fact entirely true.
So onto bigger and better things we must move
- those behemoths in white and blue.
After all, what would the Dakar be without
those giant Kamazes leaping high into the air?
No, we can't even begin to imagine it,
we simply wouldn't dare.
For Andrey Karginov, winning in 2020 was absolutely vital.
It had been a long time since in 2014 he'd last taken home the title
Of Kamaz's history at the Dakar,
there is much that can be said.
With 17 wins at the event now,
the manufacturer's name fills rivals with dread.
Defending champion, Eduard Nikolaev,
is the driver who was most closely watched.
But with insurmountable technical issues on Stage 6,
his hopes of a fifth victory had been well and truly botched.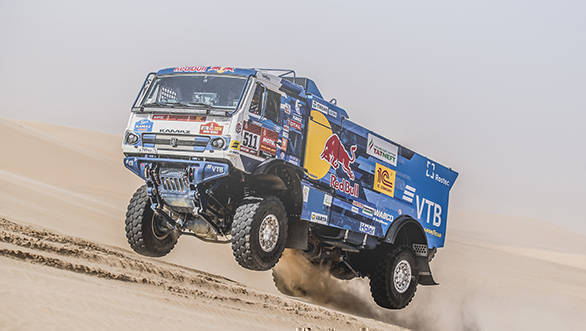 Andrey Karginov (RUS), of KAMAZ – Master races during stage 10 of Rally Dakar 2020 from Harad to Shubaytah
And so to Andrey Karginov,
fell the task of taking home the crown.
The Russian rose to the occasion, finishing first,
with his nearest rival 42 minutes further down.
That rival happened to be his teammate,
yes, Anton Shibalov ended the race in P2.
As for teammate Dmitri Sotnikov?
Fourth was the best he could do.
The pilot of a MAZ Sportauto truck -
Siarhei Viazovich took third place.
And with that last fact, we come to the end,
of what we want to tell you about this big race.
Now it's a well-deserved break for all the competitors,
a chance to relax and get a bit of rest.
They've got one full year to go before the desert calls out
and they're once again put to the ultimate test.
Price (Ex-Delhi)
Starts Rs 33.99 Lakhs