Dakar 2017 preview: What to expect, and who to look out for
For most international cross country rallyists, and even more motorsport enthusiasts around the world, the dawn of a new year means one thing – the next Dakar Rally. The Dakar needs no lengthy introduction. Cross country rallying is arguably one of the toughest forms of motorsport and the Dakar is the toughest cross country rally in the world. Period. From January 2, it's either 13 days of hell on earth or 13 of the most exhilarating days of your life, or both, depending on how you look at it.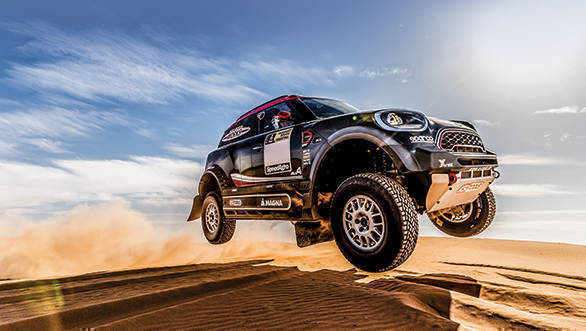 Teams from around the world, including India, have made their way to South America to prove to the world, and themselves, that they can take on the Dakar head first and come out on the other side, still in one piece. Because, the Dakar isn't just capable of breaking bones or machines, it's also capable of breaking the mind.
Now that we've set the stage, let's run you through what to expect at this year's Dakar Rally.
The route
The 39th Dakar Rally will begin at Asunción, the capital city of Paraguay. This is the first time that Paraguay will host the Dakar, and is the 29th country to do so since the rally's inception in 1979. Over the next two days, participants will present their vehicles for scrutiny before taking a start at Stage 1 on January 2.
The first half of the Dakar will take participants on a 4,000km run to La Paz in Bolivia over six days, as they make their way through technical tracks, trial-style sections, off-road sections and the high-altitude sand dunes of the Bolivian Altiplano. They get a day's break there on January 8, before continuing onward to the third and final country on the route – Argentina.
The second leg, which measures a little under 4,800km, will see competitors battling more dunes, crossing fords, and tackling off-road sections as they descend from the Altiplano. Stage 9 will be one of the longest and most challenging days, with almost 1,000km to cover. Of that, around 400km will be competitive. On January 14, what remaining participants are left in the competition will arrive at the finish in the capital city of Buenos Aires.
The contenders
Wearing bib No 1 will be the winner of last year's Bike category – Toby Price. He is the first Australian to win the Dakar, finishing around 40 minutes ahead of Stefan Svitko, who took second place last year. Price's team-mates from the Red Bull KTM factory team are Matthias Walkner and Sam Sunderland. Another team to keep an eye out for is the Honda HRC Rally Team which will run five Honda CRF450 Rallys, piloted by Joan Barreda Bort, Paulo Gonçalves, Michael Metge, Ricky Brabec and Kevin Benavides.
Toby Price, astride his KTM 450 Rally Replica in the 2016 Dakar Rally
Leading the Car category on Day 1 will be 12-time Dakar winner, Stephane Peterhansel and co-pilot Jean Paul Cottret in a Peugeot 3008 DKR. Also running the 2008 DKR16s will be Carlos Sainz and Cyril Despres, both former winners at the Dakar, and nine-time World Rally Champion, Sebastien Loeb. The Mini team will run new John Cooper Works Rally vehicles with drivers like Mikko Hirvonen, Bryan Menzies and Yazeed Al-Rahji behind the wheel. Nasser Al-Attiyah, who finished in second place last year, has made a move from Mini to Toyota Gazoo Racing to join Giniel De Villiers.
Stephane Peterhansel navigating the Peugeot 2008 DKR16 through a ford
Competing in the Quad category will be Yamaha Racing's three-time Quad Class winner, Marcos Patronelli and his brother Alessandro Patronelli, who has won twice at the event. But racing alongside them will be previous Dakar winners like Ignacio Casale, Rafale Sonik, Jeremías González Ferioli and Marcelo Medeiros.
Gerard de Rooy powering through the dunes in his Iveco PowerStar
We've saved the biggest and baddest for last – the Truck category. This year we'll see four trucks from the Petronas Team De Rooy Iveco outfit, piloted by Gerard de Rooy, Federico Villagra, Ton van Genugten and Wuf van Ginkel. With Gerard de Rooy winning last year in the Iveco PowerStar, Kamaz is determined to get back on top. They've come up with a new Kamaz Master, nicknamed the Kapotnik, which will be driven by two-time Dakar winner, Eduard Nikolaev.
The Indian contingent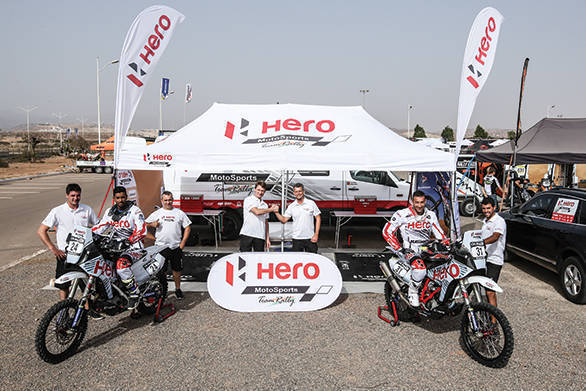 The Indian contingent heading to the Dakar this year is largest one yet. We've got two Indian outfits competing this year – Sherco TVS and Hero MotoSports Team Rally. Sherco TVS will run three bikes, one of which will be piloted by Dakar first-timer Aravind KP. Joining him on the other two bikes will be Dakar-veteran Joan Pedrero and Adrien Metge. Hero MotoSports Team Rally will run two bikes piloted by CS Santosh and Joaquim Rodrigues. This is CS Santosh's third time at the Dakar, while Rodrigues will be making his debut.
We'll be giving you daily updates on the 2017 Dakar Rally, so keep an eye on our website.
Price (Ex-Delhi)
Starts Rs 1,02,700