Dakar 2016: Spirits in the sand
Getting lost in a desert is terrifying enough. Having to then be rescued under dire circumstances will keep almost anybody far away from the very sight of sand for the rest of their lives. Not Thierry Sabine. After he got lost in the Libyan Desert in 1977 during the Abidjan-Nice Rally, the only emotion it inspired in him was sheer thrill, not fear. Eager to share this with the world, or at least with those that felt similarly about getting lost, he founded the Dakar Rally two years later. 30 years after Sabine's fatal helicopter crash in the desert, Rally director Etienne Lavigne continues to drive the Dakar with the same spirit despite the change in continents.
Stephane Peterhansel making his way through Stage 10
The top dogs
Stephane Peterhansel stole the spotlight this year with his 12th Dakar win since 1991, giving Peugeot its first one since 1990. Through the first half of the rally, his teammate Sebastien Loeb seemed to be crushing the competition, but he knew that once the WRC stages ended, Peterhansel's skill and experience would take over. Sure enough, through Stages 6 and 7, Loeb and he were in a close fight, until at Stage 8, where Loeb crashed, just 20km before the finish. Although he managed to get back on the road for the next stage, he had lost too much time. Nasser Al-Attiyah, the 2015 champion, put up a good fight, and finished just 35 minutes behind Peterhansel.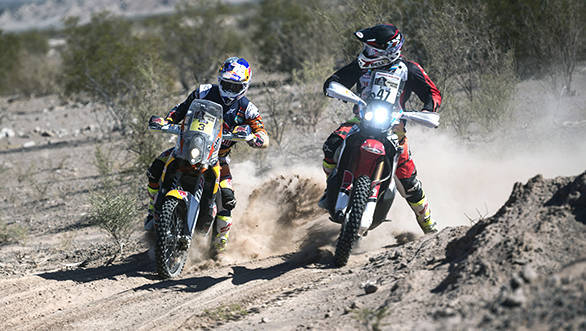 Toby Price (3) races with Kevin Benavides (47) in Stage 11 from La Rioja to San Juan, Argentina on January 14, 2016
In the bike category, Toby Price astride his KTM 450 had some trouble in the first couple of stages, but managed to get into his rhythm by Stage 5 and was consistently up on top until the end. Marcos Patronelli took his third Dakar win in the quad category, just five minutes ahead of his brother Alejandro Patronelli. Meanwhile, in one of the largest vehicles in the Dakar, Gerard De Rooy took the title in his Powerstar Iveco.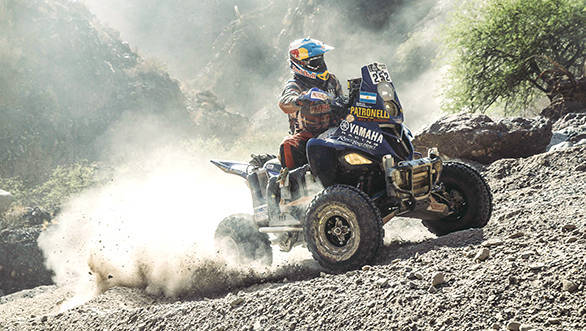 Marcos Patronelli from Yamaha Racing in Stage 8
After a successful finish in his maiden Dakar run last year, CS Santosh came back this year with the intention of finishing at a respectable position. He made his move to Suzuki, and headed out into the vast expanse of the unknown. Although he was steadily making his way up the leaderboard, disaster struck in Stage 4 when the navigation tower on his motorcycle broke. With the electricals malfunctioning, he was left with no choice but to retire. But such is the nature of the Dakar – volatile and unpredictable
Jumping the fence
This year Marc Coma, the five-time Dakar winner, didn't arrive at scrutiny as a participant, but instead as Dakar's new sporting director. After he won the title last year on his KTM 450, Coma announced his retirement from the sport. He's someone who's in love with this event. "He speaks of it well, he defends it well and he has many new ideas. When a young organiser like myself meets an older biker like him to talk about the future, it promises great things," said Lavigne.
Marc Coma, when he was still competing in 2014
One of Coma's first tasks as sporting director was to design the route. "For me, the main difference is that I'm used to going fast on these tracks. This time it's different – we look at the dangers and we try and see where there can be race incidents," says Coma on his new appointment. According to him, you can't just take the sporting aspect into consideration. There's a lot more planning involved with respect to the logistics, medical teams and government permissions. For Coma, it's most important to "keep the spirit of navigation" going throughout the rally.
"It's a little bit physical, but that's the Dakar spirit," Lavigne told him with a pat on the back.
Trading horses
From WRC to Dakar
Quite a few WRC greats like Colin McRae and Ari Vatanen have tried their luck at the Dakar, but of them, Carlos Sainz has been the most successful with his 2010 win. This year, there were four WRC drivers behind the wheel – Loeb, Mikko Hirvonen, Martin Prokop and Sainz.
Carlos Sainz during stage 10 from Belen to La Rioja, Argentina on January 13, 2016
"We're not in the edge as often as the [as we are in the] WRC. But it's very demanding on concentration. You need to look far ahead to see if the turns are opening or closing… it's just not easy," says Loeb on how different the two sports are.
"I have everything to learn in the discipline," he adds, "and I'm very, very lucky to have the best drivers around me to discover the new category."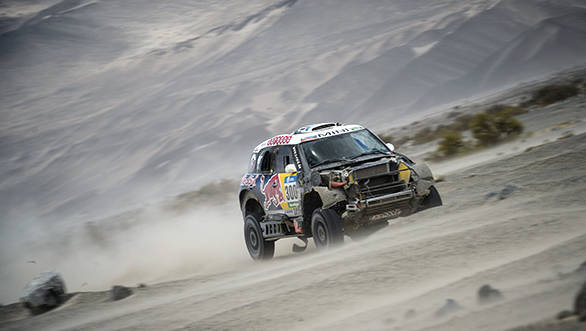 Nasser Al-Attiyah making good progress even with half his car missing
"Drive slowly, to start with," was Peterhansel's advice to the WRC champion. According to him, the WRC drivers that raced in rally-raid just wanted to drive fast. "A danger can hit you so very quickly in the desert, and that's what will surprise them the most," he added.
From enduro to Dakar
"In a day of enduro racing, a lot can happen. But in a rally-raid, it could be far worse," said Antoine Meo, a four-time enduro world champion. In terms of their skills, the enduro riders are capable of riding anything, because they're used to all kinds of terrain. What they aren't used to, however, is the dust from the rider ahead of them. And of course, navigating through the barren landscape. Oh yes, they are able to go fast in the Dakar, but to win a stage, they require enough experience to deal with all the surprises the course throws up at them. According to Meo, "If you can't navigate, you can't ride fast and if you don't have the right reflexes, it's even harder."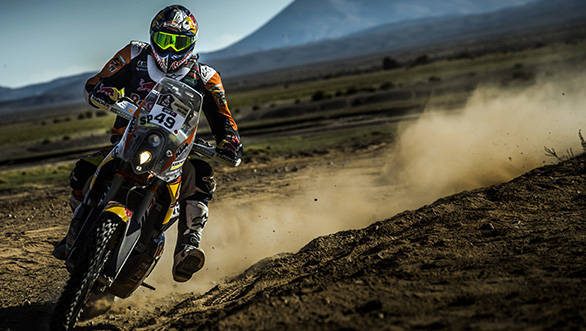 Antoine Meo, four-time enduro world champion, on his KTM 450
Finding new love
A lot of drivers who have gained a lot of experience in other breeds of racing, finally bring it all to the Dakar Rally. Jan Lammers for example, a man with titles in Formula 3, Formula 1 and the 24 hours of Le Mans, has been driving in the truck class for the past seven years, and this time he piloted a X2222 SP Ginaf. "In the Dakar, you never know what's going to be there after that hill or corner. So, on one hand, you have to be prepared for everything, on the other hand, you cannot be prepared for anything, because the silliest situations and a split-second decision can be a [cause of] big damage for yourself and others. But because it's so difficult, it's exciting," says Lammers on why he made his move to the Dakar.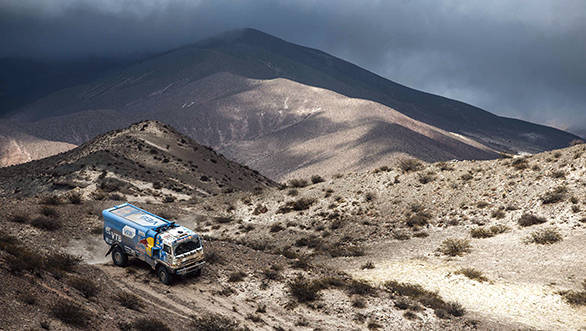 Eduard Nikolaev from Team Kamaz Master on Stage 10
Loeb would be another example of a driver who has fallen in love with the Dakar, and will tell you that winning one stage in the Dakar feels like a greater achievement than winning a championship at the WRC. "I think I've received as many texts for a stage victory here [at the Dakar], as when we went and won a championship there [at the WRC]."
A series of unfortunate events
Sherco TVS' Alain Duclos was in consistent contention for a place in the top 10 of the motorcycle category until a most unfortunate crash in Stage 12. Strangely enough, the most unfortunate past wasn't the crash itself. By the time he fixed up his motorcycle and got ready to hit the road, someone had stolen his helmet. According to the rally's regulations, a rider cannot ride without a helmet, for obvious safety reasons. To add to the lost time waiting for a spare, he was awarded a six-hour penalty, which shot down any hope of finishing on top. He finished 23rd in Stage 13, which landed him at 42nd overall.
Joan Pedrero, the second rider from TVS Sherco, who was in the top 20 for most of the race, retired in Stage 10 when he sustained head injuries in a crash. Florent Vayssade, finished the Dakar in 27th place as Sherco TVS' leading rider, 8:17.18s behind Price.
The journey ahead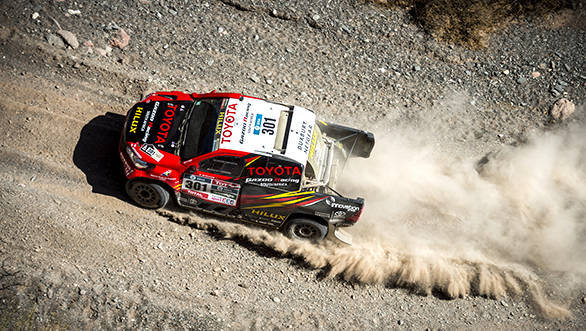 Giniel De Villiers of Toyota Gazoo Racing South Africa on Stage 8
The 2016 Dakar, like every other year, has seen a few rise to glory and a several others bite the metaphorical (and literal) dust. Like CS Santosh, they simply wash the sand off their faces, hit the ignition switch and begin their journey to the 2017 Dakar Rally.
Price (Ex-Delhi)
Starts Rs 1,02,700