Crashed: Dainese D-Explorer Gore-Tex pants product review
I bought these pants in September 2016 and today, about seven months later, they're toast. And I wish them a fond adieu with more than a small amount of gratitude. If you read my column from the May 2017 issue, you would know that I managed to come off my Ducati, trapping my left leg in the process on April Fools' Day.  I suffered a severely sprained outer ligament (LCL, to be precise), extensive soft tissue injuries from above the knee to the middle-of my foot and as I write this, I've only begun to walk normally a full 28 days after the fact.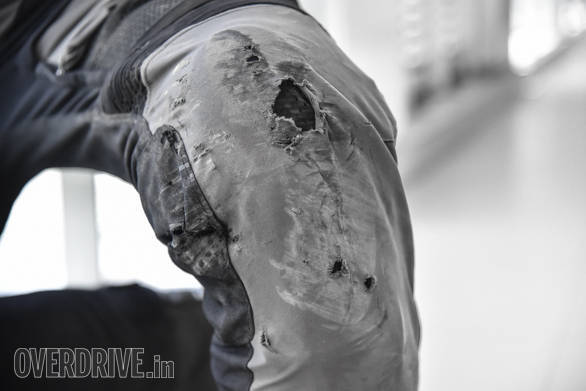 But here's the kicker. My doctor, who runs the orthopaedics department in one of Mumbai's larger public hospitals says, "You're very lucky. Trapped lower limbs usually mean a compound break in the tibia and/or fibula. This usually arrives with a bone sticking out." Cue surgery, plates and possible infections.  But in my case, he then saw the damage to the Daineses and noted that he would add, "A full knee rebuild and maybe some ankle work as well."
The basic job of motorcycle gear is to protect you from impact and abrasion. The tears on the pant suggest that very severe abrasion was kept at bay from my skin and I didn't actually have any open wounds. The armour over the knee has scuffs inside that suggest my shin was saved from impacts as well. And we know for sure that the knee was, as well. All told, I'm about ready to spend another Rs 35,000 buying a replacement pair. Because these have just proved to be wonderful in every way. If you read my previous review, they met my expectations for fit, finish, materials as well as the functional needs of riding in the warm, cold and wet conditions. What was left was crash performance. Well, I am happy to say that this crash test dummy gives the Dainese D-Explorer Gore-Tex pants a full thumbs up.
The more important lesson, perhaps, is to spend money on good gear. And then, to wear it whenever you ride a motorcycle.
Dainese D-Explorer Gore-Tex pants
Rs 35,000, Dainese D-Store San-Francisco