Counter to COVID19: Camper Van Tourism
COVID-19 has unleashed "Corona Confinement" on us. Never before have we been locked in our homes like this and now many of us have a massive desire to get away and break free. But where do you go and how? Social distancing is not possible in planes, trains, buses or hotels. The solution could be "Camper Van Tourism" where you can drive out into the wilderness and stay in your own private "Home on Wheels". As Overdrive feels the popularity of such vacations is likely to increase, we shall be carrying a series of stories on this concept of road trips and driving holidays.
Customised Force Motors Travellers are offered by MPT as Deluxe Caravans
MPT or Madhya Pradesh Tourism is one of the pioneers of "Camper Van Tourism" in India, having introduced their first "Caravan" way back in 2010. Over the years MPT has helped popularize the "Caravan Holidays" concept. In fact during the Narmada Yatra in 2016-17, four MPT Caravans were booked by various government authorities.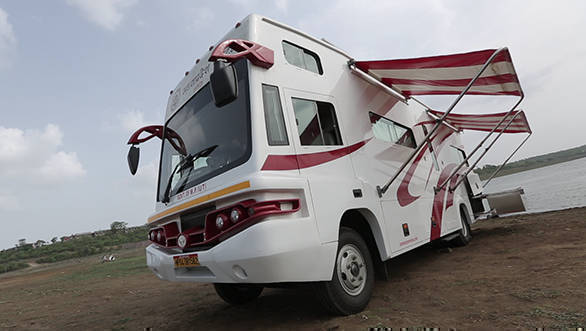 MPT's Luxury Caravans are built on an Eicher truck chassis
Now with COVID having completely disrupted our lives, MPT will be aggressively promoting "Socially Distanced Holidays" in its "Caravans". They have two types - "Luxury Caravans" and "Deluxe Caravans". The luxury caravan is based and built on an Eicher truck chassis. Its capacity is 8 adult passengers and it has a studio apartment style bedroom with a/c, 8 convertible sofa cum beds, spacious toilet and washroom, 2 LCD TV's, a home theatre, microwave oven and also refrigerator. A small safe is available to keep your valuables and this "Luxury Caravan" has Wi-Fi connectivity too. In a concealed compartment on the outside, is a hydraulically operated kitchen stove and gas with a sink, which only comes out when the vehicle is stationary. This outdoor kitchen can also be covered with a canopy and the "Luxury Caravan" carries some camping gear too. Solar panels placed on the roof assist in charging the onboard batteries that provide electricity for the various electrical implements.
These 'Homes on Wheels' are very well equipped and offer many comforts and luxuries
This room on wheels also allows you to choose your view
For the "Deluxe Caravans" MPT are using heavily modified and customized Force Motors Travellers that have a carrying capacity of 2 adults and 2 children. This "Deluxe Caravan" is equipped with a small Studio Apartment style bedroom, sofa cum beds, LCD TV and home theatre, microwave oven, refrigerator and Wi-Fi connectivity is also available.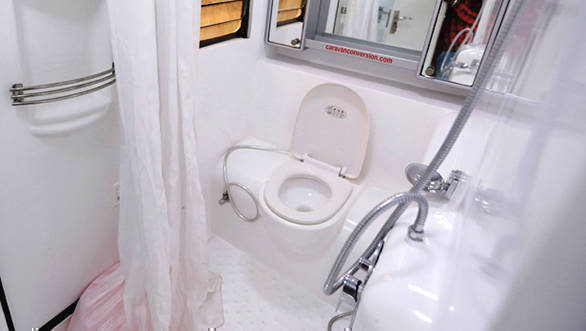 They have a spacious washroom too
And a LCD TV with home theatre
All MPSTDC (Madhya Pradesh State Tourism Development Corporation) properties allow parking of these caravans and the guests travelling in them can use their catering facilities. Many of them also have caravan bays where these "Home on Wheels" can be washed, sanitized and the batteries charged too. Of course, the guests have the freedom to choose other parking locations for overnight halts, but obviously on any private property, it can only be done with the permission of the respective owners.
Hot meals can be cooked on the outdoor kitchen
All MPT Caravans come with a driver and helper and they stay with the vehicle at all times. While they occupy the front cabin, the passengers travel in comfort in their own private bubbled space at the back. MPT also helps plan the route and destinations, to properly experience the heart of India. For more details click here
Going for holidays in your own private "Home on Wheels" may just become the new normal for many who want to travel, but also want to maintain social distancing and not stay in public places. Interestingly, since more people are now working from home, several are also warming up to the concept of being on the road and working from a "Home on Wheels". Makes one wonder if "COVID Camper Vans" are going to be the next big thing.
Also read,
Film Star Vanity Vans Useful For Mumbai Police
Counter to COVID19: Camper Van Tourism
Counter to COVID-19: Luxury Camper Van Tourism
Counter to COVID-19: Offbeat Camper Van Tourism
Counter to COVID: Self-Drive SUV Camper Tourism
Counter to COVID-19 – Camper trailer tourism
Counter to COVID-19: Club-on-wheels: the Party Bus
Counter to COVID-19: Colourful caravan tourism
Counter to COVID-19: Pop-top camper van
Counter to COVID - Pop Up Roof Ford Endeavour SUV Camper
Price (Ex-Delhi)
Starts Rs 32.75 Lakhs