Counter to COVID - Pop Up Roof Ford Endeavour SUV Camper
COVID-19 has imposed social distancing on us, but this is not possible in planes, trains, buses or hotels. The solution for those wanting to travel can be "Camper Van Tourism" and as Overdrive feels the popularity of such "Vacations on Wheels" is likely to increase, we are doing a series of stories on this concept of road trips and driving holidays.
Earlier in this series, we featured a "Self-Drive SUV Camper" in which one can head out for a "Vacation on Wheels" and sleep in a tent on the roof. Now we bring you an old, first generation Ford Endeavour SUV, which has undergone major modifications and among other things been fitted with a pop up top or fold out roof that offers a pleasant upper sleeping space.
This first generation Ford Endeavour has been nicely modified into a 'Pop Up Roof SUV Camper'.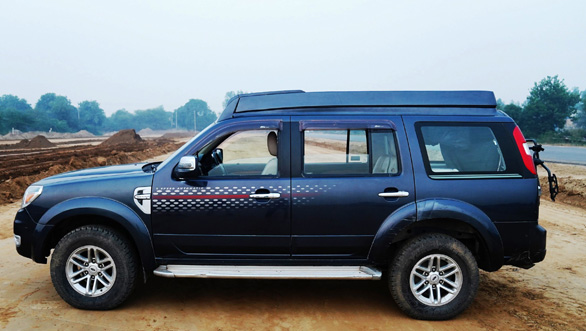 With the elevated roof folded down, this Ford Endeavour Camper returns to being a regular SUV.
In this custom built Ford Endeavour you drive to your destination with the roof down, and when you get there you can raise the roof and access a platform with a comfortable mattress where two can sleep. This upper sleeping berth is accessible only from inside the SUV and a foldable compact ladder has been provided to climb into it.  Below this elevated sleeping area is a flatbed, where one more person can sleep.
There is a supplementary battery in the boot for additional electrical power while camping.
This Ford Endeavour based pop top camper SUV was made to order for a client by Motorhome Adventures, a Delhi based company, which was established back in 1998 to provide turn-key solutions (rental to fabrication) for Motorhomes and Caravans. The client wanted a SUV with off-road ability tailor made for a family of three to go out touring, without fretting about hotel reservations, overnight halting points, etc.
View of the upper sleeping berth folded down. The windows have large roller blinds for privacy.
To cater for any additional electricity requirements while camping, there is a secondary battery, which is charged by the solar panels built into the elevating roof.  This Ford Endeavour Camper also has an in built concealed safe or vault.
This custom built Ford Endeavour has only 3 seats and the rest of the open space has been used to create storage and a flatbed that can sleep one.
One of the unique features of this pop up roof SUV Camper is that it has a portable toilet and also a foldable toilet shelter for privacy , which can be setup at the rear. A custom fabricated 100 litre water tank is fitted under the floor and the extended shower has hot water too!  Interestingly, the water is not heated by an electric geyser as one would expect. Instead it has a heat exchanger that helps converts the engine's heat into warm water for the shower.
A portable toilet and folding toilet shelter are stored in the back.
In this pop up roof Ford Endeavour SUV Camper, the exhaust heat is used to warm the water in the storage tank under the vehicle. The heat exchanger is mounted in the engine compartment and the plumbing is such, that it heats the water in the storage tank. So if you have parked overnight and want hot water for your morning shower, all you need to do is, switch the engine on and bring it to normal running temperature.
The folding toilet shelter provides privacy and can be put up at the rear.
A heat exchanger is basically a system employed to transfer heat and can be used in both cooling and heating processes. The best example of the cooling process is the engine radiator that is utilized to regulate the operating temperature of an internal combustion engine. There is a continuous flow of coolant from the engine into a radiator, where it gets cooled by the engine fan and flow of air over the radiator surface.
A heat exchanger fitted in the engine compartment uses the exhaust heat to warm water in the storage tank for a 'hot shower'.
While "Pop Top Campers" are still very rare in India, they are popular in the US and other parts of the western world. So it is nice to see someone in our country converting a SUV like the Ford Endeavour into one. The advantage of a pop top camper SUV is that it can be used as your daily vehicle and when you have the desire to drive out and go camping, you simply get in and go.
The elevated roof has embedded solar panels that charge the auxiliary battery, which provides additional power while camping.
Also read:
Film Star Vanity Vans Useful For Mumbai Police
Counter to COVID19: Camper Van Tourism
Counter to COVID-19: Luxury Camper Van Tourism
Counter to COVID-19: Offbeat Camper Van Tourism
Counter to COVID: Self-Drive SUV Camper Tourism
Counter to COVID-19 – Camper trailer tourism
Counter to COVID-19: Club-on-wheels: the Party Bus
Counter to COVID-19: Colourful caravan tourism
Counter to COVID-19: Pop-top camper van
Price (Ex-Delhi)
Starts Rs 32.75 Lakhs