Counter to COVID-19: Office on Wheels
COVID-19 has completely disrupted our normal way of living and given rise to several new terms and practices like social or physical distancing, work from home and so on. In fact work from home or WFH is the new normal now, but many of us are weary and tired of it. We want to move out and not just be restricted to our homes, and the answer could be the "Office on Wheels" featured here.
This is a well-designed and custom built office on wheels.
This "Office on Wheels" is a creation of Pinnacle Speciality Vehicles, who custom build and make special purpose vehicles for commercial and personal use. Pinnacle Speciality Vehicles is the vehicle conversion unit of Pinnacle Industries Limited group setup in 1996. They are India's largest manufacturer of seating solutions for buses, and claim that 7 out of 10 vans and buses in India have their products.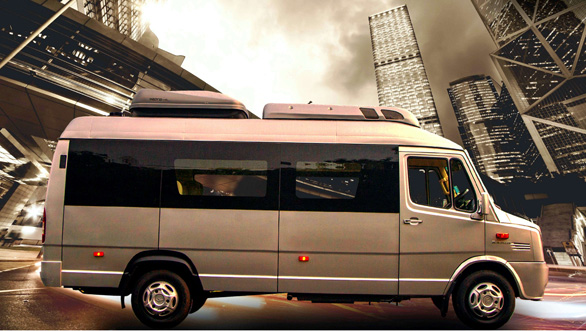 Instead of working from home, you can now work and travel in your own mobile office.
The wide and comfortable captain seats recline and also have a built-in footrest.
The wide and comfortable captain seats recline and also have a built-in footrest.With their "Office on Wheels" Pinnacle Speciality Vehicles hopes to redefine how India goes to work. According to them, the "Office on Wheels" is a customized business van for businessmen, executives and professionals on the go and is ideal for business meetings and intercity commutes in your very own "Mobile Office". Their designers can also build an "Office on Wheels" to your specifications with seating options most appropriate for working as well as relaxing while on the road. With the "Mobile Office" you can work on the go, work in traffic, work alone, work with a team, and also work in a style suitable to you.
There is a proper storage space to hang your business suits.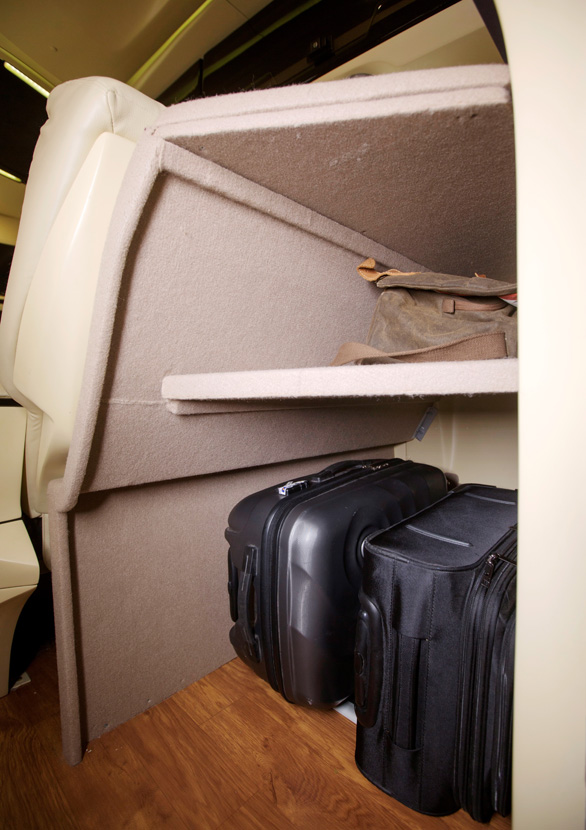 This office on wheels also has a special space for your suitcases.
In this "Office on Wheels" based on a Force Motors Traveller, air suspension is optional and you get luxurious reclining executive seats, lounge sofas and also a convertible bed. The van is apparently designed as a noise cancelling space that blocks outside noise and creates a peaceful environment. It is equipped with foldable tables and a video and audio conference system integrated with a Smart TV that allows you to connect with your team members or clients. With this smart AV system, one can make presentations in the "Office on Wheels", or work on a bigger screen by wirelessly connecting it to a laptop.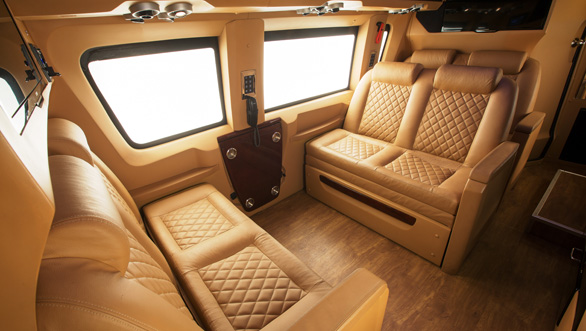 With the table folded down, you have a mini living room with lounge style sofas that also convert into a double bed.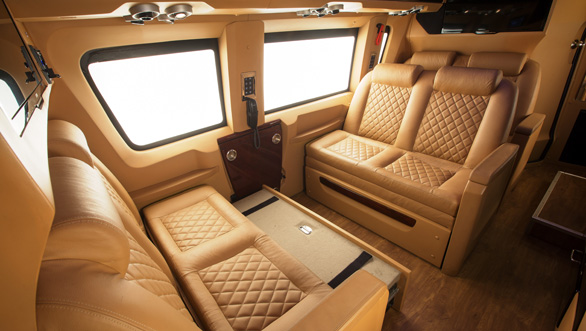 The sofa cum bed is well designed and easy to operate.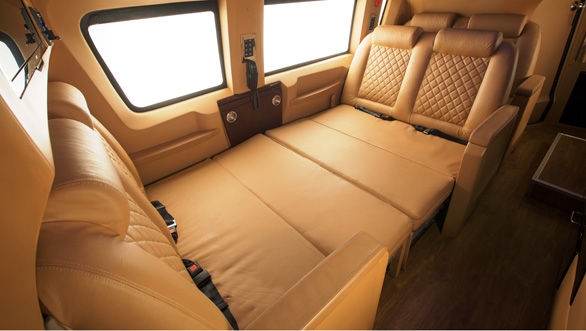 The living space easily transforms into a sleeping space.
The "Mobile Office" comes with multiple device charging power ports (12 V and 220 V) and when parked it can be connected to an external power outlet, to operate things like the A/C, TV, fridge, A/V system, etc. When you want to take a break from work, you can fold down the desk, recline your seat, and relax and watch your favourite show or film.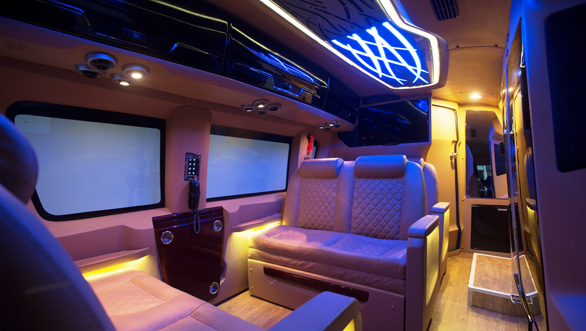 The configurable lighting allows you to create a work or party type ambience.
The "Office on Wheels" has a mini café with pantry that comes with a built-in refrigerator, oven, and electric kettle and so on. There is an on-board washroom that can also be fitted with a shower if you so desire. The ambient lighting has been designed to create a good work environment and as it is configurable, you can create your own desired ambience.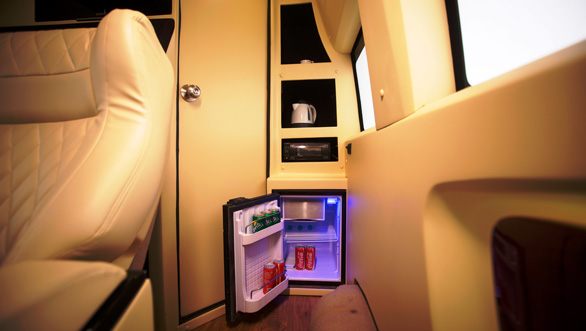 The on board cafe's pantry has a fridge, oven, electric kettle also some crockery and cutlery.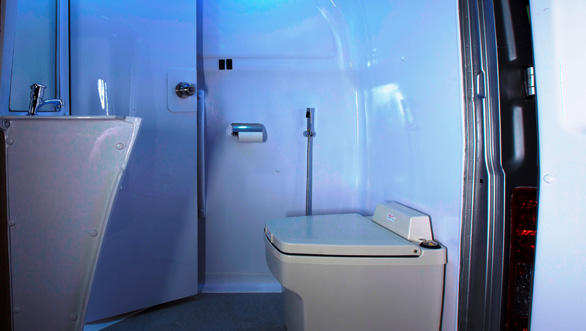 There is a full-fledged on board toilet that can be equipped with a shower if required.
To distinguish the exterior, Pinnacle Speciality Vehicles offers various body kits including roof cladding with luggage carrier, side cladding, upgraded bumper lip, grille, etc. They can also custom paint it as per your preferences and depending on the customization options you choose, the cost ranges from 7 to 15 lakh rupees, excluding the price of the base vehicle.
Several different body kits and custom paint are available to distinguish the exterior.
Also Read:
Counter to COVID19: Camper Van Tourism
Counter to COVID-19: Luxury Camper Van Tourism
Counter to COVID-19: Offbeat Camper Van Tourism
Counter to COVID: Self-Drive SUV Camper Tourism
Counter to COVID-19: Camper trailer tourism
Counter to COVID-19: Club-on-wheels: the Party Bus
Counter to COVID-19: Colourful caravan tourism
Counter to COVID-19: Pop-top camper van
Counter to COVID: Pop Up Roof Ford Endeavour SUV Camper
Counter to COVID – MTDC flags-off its motorhome and campervan
Price (Ex-Delhi)
Starts Rs 32.75 Lakhs