Counter to COVID - A Stylish and Luxurious Expandable Motorhome
In this ongoing series on "Holidays on Wheels", we have featured luxury camper vans, off-beat camper vans, motorhomes, self-drive SUV campers, caravans, towed camper, travel trailer or camper trailer, pop-top camper van and SUV, party bus or nightclub on wheels, colourful campers, office on wheels and various other kinds of RVs (Recreational Vehicles). What is different about this one is that along with being stylish and luxurious, it's cleverly innovative too.
This snazzy motorhome is based on a Force Motors Traveller Royale.
This "Expandable Motorhome" named Finetza, is a creation of Pinnacle Specialty Vehicles, who custom build and make special purpose vehicles for commercial and personal use. Finetza's biggest distinguishing feature is its expandable cabin. Based on a Force Traveller Royale, the overall length is 6857 mm. But when the cabin at the rear is opened and expanded, the length becomes 8447mm, a substantial increase of 1590 mm.
The overall length with the expandable rear panel closed is 6857 mm.
When the cabin is opened, it becomes 8447 mm, an increase of 1590 mm.
When closed you have a cabin with a sofa. When it is expanded, this rear cabin converts into a full-size bedroom! The entire operation of expanding and creating additional space is motorized and the movement is on precision linear bearings. There is a built in electric sunroof and sensors are fitted into the rear tailgate to prevent any mishap while expanding the cabin. This expandable feature must only be used when the motorhome is parked and can be operated via a switch or even android app on a tablet or mobile.
The expandable area converts from a cabin with a sofa into a full-size bedroom.
Finetza is based on a special version of the Traveller Royale that was ordered from Force Motors with sliding doors and air-suspension. Pinnacle Specialty Vehicles (PSV) say, "Finetza is India's first and best-in-class expandable motorhome. From washrooms to a comfortable bed on which you can call it a day, Finetza has it all and is quite literally your home on the road. Making use of the interior space to the maximum, it boasts of an ergonomically designed lounge with novel styling. It is equipped with a lavish lounge with recliners, motorized convertible bed, full pantry with refrigerator, microwave oven, hot plate, gourmet coffee machine, an on-board washroom with sink, and an electromagnetic pump operated WC. This behemoth of a machine is not just any luxury vehicle, but an opulent home on wheels which takes luxury caravanning to a whole new level".
The stylish interiors are tastefully done with high quality materials and good fit and finish.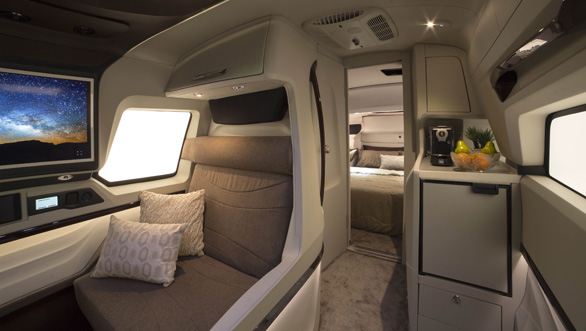 The lounge area has luxurious recliner type armchairs.
PSV further adds, "Finetza also has adjustable ambient lighting and smart infotainment unit with curved LED TV and music system to ensure that the travellers do not miss out on the entertainment quotient. The interior is elegantly replete with the finest upholstery decked out in the combinations of contrasting satin-white, warm beige and coffee brown. This luxurious motorhome can be seamlessly converted into an office, guest house, entertainment place or a home away from home. Expansion of the motorhome, lighting, and seats can be controlled by a tablet or mobile devices. With multiple charging ports for all types of devices, it also features 220 V external power connections to operate everything from A/C and lights to power ports, and A/V system when parked.
There is onboard sleeping space for two to six persons.
There is a slick partition panel between the lounge area and expandable cabin at the rear.
According to PSV, the Finetza also has a noise cancelling cabin, wardrobe and storage space, sleeping for two to six persons and other useful features like exterior awning, powered footstep and ORVMs (outside rearview mirrors) with cameras. They have also completely restyled and redone the exterior. Almost every panel has been reshaped and the Finetza has prominently flared wheel arches, an attention grabbing grille and headlights and smart aerodynamically shaped cladding around the windscreen, roof and even front side windows. The street presence and eyeball generating ability of this "Expandable Motorhome" is immense and it's pleasing to the eye to say the least.
The sliding door and powered disappearing footstep make for easy ingress and egress.
There is a good balance between strength and sleekness, but the two things I am not quite so impressed by are the wheel covers and side body kit. The wheel covers stick out way too much and look somewhat gaudy and the side body kit reduces ground clearance. Actually even the front and rear bumpers are much lower than I would have preferred and on any long journey the lower half of Finetza, is likely to scrape the road surface and pick-up dents and scratches.
The wheel covers stick out way too much and the body mods have reduced the ground clearance.
Apart from these few practical issues of the styling, the Finetza is surely a very impressive machine. The interior design, materials, colour combinations and overall look and ambience are top-class and the designers deserve to be complimented for generating additional space via the inventive "Expandable Cabin". In case you are interested, Pinnacle Specialty Vehicles will make you an expandable motorhome like Finetza, at a cost upwards of Rs 50 lakhs. But the price is subject to specific customer requirements and kind of features wanted in the vehicle.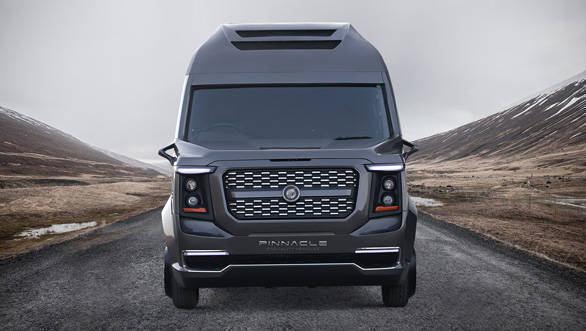 It has arresting street presence and swanky styling.
Also Read:
Counter to COVID-19: Office on Wheels
Counter to COVID19: Camper Van Tourism
Counter to COVID-19: Luxury Camper Van Tourism
Counter to COVID-19: Offbeat Camper Van Tourism
Counter to COVID: Self-Drive SUV Camper Tourism
Counter to COVID-19: Camper trailer tourism
Counter to COVID-19: Club-on-wheels: the Party Bus
Counter to COVID-19: Colourful caravan tourism
Counter to COVID-19: Pop-top camper van
Counter to COVID: Pop Up Roof Ford Endeavour SUV Camper
Counter to COVID – MTDC flags-off its motorhome and campervan
Price (Ex-Delhi)
Starts Rs 32.75 Lakhs