Classic Track Day with a 1967 Ford Mustang
We recently celebrated a "Classic Car Track Day" at the Madras Motor Race Track (MMRT) near Sriperumbudur, with Chennai based car collector Ranjit Pratap. Ranjit very kindly brought five fabulous cars from his vast car collection to the 3.71 kms long MMRT race track, and generously allowed me to put in a few spirited laps. Let me share what it was like to tackle the twelve turns in his very fine 1967 Ford Mustang Hardtop.
The Ford Mustang is the hero of the "Muscle Car Era"
I have always been a muscle car man, and a worshipper of the Ford Mustang. So driving it on the Madras Motor Race Track was like a dream come true. The moment I fired up the legendary big-block Ford V8 engine, the magic began. One of the world's best orchestras conducted by the 90-degree crankshaft produced that inimitable burble, which is the signature sound of these V8s. It's a sound that mesmerizes and in no time it had cast its spell on me.
Driving it on the Madras Motor Race Track was like a dream come true
Every push of the pedal, even a gentle one, resulted in the Mustang's V8 responding eagerly and on the racetracks 3 straights, it pleasantly purred along. That V8 burble is something I can listen to forever and it's easily one of the most calming and stress busting man-made sounds on our planet.
It's massive V8 engine sings like a star
While most early Mustangs are iconic, this one is particularly special because in 1967 Ford gave it a major revamp.  It was redesigned to take on its newer competitors and the biggest change was that Ford increased this "Pony Cars" exterior size to enable fitment of the more powerful V8. Along with the power, came better suspension to handle the higher speeds and a more muscular body.
The large thin rimmed steering also feels delightful
The V8 on Ranjit's well-kept Mustang is mated to a 3-speed automatic transmission and makes 200 bhp @ 4400 RPM and 382 Nm @ 2400 RPM. It can get from 0 to 100 in 8.3 seconds and reach a top speed of 192 kph, impressive even by today's standards. What the figures don't tell is the driving experience.  The Mustang accelerates with more vigour than many modern cars and the accompanying soundtrack, is well simply stupefying.
Ranjit's 1967 Mustang is in in great shape and runs very well too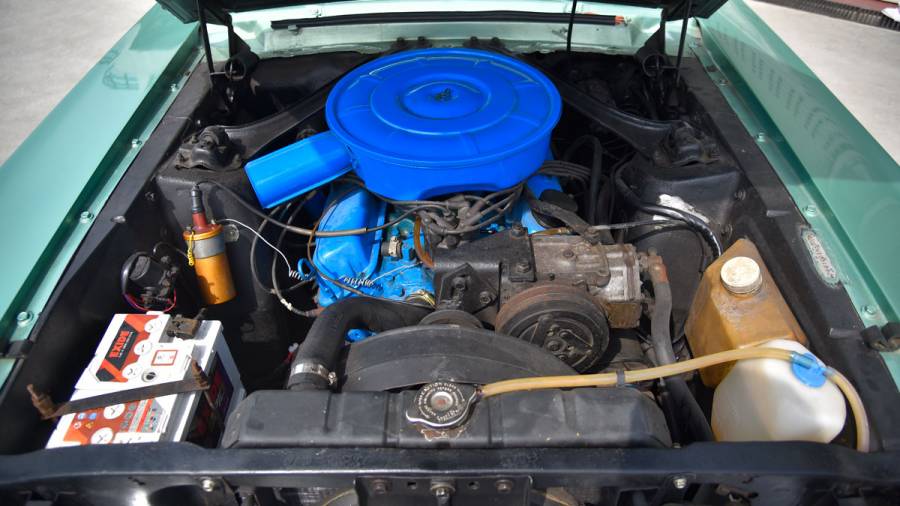 That V8 houses some strong and energetic American mustangs
The large thin rimmed steering is a pleasure to hold and when I shifted the now classic T Handle Shifter into drive; I could actually get a sense of messages being passed and the gear being engaged automatically. As one gets going the revs build eagerly with the massive low end torque providing constant power. In fact the power is delivered so seamlessly, and the engine breathes so well, that I never once felt the urge to put pedal to the metal. My laps around the circuit were all about clever and optimum use of the throttle and steering smoothly through the pleasing curves.
One felt honoured to touch and use this iconic T Handle Shifter
The memories of driving this Mustang will stay forever
Actually, the solidly engineered American mustangs under the bonnet are so gracefully energetic, that you rather have them canter than gallop. And the handling is unlike what many make you believe. The 1967 Mustang is not just good in the straight-line, it can corner decently too. While it does understeer due to all that weight up front, it does not wag its tail or fishtail like some Hollywood films would have you believe. Of course oversteer can be provoked by flooring the pedal and flicking the steering. What's more important though, is that this Mustang makes one want to applaud and celebrate the "Muscle Car Era". No, they don't make them like this anymore.
Photography Anis Shaikh
Price (Ex-Delhi)
Starts Rs 74.62 Lakhs