Classic Car Track Day
A track day is an occasion when you push a car beyond what's permitted or supportable, on public roads. It's a day of driving on a racetrack and it's normally done only in extremely high performance cars. Not being habituated to doing normal things, instead we recently celebrated a "Classic Car Track Day in Chennai".
Classic Car Track Day with Ranjit Pratap's – Fabulous Five
Yes, we took five classic cars to the 3.71 kms long MMRT (Madras Motor Race Track) and spiritedly tackled the twelve turns in some very fine old beauties. And while doing this I realized that, "It's much more fun going fast in a slow car, than driving slow in a fast car".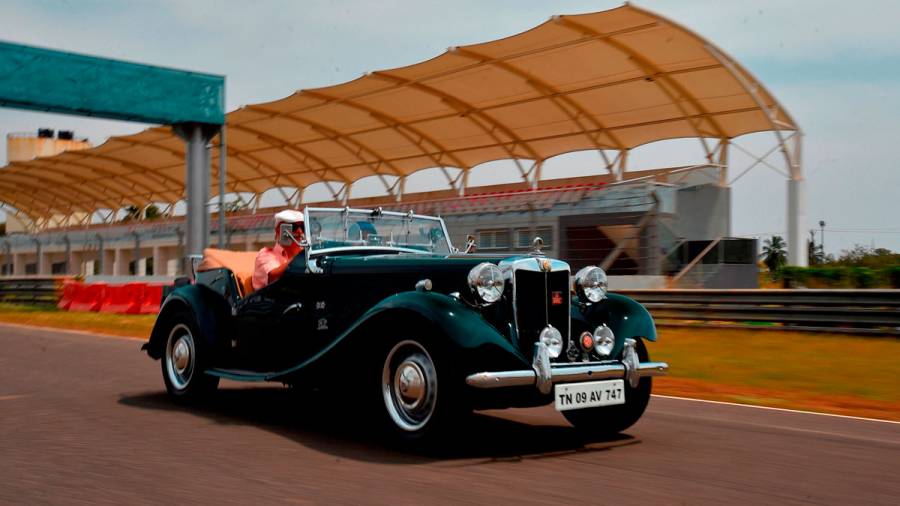 It was great fun to drive cars like this 1952 MG-TD, on the Madras Motor Race Track
But none of this would have been possible without the wholehearted support of Chennai based car collector Ranjit Pratap, who brought five fantastic cars from his sizeable collection to the track.
One car was from the 1950's, two from 60s and two from 70s
On a hot and sunny day, Ranjit very kindly let me put in some speedy laps and while sitting comfortably beside me, he spoke enthusiastically about his cars and also their restoration, which is done by his own team.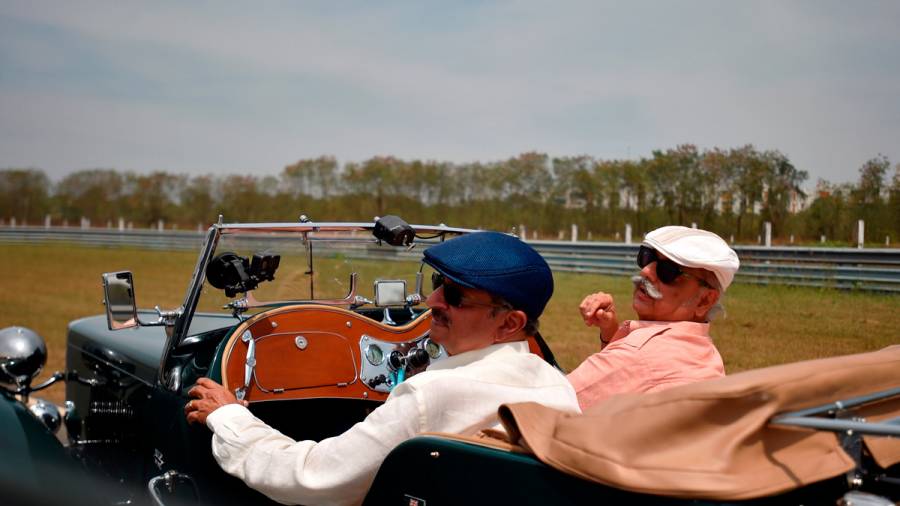 Car collector Ranjit Pratap comfortably sat beside our consulting editor Bob, and very kindly allowed him to put in a few - Hot Laps
Bob and Ranjit Pratap (right) had some very animated and enlightening discussions
In the course of this conversation, I realized that Ranjit is one of those rare Indian car collectors who regularly does long drives in his vintage and classic cars and he is as concerned about their mechanicals and road worthiness, as he is about their originality and appearance. In my books, this makes Ranjit a dyed-in-the-wool collector and all of us at Overdrive doff our hats to his genuine passion for cars.
Stay tuned for detailed driving impressions of each of the cars we drove on the "Classic Track Day at the Madras Motor Race Track".
Bob Rupani in Conversation with RANJIT PRATAP
BR: How did you get interested in historic cars and when did you start collecting them?
RP: Historic cars have a nostalgic value for me, as during my younger days these cars were part of our daily use and they always bring back fond memories of the yesteryears.  Over the years we had some cars in the family but I actively started collecting cars from the year 2004.
Ranjit Pratap is one of those few Indian collectors who makes sure his cars are good runners
BR: When I drove 5 cars from your collection on the Madras Motor Race Track, I found they run superbly.  So do you regularly drive your cars and check their road worthiness?
RP: When I restore cars I go the extra mile to ensure my cars not only look good cosmetically, but are also mechanically perfect.  Apart from this, I have people who periodically drive and run these vehicles and check their condition, road worthiness, etc.
Both of them are historical car enthusiasts and had a wonderful time talking cars
BR: I believe you also restore your cars on your own. Can you tell us a little more about your restoration setup?
RP: Initially I was dependent on external sources to restore my cars. But when I was not able to get the right output from external restoration centres, I established a small team of mechanics and set up my own garage way back in 2006. I also know a little bit about car mechanicals, because right from my younger days I have been very fond of cars and have also been involved in racing and rallying,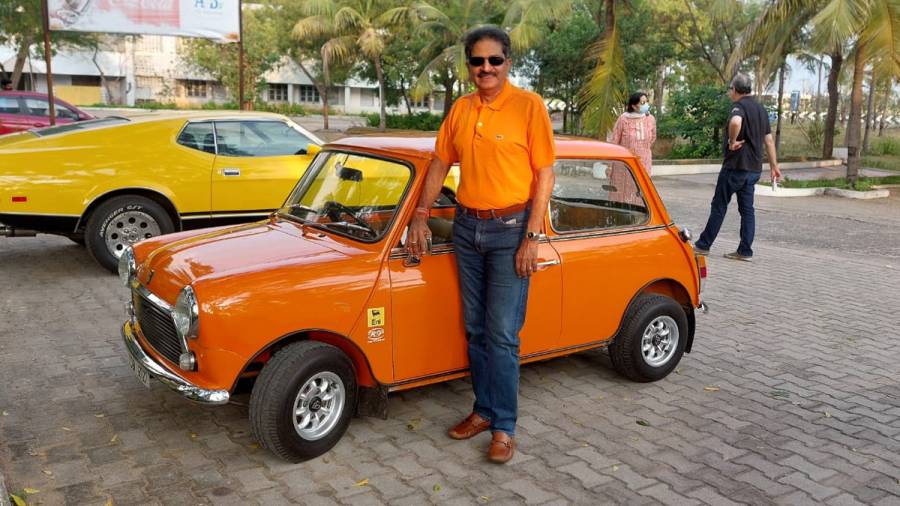 Ranjit regularly takes his classic cars on long drives and ensures his T-Shirt colour, matches that of his car
BR: How much is your personal involvement in the restoration and upkeep of your cars?
RP: Every evening after my office hours, I spend an hour and a half in my workshop.  I am personally involved in even the smallest detail on the mechanicals and the cosmetics of my cars.
Ranjit takes a personal interest in the restoration and upkeep of his large collection of cars
BR: Do you have a regular maintenance schedule for each of the cars in your substantial collection?
RP: Yes I do have a regular maintenance schedule for my cars and every Sunday I take one car from my collection for a drive of about 100 odd kms.  I carry a snag list chart with me and keep noting the problems in it and in the cars register. My mechanics have standing instructions to repair and remove the snags in maximum 60 days.  There are also surprise checks made on the snag list from time to time.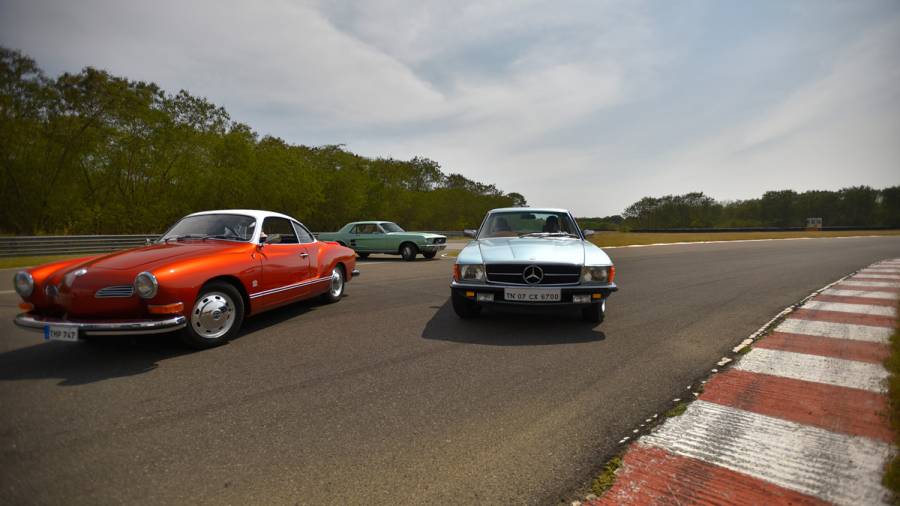 When he goes for drives he carries a snag sheet in which he list all the faults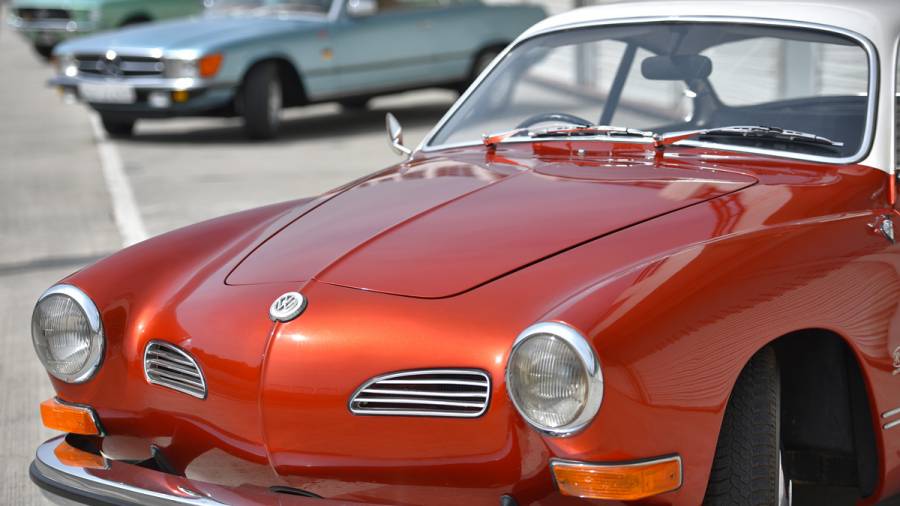 And that is why his cars don't just look good, but also run well
BR: How would you describe your collection of cars and is there anything that makes it different from other collections?
RP: I am a very meticulous person, and in whatever I do, I try to do my best. Especially with cars, because since childhood they have been my favourite hobby. So I always put in extra efforts to make my cars absolutely perfect and top class.  I know there are other restorers who do similiar or even better restoration jobs than me. But restoration and perfection is a continuous process.  I keep learning every day. I also regularly interact with other classic car enthusiasts and share thoughts and experiences and this also increases my knowledge.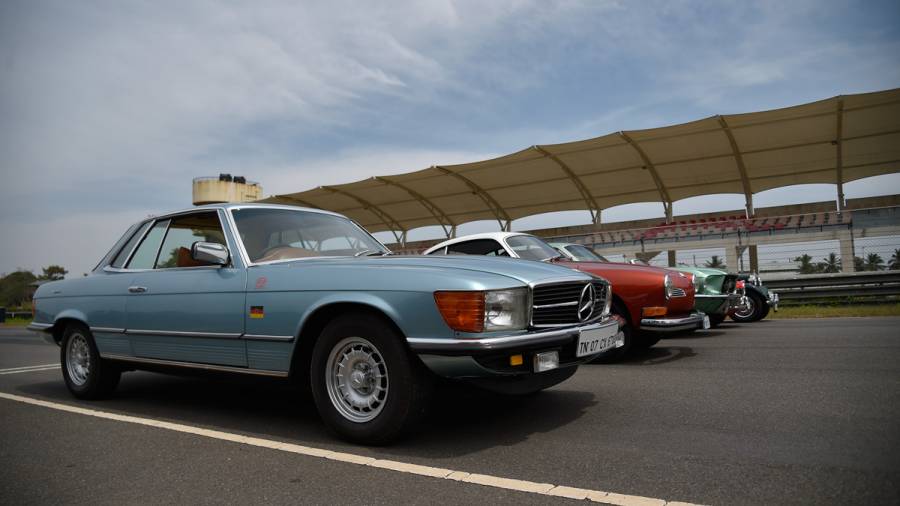 The Fantastic Five all lined up for the –Classic Car Track Day
Photography Anis Shaikh